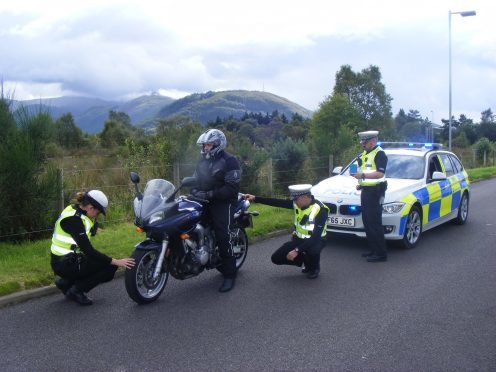 Ten offences have been detected following a motorcycle safety campaign carried out in Lochaber and Skye.
Around 80 motorcyclists were spoken to by police who discovered that one wasn't even wearing a helmet.
Local road policing officers took part in the campaign, run in conjunction with the Scotland-wide operation Zenith – aimed at promoting safe and responsible motorcycling, reducing casualties, raising awareness and enforcing legislation.
A police spokesman said: "Patrols were carried out in both the Lochaber and Skye areas with a view to education and enforcement at the end of what has been a very busy summer season.
"More than 80 motorcyclists and their pillion passengers were spoken to over the course of the local campaign."
Sergeant Ewan Calder of the Fort William road policing unit added: "The vast majority were appreciative and endorsed the campaign and are aware that Police Scotland are making all efforts to reduce serious and fatal road accidents in the area.
"Most were fully aware of their obligations as riders and the challenges involved in being a motorcyclist on both the busy trunk and rural roads."
Over the course of the campaign various offences relating to motorcycle use were detected.
These included 10 offences relating to roadworthiness of motorcycles and number plates, two speeding offences and one careless driving offence.
Several riders were given advice in relation to wearing suitable clothing and one rider was reported for not wearing a helmet at all.
Officers based in the Fort William and Dingwall road policing units will be continuing their high visibility and unmarked patrols and will revisit this campaign again later in the year.