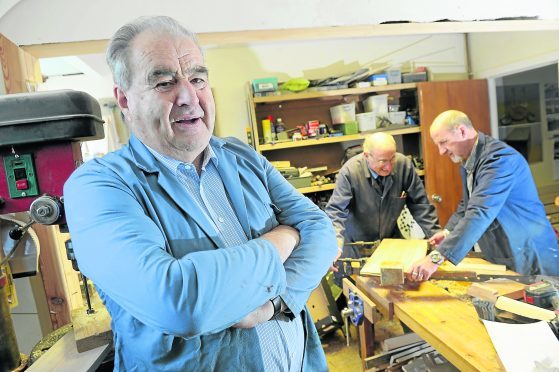 Nick Pilbeam admits he wasn't sure what the reaction would be when he helped establish Scotland's first Men's Shed in Westhill in Aberdeenshire.
Yet, just four-and-a-half years after the facility opened its doors, there are more than 100 of these community amenities helping thousands of people across Scotland.
Regulars share common interests, swap banter, engage in creative activities – and, just as importantly, escape the isolation and depression which affects so many men after retirement or the death of a loved one.
Indeed, a new report by Age Scotland "The Shed Effect", has highlighted the impact these ventures have had in so many different locations, from Oban to Orkney, Strathpeffer to Stonehaven and Dyce to Dornoch.
According to the organisation's community development officer, Tim Green, the sheds have a plethora of social benefits, and their proliferation is doing a terrific job of breaking through formerly taboo areas in Scottish society.
He told the Press and Journal: "Men are more vulnerable to loneliness because they are less likely to try and make new friends or join clubs and activities. As a result, they are far more likely to be socially isolated than women. Being out of work, due to redundancy, retirement or ill-health are risk factors for men's poor wellbeing.
"That explains why men's sheds are uniquely placed to lessen these risks or at least provide men with some resilience to cope with them.
"Many men may be reluctant to accept they need support to address loneliness. To do this, some element of a men-only space is needed: a place where men feel safe and comfortable to talk about issues which impact on their lives."
The sheds originated in Australia in the late 1990s. The concept was straightforward: they would be spaces created by men for men, which would allow them to come together and work on projects and shared interests.
It was that guiding principle which inspired Mr Pilbeam to lay the foundations for the Westhill and District Men's Shed, which has been the template for many other parts of Scotland.
As chairman of the shire facility, Mr Pilbeam said: "We were working on it for the previous two years before we opened our doors, but we were inspired from the moment we started.
"That's how it is with men's sheds – everybody you talk to 'gets it'. So we formed a group of six men, who took it forward, did the paperwork and looked for a shed.
"Overall, women are much better at getting out and meeting people than men. So, after a change in life, a lot of men lose most of their contacts and can get lonely and withdrawn. Initially, we said we would be successful if 100 men came through the door in the first 12 months and 50 of them came back after that. But we exceeded that by four times and have continued to have over 200 members with about 80 visiting every week.
"We provide the means for men to come together, make friends, reduce loneliness, and get out of the house. That maybe sounds like a joke, but it's true – it helps give couples some space.
"We make things for primary and secondary schools, other charities and the local community. We are particularly proud of helping ARCHIE by making the bench at the (Royal Aberdeen) children's hospital."
National agencies and the Scottish Government haven't ignored this new phenomenon. Age Scotland, for instance, has already provided 30 small development grants to 28 groups in 15 local authority areas, to the tune of more than £40,000.
The organisation's chief executive, Keith Robson, said: "Men's sheds can play a huge role in reducing loneliness and isolation and the stories we hear from shedders goes to prove just that."
The report produced some remarkable findings. One north-east man, Craig Watson, said: "I lost my wife of 40 years and I thought there was nothing left. But the shed has been fantastic. Just hearing another voice and being in company really helps."
Another keen shedder, Joe Scott, who took early retirement after suffering a stroke, said: "Aye, it has probably saved my life, or at least my sanity."
However, the success of the venture has happened almost too quickly in some parts of Scotland. Alan Michael, the founder and director of the men's shed in Inverness, is passionate about the benefits.
But, as he explained yesterday, he fears the popularity of the amenity in the Highland capital might diminish unless the group finds a new, bigger space they can call their own.
Mr Michael said: "We are struggling, because we have effectively become victims of our own success. I started this up four years ago – we had just a dozen members then, but it has got busier and busier.
"I am incredibly frustrated, because there are so many positives to the story, but it's not sustainable at our current base.
"We have had help from the council, but in the Highlands we don't seem to have any spare premises for groups such as ourselves and I think we might start losing guys in the future, because we don't have the space to let them develop their interests, skills and talents. At the moment, we pay £1,000 a month, so just to put the key in the door is costing us £12,000 a year.
"And the fact is that you can't accommodate 100 people in a space which was originally designed for around 20 or 30.
"So yes, it is fantastic to see the success of the shed, but it's a wee bit scary when I ask myself: 'what are we going to do next?'".
Despite these concerns, Age Scotland is continuing to reinforce the positive aspects of the sheds and has invited groups to apply for a share of £15,000 grant funding before October 31. There are at least 107 such groups throughout Scotland – where none existed five years ago – and it's not unreasonable to assume that figure will have risen to 150 by 2020.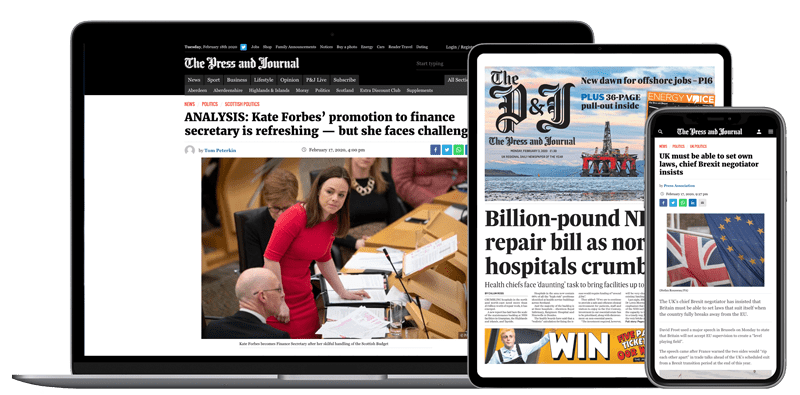 Help support quality local journalism … become a digital subscriber to The Press and Journal
For as little as £5.99 a month you can access all of our content, including Premium articles.
Subscribe