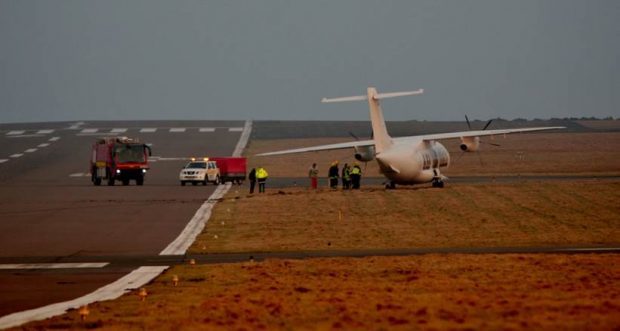 A plane left the runway at Sumburgh Airport in Shetland earlier this year because of a pilot error, the Air Accidents Investigation Branch (AAIB) has ruled.
Two pilots were uninjured when the Dornier 328 skidded off the runaway in strong crosswinds and ended up in grass in January.
The plane, which was being operated by 328 Support Services, was on a training exercise designed to demonstrate that the plane could land in higher winds and there were no passengers on board.
In a report into the incident released on Thursday, the AAIB said the flying pilot "inadvertently relaxed the left aileron input causing the right wing and main landing gear to lift off the ground."
The report said that as the plane landed it began to drift to the right side of the runway, causing the pilot to apply the left brake – but in doing so, the left wing flap was relaxed.
"Subsequently, there was insufficient directional control in the strong crosswind conditions to prevent the aircraft from leaving the runway," it said.
The plane left the runway on January 26 this year.
At the time, flights in and out of the airport were being delayed while the aircraft was moved to allow the runway to reopen, but there were no flight cancellations.
The aircraft was recovered and normal service at the aircraft had resumed by 5.45pm – just over two hours after the incident was reported.
The incident took place about a month after steely-nerved pilots managed to land a Flybe aircraft at Sumburgh Airport in strong cross winds which forced it to approach the runway sideways.