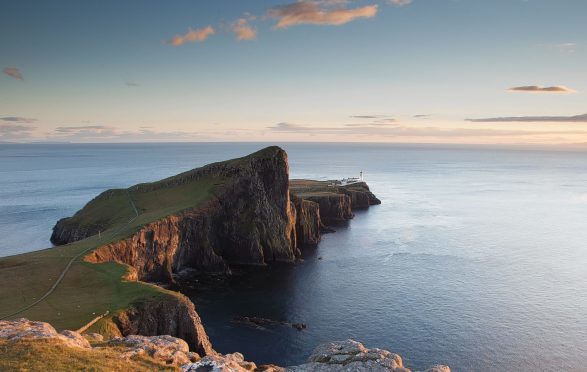 A Skye community has resorted to carrying out its own traffic and toilet surveys amid concern at infrastructure pressures caused by burgeoning tourist numbers.
The isle is second only to Edinburgh as the most popular destination in Scotland, and Glendale – with stunning scenery at Neist point and the famous Three Chimneys Restaurant – is one of the most iconic destinations on Skye.
Concerns have led the local community council on the north-west of the island to undertake two significant pieces of work highlighting the pressures on the area.
Skye "must get its act together" to cope with number of tourists
Two reports have been published, one detailing the levels of traffic and visitor numbers to the area, the other on the impact of the lack of public toilets.
The results show that approximately 300,000 vehicles taking 650,000 visitors each year use the single track B884 Glendale Road, the only road into and out of the area.
This huge volume of traffic, coupled with Highland Council's decreasing roads budget, has left many surfaces and verges in poor condition, the survey showed.
The need for public toilets in Glendale has also been highlighted. The closest are at Dunvegan, more than 12 miles from Neist Point and a 40 minute drive.
Reports of human faeces were recorded at various locations, including outside the Free Church of Scotland, the Glendale Community Hall, Meanish Pier, Neist Point and by the side of the main road throughout the area.
Motor home tourists were also seen emptying toilet tanks.
Glendale Community Council wants to urgently develop a plan to alleviate the pressure and ensure it is able to cope with the forecast increases in visitor numbers.
Chairwoman Margaret MacPhee said: "These reports clearly demonstrate the huge strain our local area is under.
"We recognise the need for, and are delighted to welcome, visitors to Glendale but improvements are desperately needed.
"Standards have clearly slipped dramatically in terms of local road maintenance and to have only 10 parking spaces at Neist Point and no public toilet provision for over 300,000 visitors simply would not happen in Inverness or Edinburgh."
A public meeting to find solutions will be held in the Red Roof Cafe, Holmisdale, on October 5 at 7pm.
Skye councillor John Finlayson said: "The residents' concerns about the state of the road have to be recognised and I will be speaking to officers of the council."
Kate Forbes MSP said: "I realise that there is a lot to do in advance of next season around roads and public conveniences."