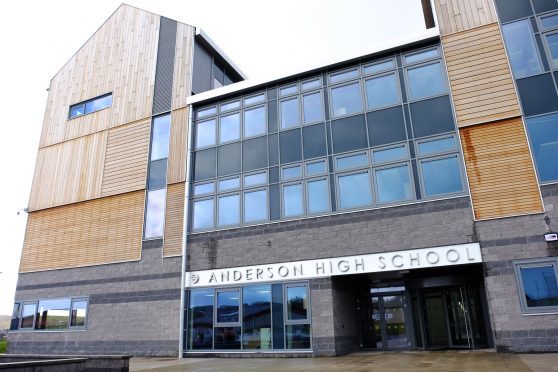 Youngsters on Shetland now have a brand new high school following the local authority's biggest ever building project.
Shetland Islands Council (SIC) announced yesterday that it has taken possession of the £55.75million Anderson High School and Halls of Residence in Lerwick.
Pupils will move into the school after the October holidays, and the council has promised to give tours to members of the public.
Mark Boden, chief executive of SIC, was joined at the site yesterday by Morrison Construction's Mark Clarke and Hub North Scotland director Phil McVey.
Mr Boden said: "This is a landmark day for Shetland. The council has realised the aspiration of many years and delivered a state of the art modern school.
"It will provide an ideal learning environment for Shetland's children, and give school staff the best possible opportunity to deliver first class education.
"This has been the council's biggest building project, with the construction contract costing £55.75million.
"I want to pay tribute to the many organisations and hundreds of individuals who have contributed to the project; every single person's contribution was vital and is appreciated.
"They should all be proud of what they have achieved, not least delivering such a large and complex project for the people of Shetland.
"I want to express my personal thanks to Helen Budge, director of children's services, who led the project for the council. She and her team have done a fantastic job.
"The new Anderson High School is a monument to the vision and determination of the councillors who made it happen."
SIC Convener, Councillor Malcolm Bell, said: "The council would like particularly to thank the Scottish Government and Deputy First Minister John Swinney for their support to the project, including their vital contribution of £42million towards the school and halls of residence."
S4, S5 and S6 pupils are due to start at the school on October 27, with S1, S2 and S3 joining them on 30 October.
Open days are being planned to give all the residents of Shetland an opportunity to see the school.