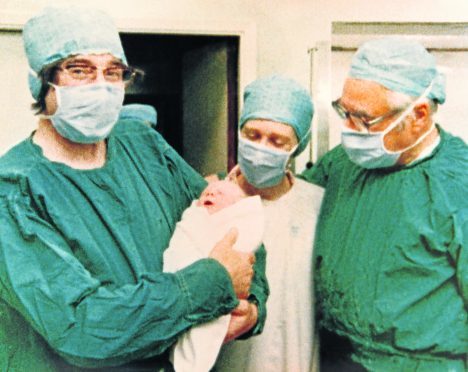 It was billed as one of the most radical developments in medical science when Louise Brown became the first child to be born through in-vitro fertilization in the summer of 1978.
The process, which was controversial at the time after being pioneered by gynaecologist, Patrick Steptoe and Nobel Prize-winning physiologist Robert Edwards, first worked in November, 1977.
But secrecy surrounded the creation of what the press described as the original "test tube baby", once news began to leak out.
The Brown family received hate mail from as far afield as the United States, there was talk of "Frankenbabies", and some religious figures warned that IVF was a dangerous means of engineering conception.
And yet now, 40 years later, more than five million people have been born across the globe because of the technique, whereby an egg is removed from a woman's ovaries and fertilised with sperm in a laboratory as the prelude to being implanted in the uterus.
There are many misconceptions about IVF, and these will be highlighted during National Fertility Awareness Week, which commences today.
The treatment fails 75% of the time and the majority of people in the UK have to pay for it. For every happy new arrival into the world, there are myriad other tales of frustration, despair and depression.
The Fertility Network UK has asked people who have used IVF to explain their reaction to it and the answers range the whole way from heartwarming to heartbreaking.
One respondent said: "IVF ruined my life, my marriage and although I am over the fact that I will never have children, I am still angry, resentful and bitter. Every day, I wonder 'what if?' I am happy for all those it worked for, but it was a killer for me. Nobody ever talks about when it doesn't work."
These words are in stark contrast to the person who replied: "Our little miracles arrived after five early miscarriages and three unsuccessful IVF cycles. And they arrived on Christmas morning in 2005 and made our lives complete. We are thankful every day for the wonderful science that is IVF."
Such conflicting emotions are not uncommon.
The Press and Journal talked to Rachel Reid, 35, from Kirkton of Skene in Aberdeenshire, and she spoke about the difficulties which can arise.
She and her husband, Dave, 38, have been trying to start a family, but it has been fraught with problems.
Mrs Reid said: "Our IVF journey started almost a year ago. We naively went into our first round knowing the statistics, but feeling confident that we would be among the lucky few who would have success.
"How wrong we were. After two months of taking tablets, injecting daily hormones, suffering invasive procedures and countless internal examinations, constantly feeling awful and worrying yourself sick, to devastatingly find out that it had all been for nothing is a heartache like no other.
"Going into the process again, I could not have felt more negative and depleted. Rather than it being easier, knowing what would follow in the weeks to come made it 10 times harder. And you never get a break from it; the worrying and feeling like a failure is relentless.
"You are constantly willing your body and mind to play along, do its job and just allow us one baby – please just one and we will be content for the rest of our lives.
"But despite my pessimism we were lucky enough to have a positive result. Words cannot describe our absolute elation; finally we felt we were in 'the club' and the struggle of the IVF had all been worth it.
"So the absolute horror of having it all ripped away from us with a miscarriage at seven weeks was a pain we have never experienced; a true knife in the heart. It felt as if we were playing a fertility version of snakes and ladders.
"IVF is 100% harder than we ever thought it would be. Although it is difficult, you can just about cope with the physical effects, it is your mental and emotional wellbeing that suffers the most.
"I know with certainty that I am a different person now than the one I was before I started this process. I have desperately tried to never let it define who I am; but I feel hardened in some way and sad that life has dealt us this cruel blow.
"We are lucky in so many ways, however, and we feel incredibly fortunate that we live in a country and an age where infertility does not necessarily mean a life of childlessness. We continue to hope."
IVF enables many couples with a range of fertility problems to conceive a child and now allows same-sex couples and single mothers to have children as well.
This is a far cry from the late 1970s when it was highly experimental and Dr Mike Macnamee, chief executive at the world's first IVF clinic – Bourn Hall in Cambridge – described Louise Brown as a "miracle".
And yet, as the Reid's account demonstrates, science still can't provide any guarantees.
Another IVF respondent, who requested anonymity, said: "It's the reason my purse is empty, and my weekends a blur of early mornings, dance classes and chauffeuring, and, most importantly, the reason my heart is complete.
"IVF was the most stressful, heart-wrenching and exhausting experience of my life, but it is one that I would definitely do again in an instant."
But the advice from Susan Seenan, the chief executive of Fertility Network UK, is for couples to go into the IVF process with their eyes wide open.
She told the Press and Journal: "More people are turning to fertility treatment these days, including IVF. However, the sad fact is that not enough NHS fertility treatment is available in some parts of the UK.
"The result is that the majority of people have to pay for their own fertility treatment. We are campaigning hard to change this situation and for everyone to be able to access the IVF Gold Standard – three full NHS IVF cycles and access if one partner has a child from a previous relationship.
"But our advice to anyone experiencing fertility issues is to be as positive as possible, but grounded, and remember that the first cycle of IVF in particular is not always the one which will be successful. The IVF journey can be a very lonely and isolating one, so we urge people to seek support from others in similar situations and from organisations such as Fertility Network UK.
"You are not alone."
First IVF baby secretly born by torchlight
Louise Joy Brown was born at Oldham General Hospital in July 1978 by planned caesarean section and was delivered by registrar John Webster.
She weighed five pounds, 12 ounces (2.608 kg).
Her parents, Lesley and John Brown, had been trying to conceive for nine years, but Lesley faced complications due to blocked fallopian tubes.
In November 1977, Lesley had undergone a new procedure, which was later to become known as IVF (in-vitro fertilisation), which had been developed by Patrick Steptoe and Robert Edwards.
The latter was awarded the 2010 Nobel Prize in Medicine for this work.
Although much of the media referred to Brown as a "test tube baby", her conception actually took place in a Petri dish.
Louise subsequently recalled: "On the day I was born, my mum had to be taken to the operating theatre in pitch darkness, with just a torchlight showing the way.
"Only a few staff knew who she was and my parents didn't want others realising her identity and tipping off the newspapers."
Her younger sister, Natalie, was also conceived through IVF four years later and became the world's fortieth child to come into the world through such treatment. In 1999, Natalie was the first human born after conception by IVF to give birth herself – without IVF – to her daughter Casey.
In 2004, Louise Brown married nightclub doorman Wesley Mullinder and Dr Edwards was among the guests at their wedding.
The couple's son, Cameron, conceived naturally, was born on in December 2006.
Louise's second son, Aiden Patrick Robert, was born in August 2013.
Her father died in 2007 and her mother died in 2012 at Bristol Royal Infirmary.
Treatment: Sorting out fact from fiction
There are a number of myths which have developed down the years about IVF.
But according to the Fertility Network UK, these are the facts about the treatment:
Myth: You shouldn't worry about female fertility until after 35.
Reality: Female fertility starts falling from the age of 28 or even earlier.
Myth: IVF is for women who have left it (conception) too late.
Reality: Most women using IVF started trying for a baby in their early 30s or sooner.
Myth: IVF will work all the time.
Reality: IVF fails 75% of the time.
Myth: Fertility issues are a female problem.
Reality: Male fertility problems are every bit as common as female ones.
Myth: If you need medical help to conceive, NHS services are widely available.
Reality: Six out of 10 people with fertility problems have  to pay for their own treatment.
Fertility Network UK provides a free and impartial support line on 0121 323 5025.