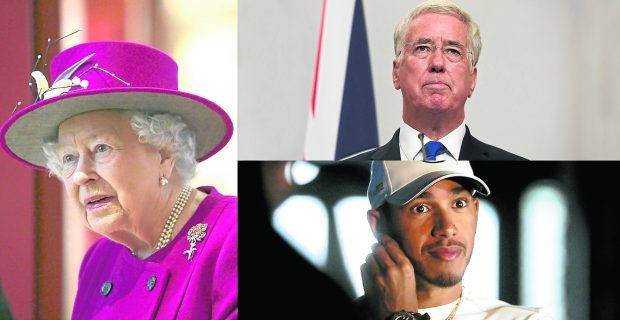 Every day, there are new revelations emerging about Britain's institutions, whether at Westminster or Holyrood, the Royal Family or the Fourth Estate.
In the last week, for instance, the so-called "Paradise Papers" – more than 13million documents, detailing how some of the world's wealthiest and most powerful people legally conceal their cash offshore – have attracted global headlines. They have managed to involve such diverse figures as the Queen, Prince Charles, Lewis Hamilton and Bono.
In politics meanwhile, a series of sex scandals have caused ructions in both Edinburgh and London, with the prospect of further revelations.
At Holyrood, Mark McDonald, the SNP MSP for Aberdeen Donside and former children's minister, resigned from the Scottish Government last Saturday after sending "inappropriate" messages to a thus-far unnamed woman.
One of Labour's rising stars, Monica Lennon, subsequently revealed she had been sexually assaulted by a senior colleague at a party.
At Westminster, Defence Secretary Michael Fallon resigned from the Cabinet amid allegations of sexual harassment. Damian Green, deputy prime minister, has been accused of inappropriate behaviour, although he denies the claims made by Bob Quick, a former assistant commissioner of the Metropolitan Police.
In Cardiff, Welsh Assembly business has been suspended following Carl Sargeant's death. The former minister committed suicide days after being dismissed from the Welsh Cabinet over "alleged incidents with women".
These stories have sparked outrage and recriminations and the 2017 Edelman Trust Barometer, an independent body which examines coverage of global news, has claimed trust in major institutions "is in crisis around the world".
The group summed up its findings: "The general public's trust in four key institutions, business, government, non-government organisations and media, has declined broadly, a phenomenon not reported since Edelman began tracking trust in 2012."
But why has this happened? Is it due to the increasing phenomenon of social media "twitterstorms" and Facebook petitions? Have the public's moral standards increased in recent years? Or have people simply become so cynical about those who govern their lives that they no longer trust anybody in authority?
Professor Sarah Pedersen, director of research in communication, marketing and media at Robert Gordon University, said yesterday there were no easy answers. But she argued that recent developments clearly meant the establishment was being held to account more for its actions.
She added: "Social media spreads information, misinformation and gossip at the same rate, and we can respond with an immediacy and ease we have never before been afforded. It also allows us immediate access to the public sphere of debate, without having to go through gatekeepers such as newspaper editors.
"This means today's political leaders are under intense and continuous scrutiny, far more than any in history. Unlike leaders of the past, who only had to worry about the criticisms of mainstream media, contemporary leaders have to worry about public opinion, as represented on social media. In fact, mainstream media more and more is taking its approach to a subject from social media. Twitterstorms on moral issues are much easier to stimulate than ones on complex issues which require a more thoughtful approach."
The response to the Paradise Papers has veered from shoulder-shrugging from some to calls for resignations and investigations from others such as Labour leader, Jeremy Corbyn.
A business figure, who requested anonymity, said yesterday: "I don't understand the very high level of moral outrage, which is being expressed by senior politicians and the public. We have been here plenty of times before.
"None of the stuff is really new: we had the Panama Papers a couple of years ago and it caused a bit of a stink and then it went away.
"The thing you have to remember is that nobody involved in tax avoidance is actually doing anything illegal.
"So, if people want things to change, maybe it needs to happen with new legislation being introduced in parliament rather than people going crazy about it on Twitter."
However, the climate seems to have changed in other areas, such as the behaviour of some male politicians towards their female counterparts. Yet there have even been rows between those who have highlighted cases of alleged sexual offences by men in power and those, such as former Weakest Link presenter, Anne Robinson, who controversially stated last week that modern females had become "too fragile".
That latter view was dismissed yesterday by north-east Unison union official, Sarah Duncan, who told the Press and Journal it was long overdue for offenders, whether MPs or MSPs, to be named and shamed.
She said: "I don't think our moral threshold has changed, I think it is easier to compare ideas and experiences and, by doing so, you become aware you are not the only person to have felt something was wrong or inappropriate.
"The current cases of sexual harassment and assault which are now being aired show the power and protection that comes from feeling supported rather than isolated.
"I agree with [Channel 4 news anchor] Krishnan Guru-Murthy's tweet that sexually harassing behaviour was not more acceptable 10 or 15 years ago: we are just not willing to put up with it any more.
"I hope the publicity at the moment gives people confidence to turn round and tell the sleaze who has made an unwanted approach to take a hike."
In an age when US President Donald Trump, uses social media every day and even the Downing Street cat has a Twitter account, some observers privately admit nobody really knows what the rules are any more.
But, while Prof Pedersen has welcomed many aspects of new technology, she accepts there are dangers as well. She said: "There is an element of 'clicktivism', which allows us an immediate and sometimes visceral response to a crisis or a cause without it actually causing us much effort at all.
"For example, that could mean liking a tweet, condemning the actions of a politician, or changing the background of our Facebook profile picture to demonstrate our solidarity with Paris.
"But social media also allows us to give our opinion quickly, with little time for reflection, leading to a kneejerk reaction rather than an opinion honed by debate with others and thoughtful reflection."
Typing out 140 – or 280 – characters and making it public has transformed some aspects of modern life. It has made it easier for campaigning groups to spread their message, whether promoting Scottish independence or highlighting the battle for hearts and minds in Catalonia.
Whether moral standards have been raised by greater scrutiny, there are no definitive answers. As Sarah Duncan stated actions usually speak louder than words.
She said: "Rather than lamenting the continuing existence of the problem, political parties need to lay out detailed plans to deal with it and agree concerted action in other jurisdictions too."