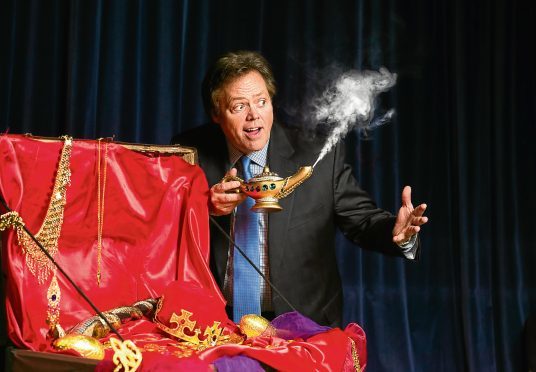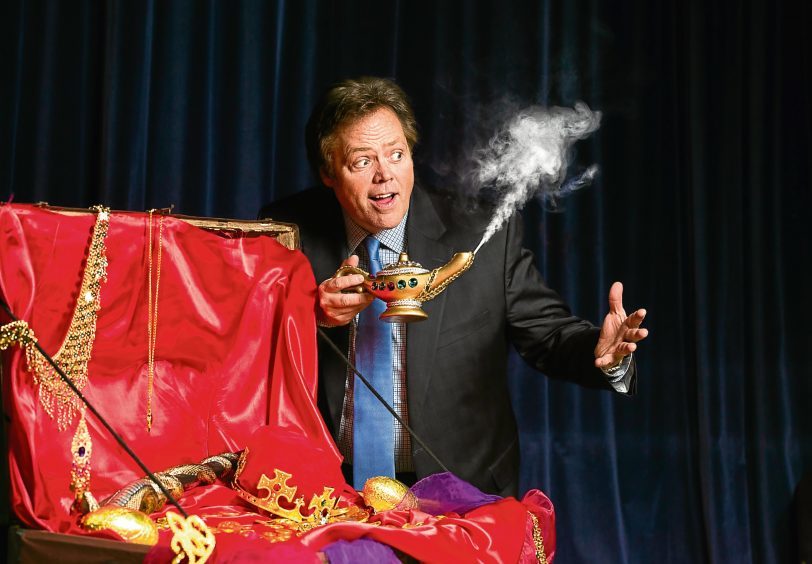 Start filling up your diary as there are plenty of pantomimes to go and see this festive season.
Regardless of beliefs, it is a great chance for the family to get together and have a laugh.
Many productions are also presenting relaxed performances this year. Check out the websites to find out where your favourite show is and when. It is a great chance to enjoy the family experience with a more relaxed atmosphere.
ABERDEEN
ALADDIN
Jimmy Osmond takes to the stage as evil sorcerer Abanazar at the famous HM Theatre panto this year. Jordan Young returns to play Aladdin while Alan McHugh also treads the familiar boards again. This year the hilarious Alan will take on the role of Aladdin's mother Widow Twankey for a show packed with all the panto ingredients you could wish for.
What could top the magic flying car from last year? Expect genies and flying carpets in Aladdin which runs from December 2 to January 7. Plan your wishes and practice your 'boos' and 'hisses' and get ready to roll around with laughter. Prices vary, see http://www.aberdeenperforming arts.com/events/aladdin-2017-panto.
BEAUTY AND THE BEAST
Castlegate Arts Ltd present a retelling of the classic fairy tale, taking place at Aberdeen Arts Centre. See the brand-new adaptation of a tale as old as time from December 2 to 31. Ticket are £18 for standard, £15 for concession and £60 for a family. See http://www.aberdeen performingarts.com/events/beauty-and-the-beast-397571
FLUTTER
This year, The Lemon Tree are putting on an interactive family Christmas show, taking the audience on a multi-sensory journey. The part installation and part performance will allow children and families to be transported to a snow-filled world. A cleverly devised piece with a combination of music and puppetry, Flutter takes place from December 5 to 24 with tickets £11 for adults, £8.80 for children and £33 for a family of four. See http:// www.aberdeenperformingarts.com/events/flutter
CINDERELLA
Ever lost something on a night out? Join Attic Theatre at the Tivoli theatre as they take you to Aberdonia to meet careless Cinderella for a fun-filled family show. Experience the great pantomime and be whisked off your feet from December 8 to 23. Ticket prices vary, see http:// www.aberdeenperformingarts.com/events/attic-theatre-cinderella
AVIEMORE
SLEEPING BEAUTY
Join the snoozy princess and her friends for an enchanted story filled with spells and laughter. The action-packed panto will take place on select dates throughout December, with shows every Wednesday and Saturday. See http://www. macdonaldhotels.co.uk/our-hotels/macdonald-aviemore-resort/christmas-new-year/
DUNDEE
ALADDIN
Downfield Musical Society can always be relied on to present a festive treat and this year is no different. From December 15 to 20, head to Whitehall Theatre to meet the dame and enjoy some panto jokes. Tickets start at £15.50 for adults and £13.50 for concessions with family tickets available. See http://www.whitehall theatre.com/
A CHRISTMAS CAROL
Dundee Rep's award-winning ensemble cast bring to life the classic Christmas tale as you have never seen it before. Enjoy the magic from November 30 to December 31. See http://www.dundeerep.co.uk/event/achristmascarol
SLEEPING BEAUTY
Gardyne Theatre presents the pantomime of your dreams from December 9 to 31. River City favourite Tom Urie will be joined by two of the cast from top BBC comedy Scot Squad. Long suffering Officer Karen will be playing wicked Queen Maleficent and her on-screen nemesis will be playing Maleficent's halfwit son, Boaby. For tickets and info see www.dundee box.co.uk
EDINBURGH
THE ARABIAN NIGHTS
Get ready for an adventure full of suspense and enchantment as you enter the bustling bazaar of Baghdad. Meet Sinbad, Ali Baba and mysterious genies at the Lyceum from November 25 to January 6. Prices vary, see https://lyceum.org.uk/whats-on/production/the- arabian-nights
SHREK THE MUSICAL
Enjoy a show with a difference this Christmas at the Edinburgh Playhouse. Based on the story and characters from the DreamWorks Animation film, the spectacular production will enchant all ages. Running from December 12 to January 2, prices vary, see http://www.atgtickets.com/shows/shrek- the-musical/edinburgh-playhouse/
ELGIN
RAPUNZEL
Elgin Amateur Dramatic Society are presenting Repunzel this year from December 13 to 16 in Elgin Town Hall. Tickets are on sale at Beaver Travel, South Street on Saturday November 25, December 2 and 9 from 10am or 2pm or online, see http://www.elgindrama.co.uk/
FRASERBURGH
SNOW WHITE
Fraserburgh Junior Arts Society Snow White and the Seven Dwarfs from December 11 to 16 at Dalrymple Hall and Arts Centre. Tickets on sale to the public from Saturday, December 2 at 9am at the Dalrymple Hall and Arts Centre. Tickets are £12.50 for the balcony and £10 for the stalls.
GLASGOW
JACK AND THE BEANSTALK
Fee-fi-fo-fum, a panto your way comes. The show runs from December 16 to January 7 at Glasgow's SEC and features Gary: Tank Commander and The Dolls. Technology and fairy tales combine as audiences follow Jack up the beanstalk. See https://www.sec.co.uk/events/detail/jack- and-the-beanstalk
SLEEPING BEAUTY
Elaine C. Smith takes a break from Aberdeen to tread the boards at King's Theatre. Starring along side her will be Johnny Mac, Juliet Cadzow and Paul James Corrigan for the snoozy fairy tale. Can they stop the evil godmother from sending the princess into an enchanted sleep? Find out from December 2 to January 2. For tickets and times see http://www.atgtickets.com/shows/sleeping-beauty/kings- theatre/#overview_tab
WIZARD OF OZ
The Pavilion give Oz a Glasgow twist this Christmas. The magical pantomime is on from November 30 to January 14 and follows Dorothy as she embarks on an exciting adventure from her home in sunny Glasgow to the Magical Land of Never Woz. Times and tickets vary, see http://www.pavilionpanto.com/dates.php
INVERNESS
SNOW WHITE
Returning for both the role of director and dame for the second year running is Steven Wren, with Jingles the Jester played by Ross Allan. No stranger to Eden Court after starring in Aladdin in 2014, David Rankine will be taking on the role of the Prince while Marj Hogarth also returning after being the baddie in 2013 and will be the iconic Wicked Queen.
Steven said: "I had a wonderful time playing dame last year – it was just so much fun getting back on to the panto stage again after five years away from it.
"The Eden Court panto team are great so it enables me to be able to both direct and perform. We do have a new member of the team this year in Lesley Wood who will both choreograph and assist me with directing the show, and once again the fabulous Will Marshall is back as our musical director."
The panto runs from December 5 to January 7. For more information or to book tickets call the Eden Court box office on 01463 234234 or see www.eden-court.co.uk
INVERURIE
CINDERELLA
As Cinderella dances the night away, enjoy a night of music and dance from this semi-professional production. The panto takes place from December 9 to 24 in Inverurie Town Hall and prices vary, see https:// tickets.inveruriepanto.com/
PETERHEAD
BEAUTY AND THE BEAST
A tale as old as time will be told this winter from December 6 to 16 at Peterhead Community Theatre. For tickets see http://www.peterhead panto.com/.
STONEHAVEN
PUSS IN BOOTS
Ury Players are putting their best foot forward this year. From December 6 to 9, audiences at Stonehaven Town Hall will meet Jack, the miller's son who ends up on a great adventure with the family cat – who can talk! Soon Jack, Puss and Aunt Hettie are scheming to persuade the king and queen to marry the princess to Jack. Will he win over the jealous noble suitor? Adult tickets are £12 and concessions are £10, see https://www.ticketsource.co.uk/uryplayers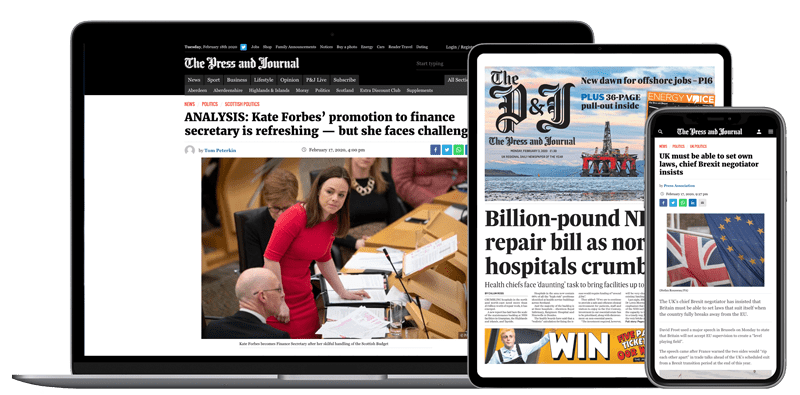 Help support quality local journalism … become a digital subscriber to The Press and Journal
For as little as £5.99 a month you can access all of our content, including Premium articles.
Subscribe