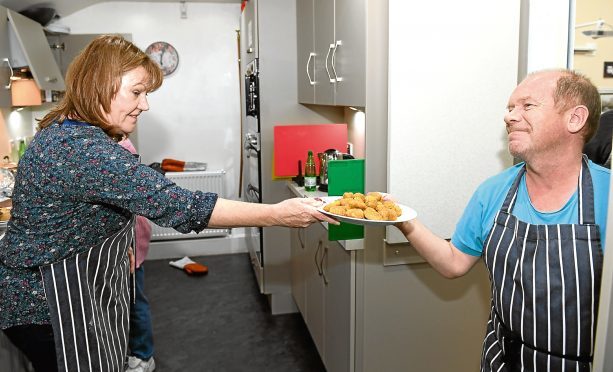 It's 7pm on a Friday and the room is already crowded, as smartly dressed people greet each other before taking a seat at tables dotted around the room.
There's the chink of glasses as wine is poured and olives are passed around, with the playful hum of Sixties music in the background.
The smell of roast pork wafts through from the kitchen, and serving staff float round the groups of assembled diners to take orders.
You'd be forgiven for thinking this is a typical restaurant scene as it offers all the ingredients for dining out, from a great atmosphere to mouth-watering dishes.
But there is one key difference – we are actually gathered at Old Torry Community Centre ready to tuck into food which would have otherwise gone to waste.
From quiche close to its sell-by date to cuts from the local butcher, the menu on offer is varied.
It's an extraordinary scene considering the fact that only six weeks ago, many of the diners were complete strangers accustomed to eating alone.
The event, which has been taking place every Friday evening since October, comes under The Go Green Torry Zero Waste Cafe project, and diners are served a three-course meal free of charge.
In Scotland alone, 1.35million tonnes of food and drink is wasted every year, with around half of food waste coming from households.
As Christmas approaches, the shocking statistics will continue to pile up on plates destined for the bin. From mindlessly buying food during a rushed trip to the supermarket to letting produce go off at the back of the fridge, we're all guilty of food waste.
Although some restaurants are now taking steps to combat waste, what can be done in our own communities?
For Betty Lyon, who is project manager for the Torry Zero Waste Cafe, cooking for dozens of people and combating loneliness is all in a night's work, and she is passionate about home-cooked food.
All supplies come from the social enterprise Community Food Initiatives North East (CFINE), and Betty often doesn't know what the menu will be until the night before. She is slowly teaching volunteers how to cook using basic ingredients and has lots of tips on how to make food last longer, which include freezing bananas!
Betty manages to take a breather after the main course is served, and beams as diners wander over to inquire about second helpings.
"I'm not a professional chef but I've always loved simple home cooking," she said.
"Within weeks of launching the project it grew arms and legs; I knew we were onto something when 27 people turned up and they've been coming ever since.
"It seems like not many people actually bother to sit round the dinner table anymore though.
"They sit in front of the TV, but I think eating should be a social occasion.
"Many of the people here tonight didn't know each other beforehand. Now they can't stop talking, and that makes me so happy.
"We make a point of not having a TV on so people actually have to interact with each other.
"We're helping to tackle loneliness as well as food waste. Friday nights are becoming a highlight for people, whereas previously they probably spent it on their own."
Betty always cooks a Sunday roast and prepares plates for her neighbours.
When it comes to the community cafe, however, she enjoys the challenge of working with different ingredients.
She believes many people could combat food waste and save money by planning their meals in advance.
"Once we have the ingredients, I sit down with the volunteers and plan all three courses," said Betty.
"You never know what you're going to be faced with, but I really enjoy that aspect.
"Planning what to cook cuts down on waste and I would really recommend it.
"We always make sure we have something in the freezer if we run out of food, but I find quite often the key is in the know-how.
"Food parcels are sometimes returned because people don't know what to do with the goods.
"Tinned tomatoes, for example, they are getting sent back to CFINE because people have no idea how they can be used in a meal.
"This is particularly the case if you only have a microwave.
"Basic education is the way forward; it's shocking to think how much food is thrown away when people are going hungry."
Betty was inspired to launch the food cafe after chatting to Caroline Gaudsen, who is project manager at the RGU Go Green Cafe.
The sustainable initiative sees students prepare meals every Friday and the team averages 60 meals a week.
It has been running for just over a year and is also in partnership with CFINE.
Caroline believes that were people to realise the extent of food waste, they'd soon change their attitude.
"The cafe has become a wonderful social space, and we're very aware that we can only keep going with an influx of volunteers to replace graduating students," she said.
"Students are learning how to cook and we always try to buy local and limit packaging.
"It's shocking how much food goes to waste, the realisation could change behaviour."
Betty has similar hopes that word could spread, and wants to see zero-waste cafes springing up across the north.
"I thought if the project was possible at RGU then maybe we could give it a go; we're proof that it can work," she said.
Independent retailers are also being encouraged to do their bit with a helping hand from technology.
Too Good To Go is an app which was launched two years ago and it was originally piloted in Denmark.
The team is based in London and the city has the highest concentration of food waste in the UK.
Not to be left behind however, 16 stores use the app in Scotland and five are based in Aberdeen.
Jamie Crummie, co-founder of the app, said: "Aberdeen is a place where we see Too Good To Go really taking off.
"With so many people and amazing eateries, it is the perfect place for us to rescue as much food as possible from going into landfill.
"It really is a win-win for all parties involved; food businesses are able to recover the sunk costs incurred through food waste while users are able to eat sustainability and collect delicious food for reduced prices."
The team has admitted that the app is still in its infancy, though, with major improvements happening in the coming months.
Mechelle Clark, of Melt on Holburn Street, was the first business to sign up to the app in Aberdeen at the start of this year, and while uptake proved successful, it has since tailed off.
She now looks at how she uses ingredients in a bid to curb waste, and finds lack of labelling has impacted on what she can offer people via the app.
"We used to make our toasties using the middle of the loaf as it was the only section which was thick enough," said Mechelle.
"This meant a lot of bread wastage, and at first people were really pro-active in using the app.
"All our loaves come from a bread maker, we get 120 per week and the surplus isn't labelled, which people seem to find really off-putting.
"Even homeless people turn away the bread because there's no proof of what's in it, so we've started using the rest of the loaf to make smaller toasties at events.
"The app is a brilliant idea but it needs some tweaking before it works properly.
"I don't think it helps that many businesses are unwilling to talk about food waste though, it rarely comes up in conversation when I chat to people in the industry."
Gluten-free baker Robyn Jones has similar sentiments.
Although many of her products are freezable, she still finds herself with leftover cakes and feels the app needs to be more tailored to the needs of individual businesses.
"From the very beginning I knew food waste was important to me and the app seemed like a really great idea," said Robyn.
"At the heart of what I do is the fact that my food is tailored towards those who have allergies, intolerances and specific preferences.
"But I was told I'm not allowed to put together vegan boxes for example, or egg-free boxes which are aimed at specific customers, and it's just a random mix of what I have left that day.
"That's no use for someone who needs a cake which doesn't contain dairy, and you can't choose how much produce you get either."
Robyn now puts leftover produce in her own freezer or offers cakes to neighbours, and she has even visited nursing homes to give away her treats.
Businesses and communities alike are clearly waging war on food waste in their own individual ways, but it remains to be seen if the battle will be won.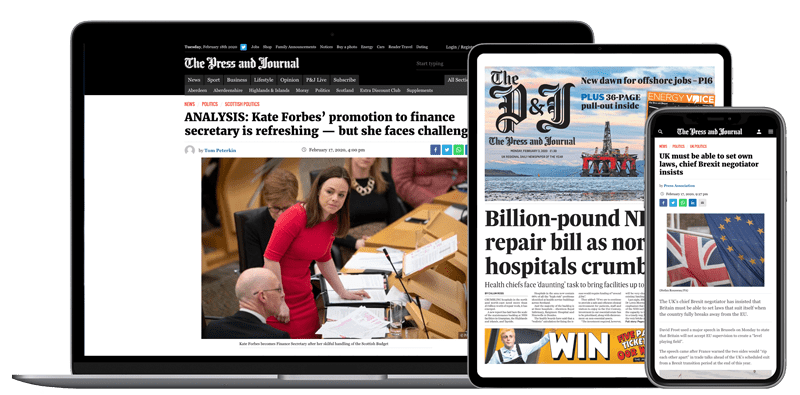 Help support quality local journalism … become a digital subscriber to The Press and Journal
For as little as £5.99 a month you can access all of our content, including Premium articles.
Subscribe