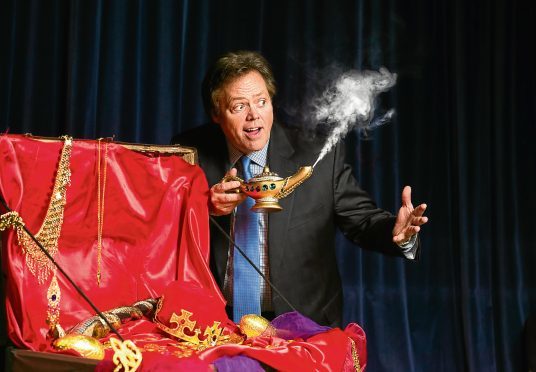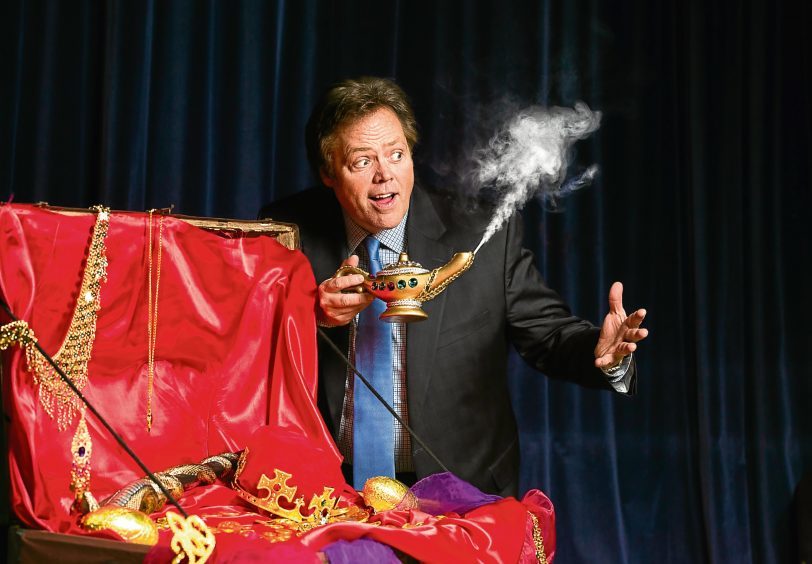 American music legend, and Aberdeen pantomime star, Jimmy Osmond has lamented the fact that people in his homeland simply "don't get" the appeal of panto.
The 54-year-old, who rose to fame as the youngest member of the Osmonds singing group, says he unsuccessfully tried to bring the staple of Britain's festive season to the USA on more than one occasion.
But his versions of Cinderella and Aladdin failed to elicit so much as a halfhearted "he's behind you" from bemused stateside audiences.
Jimmy, who is being enthusiastically heckled as the evil sorcerer Abanazer in the production of Aladdin at His Majesty's Theatre this Christmas, believes the secret to the panto's enduring success is in audiences that are willing to throw themselves into the action.
He said: "I promoted pantomime a couple of times in America, but the crowds just didn't get it.
"The magic of the show really lies in the audience, and I believe you have to have that tradition in you.
"People here really let loose when they come to a show, and that's what makes it so special."
He added: "And I love that it is so spontaneous.
"The script can change, you can interact with the audience, and it can move in different ways depending on how people react.
"I think people like to see mistakes, and are forgiving of it in that environment."
Jimmy entered the Guinness Book of World Records as the youngest performer to have a number one single in the UK when he was nine in 1972, with the success of Long Haired Lover from Liverpool.
As part of the Osmonds, he became a pop culture sensation in the 1970s.
In recent years, the Utah native has appeared on several TV shows, including the reality series I'm a Celebrity… Get Me Out of Here! in 2005.
And last year he was a finalist on Celebrity Masterchef, an appearance which provides one of the panto's many jokes at Jimmy's expense.
But Jimmy said he welcomes the torrent of gags that are cracked about his career as part of Aladdin.
He said: "If you can't laugh at yourself after 50 years in show business, then you should quit. "
Jordan Young, who plays Aladdin, is a veteran of 11 pantomimes at His Majesty's Theatre.
However, he is used to treading the boards as the buffoonish but well-meaning Buttons character, while the lead role is taken by a less comically-inclined performer.
Jordan says that his Aladdin is not a typical leading man though, as his portrayal retains the "daftness" that youngsters have come to expect from him.
He said: "I'm playing Aladdin as the generic daft boy, he is a hero but he's a daft one."
The River City star added that he has come to regard Aberdeen as a "second home" following a decade of performing in one of the city's most cherished winter traditions.
And he remains devoutly passionate about pantomime – despite its "terrifying" challenges.
"I absolutely adore panto, when I was younger I used to go and see it at the King's Theatre in Glasgow where there would be actors like Gerard Kelly.
"I'm fiercely passionate about panto, I think it is an art and for many people it will be the one time of year they go to the theatre", he said.
Jordan added: "Even after 10 years here though, I always get very nervous.
"We have less than a fortnight to rehearse a show that lasts two hours and 20 minutes with singing, dancing, effects, falling down and so many quick changes.
"A normal play, without any of those additions, would involve four weeks of rehearsing."
The longstanding star of the show, Elaine C Smith, bowed out after last year's pantomime – which was her eighth in the Granite City.
Actor Alan McHugh – who comedy fans may recognise from BBC Scotland's Limmy's Show, Rab C Nesbitt and Still Game – has written and directed the HMT pantomime for 14 years – as well as playing the show's domineering dame.
And Alan conceded that penning the panto without its mainstay in Elaine C Smith had presented him with some challenges this year.
He said: "Elaine is a loss, and it was disappointing to lose her.
"But we have to take the positives from that, and it presented us with an opportunity to give the show a breath of fresh air.
"At first, we were looking for a like for like swap by getting a funny female but realised that nobody could replace Elaine.
"Eventually we decided to go for somebody completely different as the star, and Jimmy is great."
Alan also offered an insight into his writing process, and his desire to pack the script with as many nods to the north-east as possible.
He said: "I usually start writing the show in April or May, and it goes through about eight or nine incarnations.
"Over the years I have come to know the various place names here, which have comedy written all over them.
"I have an A4 sheet beside my laptop, with all these Aberdeenshire villages printed on them for inspiration."
Alan, who has spent thousands of hours performing in the outrageous garb of the show's dame, admitted to some annoyance when people approach him and suggest that the 6ft Glaswegian "doesn't look like a dame".
Laughing as he pointed to his t-shirt and jeans, he said: "It's not as if I'm going on stage like this.
"Once you put the costume on, you grow into the dame."