My mission was simple – to find out the actual cost, in time, money and effort, of depositing £10 into the nearest bank to Castlebay, on Barra.
At the moment, a quick stroll to the end of the road is all it takes for villagers to complete this simple transaction.
But Castlebay is on the Royal Bank of Scotland closure list, and once that happens a 60-mile round journey over land and sea is what Barra residents face.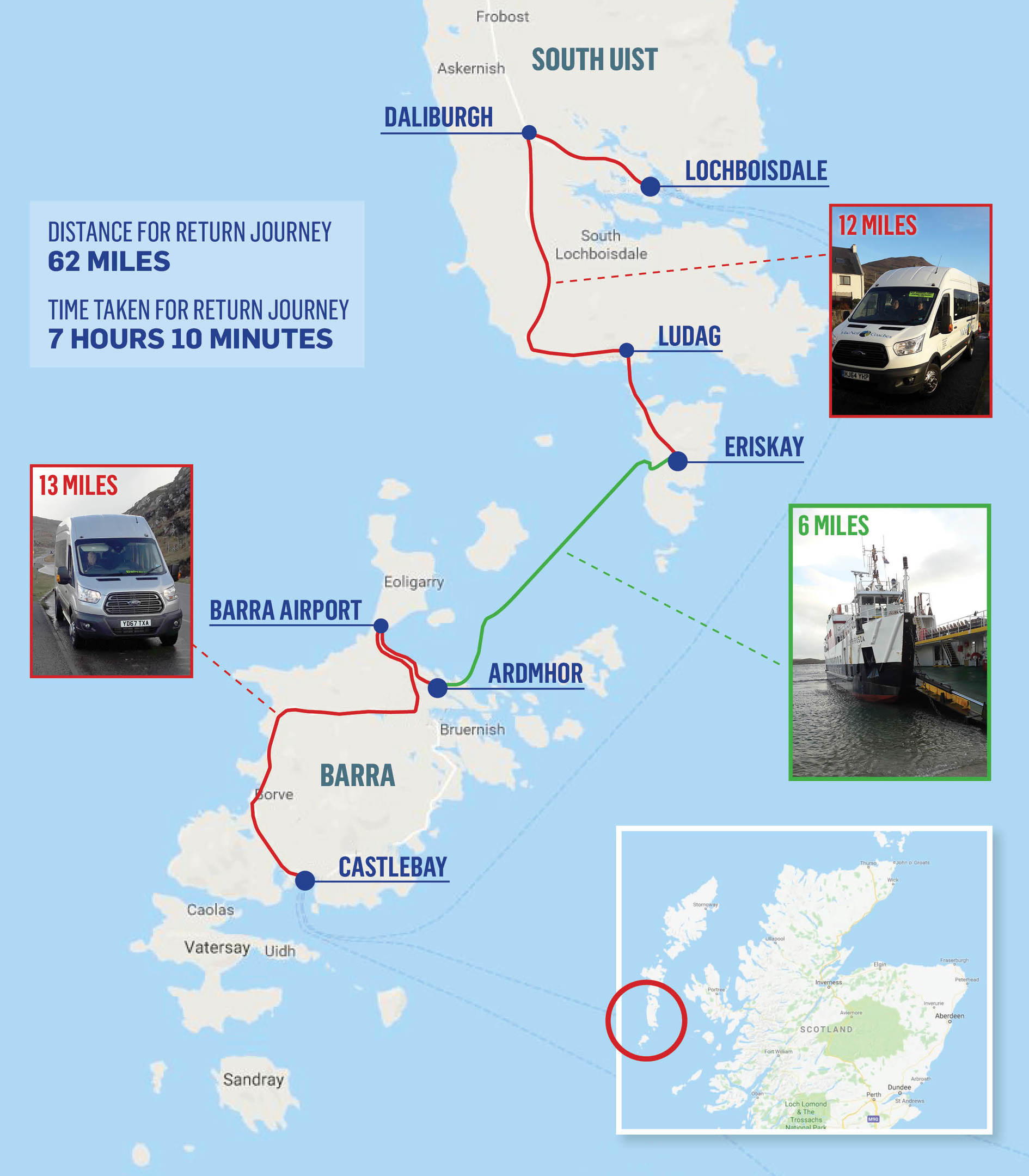 Islanders have called it "impractical, expensive and downright insulting".
I made the journey to the Outer Hebrides to investigate exactly what the trip from Castlebay to Lochboisdale RBS entails.
The answer? Almost a full working day of travel by land and sea, taking in three different islands – and it costs £2.90 more than the £10 note I had clutched in my hand. The round trip was 50 miles over land and 12 miles by sea across the Sound of Barra and back, and also included up to 45 minutes waiting for connections in freezing conditions.
I began at 10.25am by buying a £1.80 single bus ticket (you don't have the option of taking a return) from Castlebay to Ardmhor. Remembering to inform the driver of my intention to return later that day, in order for the bus to meet the ferry on the journey home, we made the 13-mile journey to the ferry terminal for Eriskay for the 11.10am sailing.
A 40-minute crossing and £5.90 return ticket saw me arrive on Eriskay for 11.50am.
On the bright, relatively calm day in question, a light 25 knot wind speed felt blustery along the exposed route, with a crewman advising me that any form of south westerly wind or speeds of up to 50 knots normally result in disruption or cancelled sailings.
Once on Eriskay I had a chilly 37-minute wait in a pleasant (but freezing) waiting room for the bus to Lochboisdale.
A return ticket comes in at £3.40, again with the journey home only guaranteed by prior arrangement.
A further 12 miles, which includes a causeway crossing from Eriskay to South Uist, eventually landed me in Lochboisdale for 1.12pm.
I had until 3.25pm for my return bus, a trip which involved several stops dropping off school children along the way.
The ferry crosses back to Barra at 4.30pm as darkness falls.
By prior arrangement the bus will collect you and bring you back to Castlebay for 5.35pm – cold, tired and out of pocket.
THE JOURNEY
10.25am bus from Castlebay to Ardmhor
11.10am ferry from Barra to Eriskay
11.50am ferry arrives at Eriskay
12.35pm bus departs 1.12pm bus arrives at Lochboisdale
3.25pm bus departs Lochboisdale
4.10pm bus arrives at Eriskay
4.30pm ferry departs
5.10pm bus arrives at Ardmhor
5.15pm bus departs Ardmhor
5.35pm bus arrives at Castlebay