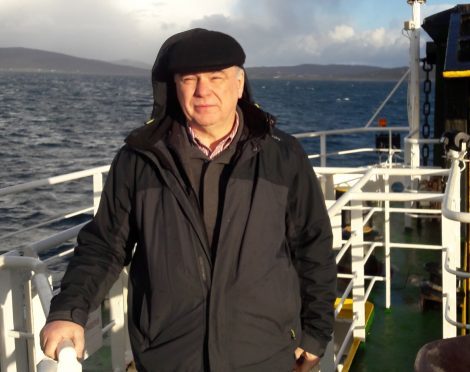 Islanders are outraged at the decision to close the Castlebay branch.
Western Isles MP Angus MacNeil said: "How can they call themselves the Royal Bank of Scotland with this betrayal of most of rural Scotland?
"RBS don't give a damn. There is no thought being given to this.
"It's devastating for communities."
Councillor Donald Manford said: "It is just absurd. It is not accessible, it is not practical. They say they are going to have mobile banking, but these are very limited services. No thought has been given to the impact of this."
Archie MacNeil, owner of Barra bus firm MacNeil Coaches, said: "When they said there is another bank in Lochboisdale, I don't think they realised it's on another island."
Cecilia Berry of Castlebay, who is in her seventies, raged: "I am disgusted. We are going to have to go to Lochboisdale. It's a good 12 miles to get to the ferry. Many people don't drive. Then there is a three-quarters of an hour ferry journey followed by another 15 miles to the nearest bank.
"The majority of people are retirement age, many of whom are frail."
Margaret MacLean, of The Green, aged 75, added: "It is a horrendous journey to Lochboisdale. It is impractical and expensive."
Rob Stewart, a taxi driver from Garrygall, near Castlebay, said: "You remove the bank and you start to remove the fabric of Castlebay."
Calum MacAulay, owner of Lochboisdale Hotel on South Uist said: "I would say 90% of the older customers don't do internet banking. Realistically, how many people of that age group do internet banking?"
A spokesman for RBS said: "We provide our customers with more ways to bank than ever before – customers can choose from a range of digital, face-to-face and local options.
"Since 2012 we have seen the way in which people use Royal Bank of Scotland Castlebay branch change dramatically, with now 86% of customers already banking in other ways locally. Transactions in Royal Bank of Scotland Castlebay branch have reduced by 43% since 2012 with now only 11 customers visiting the branch on a weekly basis, 56% of customers are now choosing to bank digitally with us on a regular basis instead."
A mobile service will be available in Castlebay. The Post Office, ATMs and the nearest branch in Lochboisdale are other alternative options, he added.