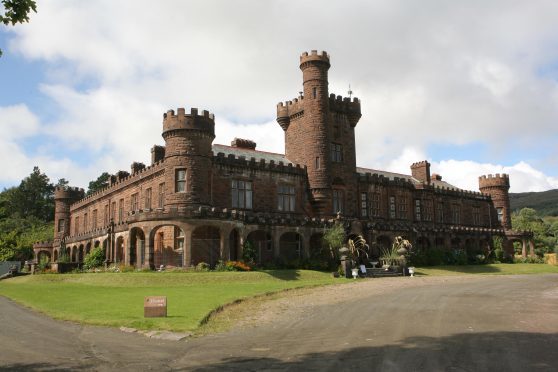 A remote Hebridean island castle is at the centre of a mystery after some of its art treasures "disappeared."
The Kinloch Castle Friends Association has reported a number of items missing from its collection of antiques on the Isle of Rum, including an elaborately decorated mirror, a Japanese Buddha figurine and historic tribal weapons.
Security has been stepped up to prevent any more artefacts going missing, amid claims that Scottish Natural Heritage (SNH) is failing to protect the castle it has owned for the past 60 years.
The building, commissioned by Lancashire industrialist Sir George Bullough in 1897, once hosted some of the most lavish parties and was a showcase for items collected from his travels around the world.
Powerful names headed to Rum to be entertained by the Bulloughs, including King Edward VII.
In 1957, Sir George's widow Lady Monica sold the palatial residence to the Government, which entrusted it to the Nature Conservancy Council – a body which later became SNH.
The castle functioned as a hotel until 1996, and then as a hostel until it was closed to overnight visitors in 2013.
Since then, it has been at the centre of discussions between SNH and the Kinloch Castle Friends Association, which wants to take ownership and re-open it to the public.
It was when the association conducted a rough valuation of the castle's contents last month that news of the missing artefacts emerged.
The association's newsletter revealed "the value of the contents were considered to fall far short of the SNH-obtained estimate of £800,000" and that the valuer noted "many small items would appear to have disappeared".
The group's co-founder George Randall expressed concern over the castle's management, saying: "Kinloch Castle and its contents represent 60 years of failure by successive governments to place this unique, fully-furnished, late Victorian Highland property in the hands of a more appropriate body."
No one seems to know when the items went missing, or who took them, but SNH believes they probably disappeared while the castle was open to the public.
Spokesman Dominic Shan said: "We regret a small number of items were either damaged or have gone missing from the castle during the period when it was run as a hotel and then a hostel.
"We take the conservation of the castle's contents very seriously."