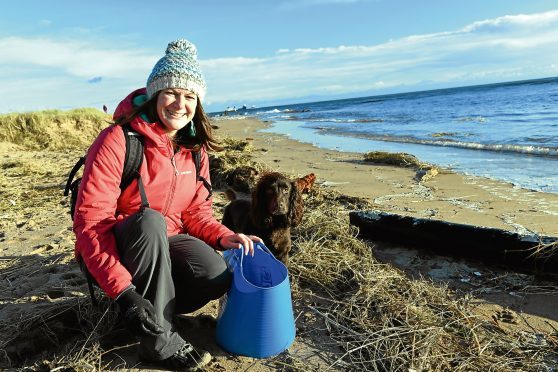 Marine biologist Lauren Smith and her dog, Tattie, are a common sight at Aberdeen beach – where she can often be found surfing as others wrap up against the cold.
The winter months are an ideal time to enjoy the waves, but Lauren has been struggling to get out on the water recently.
It doesn't take a particularly close inspection of the coastline to see why.
Lauren must carefully pick her way between pieces of plastic and discarded fishing equipment before she even makes it to the water.
From tiny pieces of plastic known as nurdles, to discarded bottles which can take years to biodegrade, our once stunning north-east coastline has slowly been encroached upon by a tidal wave of waste.
The problem does not ease once Lauren and her fellow surfers finally take to the waves, and she routinely sees rubbish float past.
An experienced diver, she has even spent the majority of dives clearing plastic from the sea floor and de-tangling plastic from crabs and fish.
On Lauren's own admission, if she sees discarded plastic she simply has to do something about it and will detour to the recycling plant on her way home.
More people would perhaps do well to share her passion for a cleaner environment, and Tattie also helps pick up rubbish when out on walks.
There is no escaping the war against plastic, and people are finally beginning to wake up to the catastrophic damage it does to the environment.
Recent stormy weather has washed up waste across the country, but grass-root movements at a community level have already made a major difference in the clean up.
Lauren is a member of Surfers Against Sewage, a national group which has seen more than 34,000 volunteers clean up beaches all over the UK.
Prime Minister Theresa May has set out plans to get rid of avoidable plastic waste within 25 years, with the 5p plastic bag charge coming into force in all shops.
Supermarkets will be encouraged to have plastic-free aisles, and there has been a suggested 25p charge on disposable coffee cups.
Iceland has become the first major supermarket to completely ban plastic packaging, and wants to do away with all plastic for own-brand products within five years.
A ban on plastic microbeads has now come into effect, meaning they can no longer be used in cosmetics and personal care products in the UK.
The sale and manufacture of plastic-stemmed cotton buds is also set to be banned under new Scottish Government plans.
But will tougher laws really make any difference against what Sir David Attenborough highlighted as a devastating threat to oceans in his recent Blue Planet series?
Lauren seems to think so, and she is calling on volunteers to join her later this month for the first beach clean up of 2018.
LAUREN SMITH: PEOPLE ARE SLOWLY WAKING UP
"I've been a member of Surfers Against Sewage since 2012, and it has been 14 years since I qualified as a marine biologist.
"I was aware of the problems that could occur once plastic gets into a marine environment, but since taking to the water I've seen it first hand.
"I go down to the beach with every intention of surfing, but I end up collecting rubbish.
"Even Tattie tries to help me, and will collect plastic bottles.
"The one thing I'm always finding is plastic bottle tops and fishing gear.
"There is a lot of synthetic material which comes from fishing ropes for example.
"The river mouth area of the Don is particularly bad, as is Fraserburgh.
"The problem with the Moray coastline is that many of the coves are isolated.
"When plastic washes up in the bays, it can't be cleared away because the coves aren't easily accessible.
"Some pieces of plastic can cross the entire Atlantic and end up on our shores.
"I'm pretty sure that people think I'm mad for heading out to surf in the autumn and winter months.
"It's the best time of year to do it though.
"We can't even go out on to the water without seeing rubbish float past us.
"It's not pleasant at all.
"I also go diving, and it's not unknown for me to spend the majority of the dive removing plastic from fish and crabs.
"Plastic is getting into the food chain because microplastic is ingested by plankton.
"The absorption of chemicals then goes into the muscle of the fish.
"At the moment there is a monumental amount of polystyrene round the mouth of the Don.
"It has been broken down into tiny pieces, which is really difficult to remove.
"I think the new laws will make a difference, but it isn't going to happen overnight.
"The thing which makes the most change is people's attitudes.
"We haven't been able to escape the damage that plastic does, and the media has covered it at length recently.
"Schemes like the plastic bottle deposit scheme are a brilliant idea.
"I think it's a really good incentive, and examples from Norway show it to have been successful.
"The secret is to show that rubbish actually has value, it is worth something.
"There are so many things which people can do to help.
"Packing your child's sandwiches into a lunch box with compartments, instead of using individual sandwich bags.
"Reusing plastic containers and drinking bottles; I really do think it is possible to have plastic-free communities.
"There are people who don't even live in coastal areas leading the charge; anyone can get involved.
"There will be a big beach clean-up at the north end of Aberdeen beach on January 28, starting at 2pm.
"Everyone is welcome, and together we can keep our beaches clean."
Plastic is even making its way to some of Scotland's most remote islands, including the Isle of Canna.
International award-winning photographer Mandy Barker has received worldwide recognition for her work on the documentation of marine plastic debris.
Her work has been published in more than 40 countries, and Mandy spent last summer sailing round the Inner Hebrides with the Beluga II expedition.
She has just returned from America to speak at a National Geographic event, and will be attending a Greenpeace talk to the Scottish Government in Edinburgh next month.
Mandy believes that the new laws do not go far enough.
MANDY BARKER: I'LL NEVER STOP PHOTOGRAPHING PLASTIC
"Beluga II started its journey in the Firth of Forth, taking in the Bass Rock and Isle of May before travelling up the east coast and passing through the Caledonian Canal on to the west coast.
"From there it travelled to Rum and Eigg, the west coast of Skye, the Shiant Isles and then Lewis.
"The plastic I collected was found on one single beach in Canna, from shampoo bottles to Fairy Liquid bottles.
"I think companies need to take responsibility for plastic.
"The suggested bans aren't coming into effect quick enough.
"Theresa May's time frame of 25 years is ridiculous, we need something now.
"On the Beluga II voyage, plastic was washing up in waters used by basking sharks – giant, gentle filter feeders – seals, puffins and whales.
"I believe that photography has the power to change, and that's why many of my photos are pretty shocking.
"I've taken photos of albatross chicks who are getting fed toothbrushes and ink jet cartridges.
"Sadly there will never be a time when I'm not photographing plastic; something like 800million tonnes goes into the sea every year.
"Once we stop it going into the sea in the first place, then we can focus on cleaning up the mess we've created.
"One thing I know for sure, we must never become complacent."
Martin Gray is not surprised by the impact of plastic on wildlife.
He views the issue from a unique perspective, having beachcombed for the past 40 years in Orkney.
Martin is a passionate conservationist and naturalist, and is also fascinated by what washes up on shore.
Beachcombing involves the collection of unusual objects, and Martin has even discovered ambergris.
It is produced by sperm whales and used in perfumes, but it's not just treasured finds which have caught Martin's attention over the years.
He says he is "heartbroken" by the amount of waste found on some of the world's most picturesque beaches.
But Martin is also hopeful that change is coming.
MARTIN GRAY: WE ARE PUSHING ON AN OPEN DOOR
"Beachcombing is very different from beach cleaning.
"I'm a nightmare on beach cleans because with every item picked up, I'm rushing over filled with fascination.
"I do carry out my own beach clean however, and I'm always trying to recycle items that I find so they can have a second life.
"The undercurrent in Orkney means items are washing ashore from the tropics and Africa.
"In some ways I think we are in a better predicament then we were in the 1970s, because we are that much more enlightened.
"Back then, I can remember the beaches having more waste on them.
"This is because ships all over the world would simply chuck their waste over the side, there was no exception.
"I would stand ankle deep in waste on the shoreline.
"The problem is that rubbish from 30 years ago hasn't gone away.
"Last month I found the body of a dead Fulmar, enmeshed in a net.
"That really gets to me, a needless stupid waste of life.
"When we get really bad storms in Orkney, the coastline will be littered with rubbish.
"It feels like we get all the rubbish from the north Atlantic landing on our shore.
"It doesn't help to point the finger at where rubbish comes from though.
"Plastic is in every corner and aspect of our society.
"The problem isn't caused by one set group, be it fishermen or cargo ships.
"This is a human problem.
"It is heartbreaking to see a beautiful, world-class coastline ruined.
"I think one single episode of Blue Planet was tectonic though; it woke people up.
"It achieved more in one hour than social media and the internet has done in its entire existence.
"People are genuinely shaken, they are now seeing what I have been banging on about for years.
"We are pushing on an open door."
Artist Katie Tunn agrees.
She is the regional representative for Surfers Against Sewage in Skye, where she has lived for the past four years.
KATIE TUNN: THIS IS A BOTTOM-UP MOVEMENT
"Skye is meant to have some of the most picturesque beaches, until you discover the washed-up plastic tampon applicators littering the shoreline.
"It's needless, as are all the plastic cotton buds we find.
"Shotgun cartridges are also a major problem.
"An investigation discovered the origin as Newfoundland in Canada, where a lot of ducks get shot.
"The cartridges end up in our waters; it's unbelievable when you consider the distance which waste has travelled.
"We found a tag from a lobster pot, dating back to 1989.
"But there are positives to be found as well.
"People who come here on holiday give up their time for beach cleans, and it is making a difference.
"I think it's possible to follow Ullapool's lead, it was the first village in Scotland to ban plastic straws.
"There is a bottom-up movement, and when spring comes, we will be cleaning our coastline.
"Change is possible."