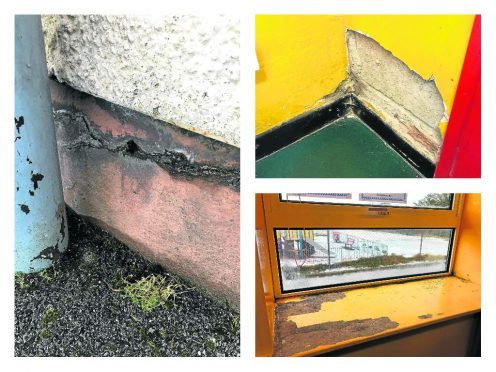 Pupils and parents have branded their primary school on Skye so "disgustingly dilapidated" that it is a serious health risk – and have resorted to shaming Highland Council and the Scottish Government online as a last resort to getting a new building.
Damp, rot and mould are affecting the health of children and staff at Broadford Primary, while slugs are regularly seen crawling and leaving slime in the classrooms, they claim.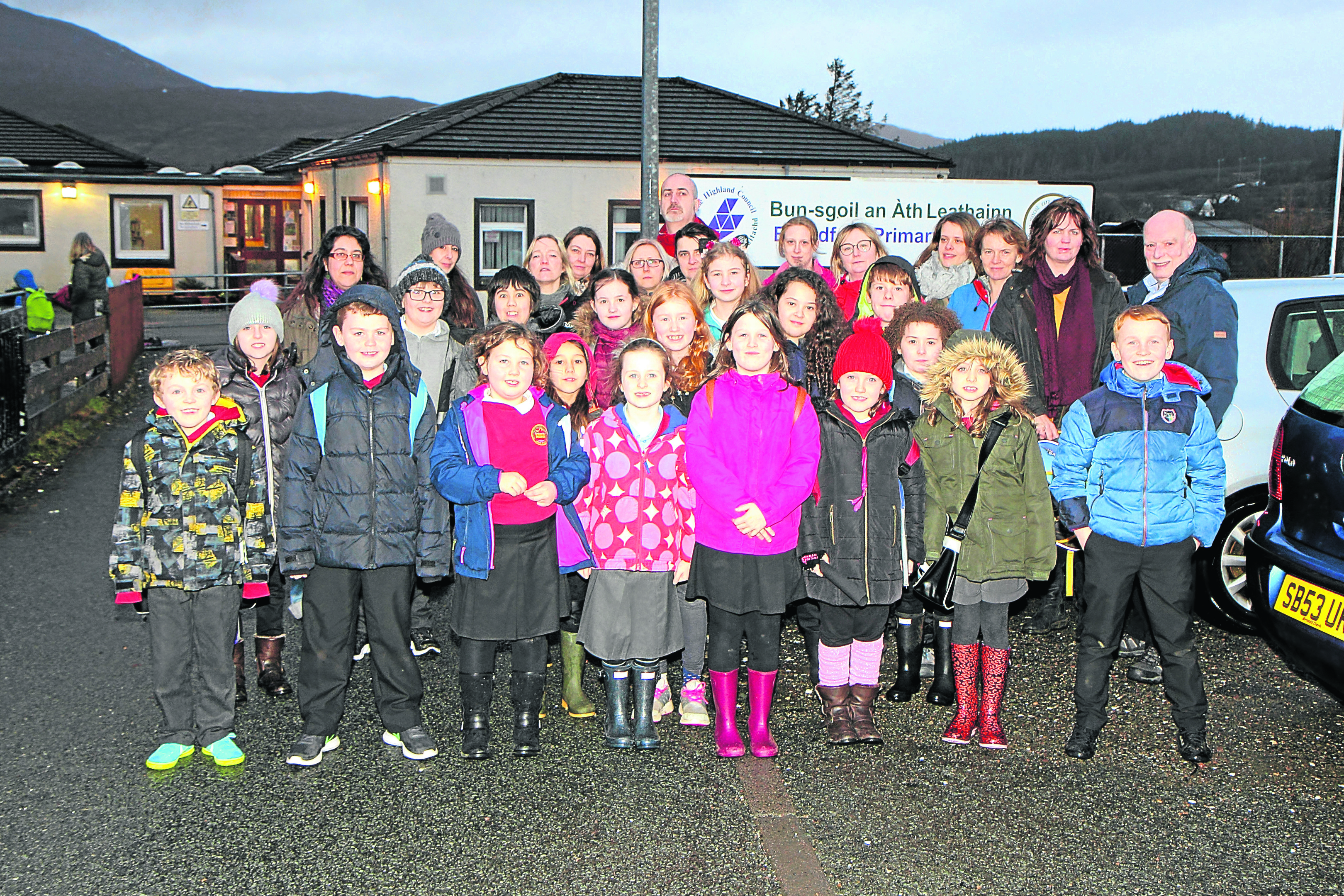 Parents and pupils say buckets line the corridors and classrooms to catch leaking water, the carpets are soaked and the central heating is so loud it is turned off, with teachers relying on plug-in heaters.
The situation has become so bad at the 43-year-old school that pupils have written to Scottish education secretary John Swinney detailing their concerns – which include being prevented from brushing their teeth because of the alleged poor state of the water.
The Broadford Primary School Parent Council has posted pictures on social media showing the extent of the problems they are facing.
Chairwoman Norma Morrison said: "It is with a faint heart we have decided to go down this line as a last resort to highlight the serious problems at the school."
IN FULL: The letter pupils sent education minister about concerns over 'damp' school
Inviting Mr Swinney to inspect the building personally, she added: "Speak to the children, speak to the staff, speak to the parents about our learning environment.
"Hear from parents and children of health and respiratory issues which appear to affect some children when starting their education in Broadford Primary School and which appear to be less ferocious during school holidays and disappear when children move on to Portree High School and secondary education.
"This community is united in the view that, to have a modern learning environment, the health, safety and general wellbeing of pupils is absolutely critical and none of those conditions are in place in Broadford Primary School."
She added: "Over too many years we have heard the Highland Council blame the Scottish Government for lack of funds.
"We hear the Scottish Government say that Highland Council is getting the funds but choosing not to spend it in Broadford.
"Whilst this is batted backwards and forwards and no one takes responsibility, our children are suffering."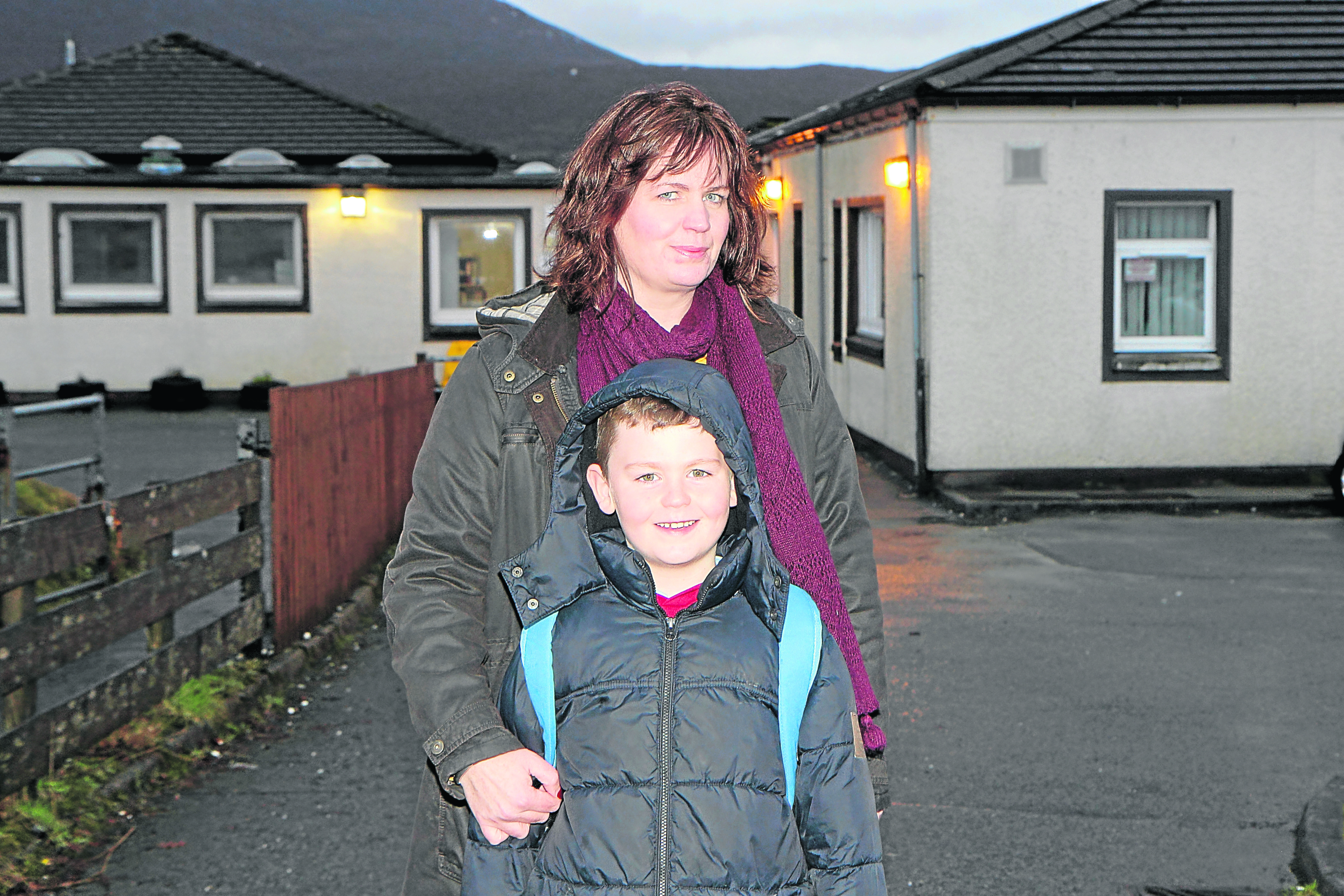 She stressed: "Teachers and staff at the school are to be commended for providing an excellent standard of education in a very challenging, trying and unacceptable environment."
Mrs Morrison said the school was so damp that pest control officers could not complete work to prevent slugs crawling over the classrooms.
The parent council claims there is asbestos in the roof which is compounding the health issues pupils and staff are suffering as a result of the damp and mould.
They add that there is a lack of security and that the water is not fit for consumption, preventing pupils from brushing their teeth.
Mrs Morrison, who has two of her four children still attending the primary school, added: "The school is too small for a growing pupil population, the drains are backing up and there is no gym hall.
In a direct question to the Scottish Government and Highland Council she asks: "When are the children and staff of Broadford Primary School going to get the healthy, modern learning environment it so desperately needs and deserves?"
Skye councillor John Finlayson confirmed the concerns of parents and pupils were "a real concern", adding: "The building is not fit for purpose and is not the kind of environment we want our children to be educated in the 21st century."
Kate Forbes MSP said: "Broadford Primary School building is in a despicable state, and has been for many years.
"I visited the school just before Christmas and spoke to members of the parent council.
"Only by visiting do you truly appreciate the damp, rot and mould in the building and the obvious impact this must be having on children's learning and health. "
She added: "Last week, the children, the parents and I wrote three letters to be delivered to Highland Council and to the Cabinet Secretary for Education.
"The thing is that this school has been disintegrating for many years so Highland Council has no excuse for not investing in the school.
"There are three independent councillors on Skye, all of whom are part of the administration, and so I sincerely hope they will be fighting for Broadford Primary.
"I hear Highland Councillors citing funding constraints as a reason why Broadford hasn't been given the attention it deserves, but that does not wash when you consider how long Broadford has required finance – through years of plenty and years of less.
"Ultimately, school infrastructure is a matter for Highland Council and excuses are wearing thin."
A Highland Council spokeswoman said: "The Council is currently reviewing its capital programme, the outcome of which should confirm a capital investment plan for the next 10 years.
"Investment in Broadford (and other Highland schools) is being considered as part of that process."
A Scottish Government spokesman said: "Through our £1.8 billion Scotland's Schools for the Future programme, Highland Council is the second largest beneficiary and has been awarded over £63 million towards five school projects.
"We are committed to building on the success of the programme and last year the Education Secretary announced the intention to further invest in new and refurbished school buildings. The detailed development of the plan is underway and an announcement will be made later this year."
BROADFORD SCHOOL
The Broadford school on Skye, opened in 1975 with just over 100 primary and nursery pupils, teaches both English and Gaelic.
There are four classrooms in the main school building and also a hall which serves as a dining room and gym.
An area next to the hall serves as a resource centre and library.
Also within the school perimeter is a large demountable unit which provides facilities for another two classrooms, and a multi-purpose facility which functions as a community resource and out-of-school club.
The village hall is very close to the school and is used for PE and social functions. The School also has a large garden-cum-wildlife area.
Parents may choose to register their children for either English Medium or Gaelic Medium education.