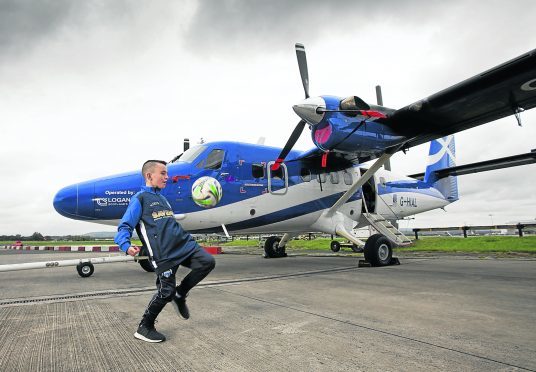 An angry row has broken out on Barra as the community tries to develop one of the most remote soccer pitches in the country.
The local team on Barra is the only one in Scotland where all their away games involve a ferry journey.
But Western Isles Council has been accused of blocking a bid to build an all-weather pitch on the windswept Outer Hebridean isle.
A furious Western Isles MP Angus MacNeil is calling on Western Isles Council not to hinder the sports facility project.
Mr MacNeil used to play for Barra and also the Commons all-party soccer team.
And the island is not short of younger talent.
In October it was revealed that a 10-year-old footballer from Barra has been making a 320-mile round-trip to train with a mainland academy.
Matthew Davidson travels from Barra to join training sessions and matches with Greenock Morton FC 's under-11s up to twice a week.
But the lack of an all weather pitch has upset local players.
Coimhearsnachd Bharraidh and Bhatarsaidh Ltd submitted an asset transfer request to the Comhairle for a plot of land opposite Castlebay Community School for the purpose of building the much needed all-weather pitch.
The transfer request was declined and the community is now in the process of appealing this decision.
Mr MacNeil added: "I have written to Comhairle Leader Roddie Mackay and all councillors, the Comhairle must approve the Community Asset Transfer of this land to allow the community to benefit from an all-weather pitch. This has full support on Barra and it is bizarre that the Comhairle of all bodies should ride rough shod over the community.
"Campaigners have lived with 18 years of promises from the Comhairle. People are not even looking to the Comhairle to fund it but to get out of the way and let it happen.
"The community has until the 30th of January for their Community Asset Transfer appeal and Comhairle nan Eilean Siar should remember they were only custodians of the King George V playing fields in Castlebay and shouldn't act like unreasonable Victorian landlords. Councillors, of course, have to ensure this."
A Western Isles Council spokesman said: "The redevelopment of Castlebay School is in the very early stages of options appraisal and the final solution will depend on the level of funding available from the various supporting agencies. The preferred option would be to include an all weather pitch (AWP) in the scope.
"It is the council's intention that an AWP be facilitated in Castlebay, be this through the transfer of land to the community, or incorporation into the school development project. The reason for retaining the land at the current time is to allow all development options to be considered.
"The council is supportive of the community's aspirations to enhance the sporting facilities in Castlebay."