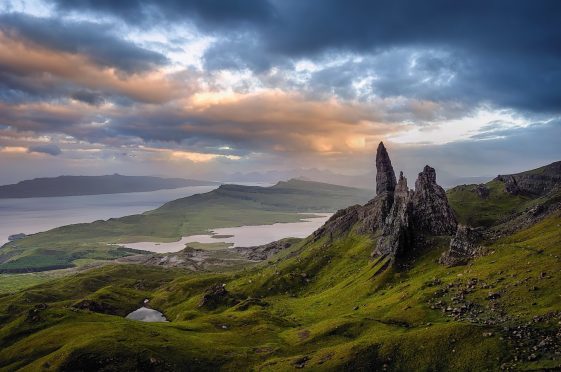 US broadcaster CNN has sparked a backlash after it ranked Skye among its top 12 global tourist destinations to avoid this summer.
The island finds itself at the top of a list which also includes Barcelona, Venice, Dubrovnik, India's Taj Mahal and Mount Everest.
The article, "12 destinations travellers might want to avoid in 2018", states the infrastructure of Scotland's largest island "creaked under the pressure" last year as thousands of tourists in coaches and cars "plied its narrow lanes" to visit spots such as the fairy pools at Glenbrittle or the Old Man of Storr, resulting in traffic snarl-ups.
The article, by CNN Travel, claimed: "Eventually the residents of beautiful Skye said enough was enough after complaints of noise, overcrowding and even visitors urinating in public."
Last year, islanders complained Skye had become overcrowded and that single-track roads were choked with campervans and tour buses.
A row also broke out after media reports that police were advising tourists to stay away from the island. But this was disputed by local officers who insisted they had only urged visitors to show common sense after many turned up without booking accommodation and found nowhere to stay.
The article advised visiting Skye outside of the summer season when tourist numbers drop and iconic sites can be explored without having to battle crowds.
It suggested heading to the Small Isles of Rum, Muck and Eigg or Jura as an alternative.
But Skye, Badneoch and Lochaber MSP Kate Forbes described CNN's reporting as "irresponsible" and insisted Skye is definitely open for business.
She added: "Last summer attracted thousands of visitors to the island because of its beauty, delicious food and drink and warm welcome.
"I know that there are businesses throughout the island that are preparing for another season.
"Tourism has long been a cornerstone of the local economy and any stories that turn people off are deeply unhelpful. Tourism employs hundreds of local residents, enables local entrepreneurs and keeps the economy ticking over.
"There is a lot of work ongoing over the winter months to ensure that there is more parking available at key sites. All are warmly welcome.
"I can also recommend a number of fabulous sites across the Highlands – the Ardnamurchan peninsula, Badenoch and Strathspey and Dingwall and the Black Isle."