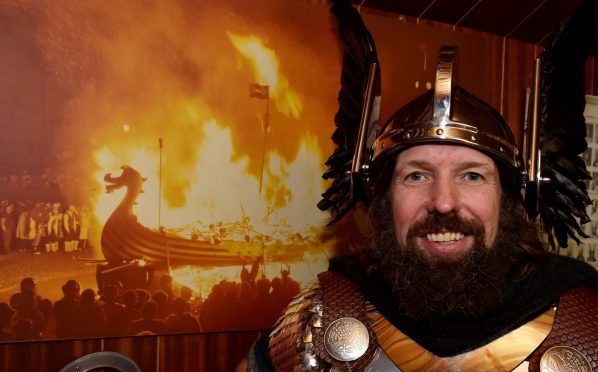 The leader of this year's up Helly Aa fire festival will follow in the footsteps of his father when he leads a redoubtable procession of Vikings through the streets of Lerwick tomorrow.
Stewart Jamieson, 46, was just nine years old when his dad Harry was the Guizer Jarl in 1981.
The world-famous Viking festival has had a special place in his heart ever since, and in October 2004 he joined the event's committee.
Mr Jamieson has already stepped into his father's shoes as shop manager at Harry's Department Store, which was opened by his dad in 1962,
But, on Tuesday, he will go one step further by taking on the "immense privilege" of leading Up Helly Aa as the 2018 Guizer Jarl.
Although Mr Jamieson's father died a few years ago, his memory will live on tomorrow as hundreds of men march through the Shetland town to hurl blazing torches onto a specially-built Viking galley, the centrepiece of the festival.
Mr Jamieson said: "I've been brought up with Up Helly Aa ever since I was young.
"My earliest memories of it are watching my father and the procession, and seeing the torches light up the galley.
"I joined when I was 13 as a fiddle box carrier and, when I was 16, I came into the full squad, and it has been a huge part of my life ever since.
"It is an immense privilege to be the Guizer Jarl, this whole week of preparations has been amazing."
Mr Jamieson's traditional Viking armour has taken an entire year to carefully craft, and he adnitted he can't wait to finally unveil it for the festival.
His wife Elaine will look on with pride as he leads the fiery march of around 1,000 costumed torchbearers, which will also include his two sons Shane, 26 and Haydn, 22.
As the squads put the finishing touches on this year's galley, Mr Jamieson said he hopes the weather will be an improvement on last year's bitterly cold wind and rain.
He added: "The excitement is really building up, and we are enjoying every moment.
"Hopefully, we will wake up on Tuesday morning and the weather will be nice."
Up Helly Aa celebrates the end of the darkest days of winter, and attracts thousands of visitors from all over the world to Shetland every year.