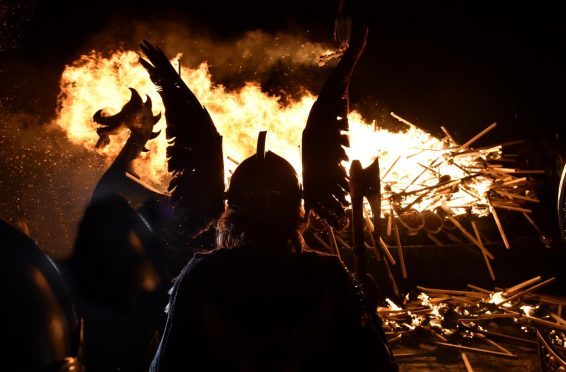 Thousands of Shetlanders paid fiery tribute to the spirits of their Viking ancestors last night by burning a magnificent galley to cinders in spectacular Up Helly Aa fashion.
Street lights were extinguished and a bright flare lit up the pitch-black skies of Lerwick to signal the start of the evening's festivities.
The streets of Lerwick were suddenly ablaze with the orange light of 854 paraffin-soaked torches lighting up, sending smoke billowing across the crowds of visitors from across the globe.
The jarl squads, led by this year's guizer jarl Stewart Jamieson, roared with passion as they marched around the King George V Playing Field – and their calls were matched with equally fearsome shouting from hordes of onlookers.
Although it had been a wet afternoon, the jarl squads were blessed with a dry period for their torchlit procession, and they made the most of it by taking a few extra laps around the burning site before finally reaching the dragon-headed galley at the heart of the festival.
The 979 guizers, divided into 47 squads, completed a final circle before tossing their torches on board the vessel. The galley erupted into an impressive inferno that warmed the hearts of the chilly Vikings and the frostbitten crowds.
The vessel, which took months of careful craftsmanship by a team of 30 volunteers, was reduced to cinders within minutes.
This year's guizer jarl was joined in the procession by his two sons Shane, 26 and Haydn, 22.
As he watched the vessel burn, the proud father and jarl said: "This year has been immense and an absolute privilege. It has honestly been the best experience of my entire life. Of course, the experience has been even more special as I've been walking in my father's footsteps who was guizer jarl in 1978.
"This will be a memory I will treasure forever. I would like to thank everyone for making this one of the best Up Helly Aas ever."
After the deed was done and the fire extinguished, guizers and spectators alike filled up 11 halls to party the night away into the wee small hours, marking the end of another spectacular Up Helly Aa.