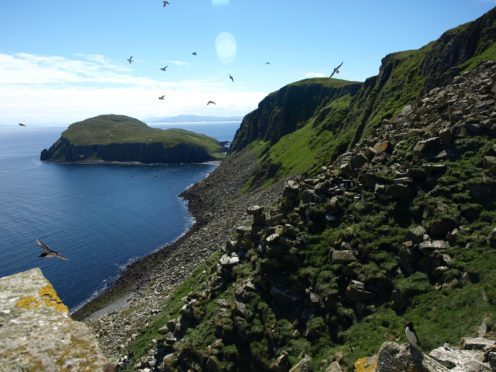 A £1 million pound project to eradicate black rats off a group of Scottish Islands has come to an end as experts declare the island to be a secure haven for nesting seabirds.
The Shiant Isles, a remote cluster of islands five miles east of the Isle of Lewis, is now rat-free following a four year project by the RSPB to make the area a safe place for birds to breed their young.
The black rats population are believed to have become established after some were shipwrecked on the island over a century ago. They were feeding on seabirds' eggs and chicks, making breeding almost impossible for the 1,500 birds that flock to the island each year.
Dr Charlie Main, Senior Project Manager for the Shiant Isles Recovery Project said: "This is an absolutely fantastic moment for the Shiant Isles and everyone involved in the project is delighted that they are now officially rat free. With so many of Scotland's seabird populations in decline it's vital that we do all we can to help them. Making these islands a secure place for them to breed is really important.
"Over the next few years we're really looking forward to seeing the full impact of the islands' restoration flourish with the seabirds enjoying improved breeding successes, and other species beginning to breed there as well. We'll also continue to work with the local community to ensure this special place remains free of rats.
"This project has paved the way for more island restorations to take place around Scotland and give our threatened seabirds the best possible chance for the future."
Eradication was undertaken by New Zealand-based company Wildlife Management International Limited (WMIL), with the help of fifteen volunteers, during the winter of 2015/16. Traps laced with peanut butter and chocolate treats were laid out across the islands, in a bid to lure the rats.
The project was funded by the European Union and the Scottish Natural Heritage, as well as through a string of public donations.
Andy Douse, Scottish Natural Heritage (SNH) ornithologist, added: "It's wonderful news that this project has helped to protect the internationally important seabird colony on the Shiant Islands.
"The partnership between RSPB Scotland, WMIL, the Nicolson family and SNH has been a great success, particularly considering the complexity of the project, and we'd like to thank everyone involved. It was a great team effort, and we can now take the knowledge gained from this project into other work to protect Scotland's special species and habitats."