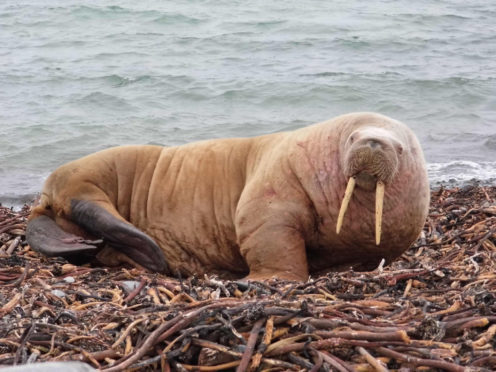 A nature-lover who spotted a walrus off the Orkney coast – hundreds of miles from its native Arctic home – has revealed he could barely believe his eyes when he noticed what was swimming near him.
Lewis Hooper had been out dog walking and bird watching on North Ronaldsay when he saw something bizarre in the water.
He had only been a volunteer at the island's bird observatory since last month when he saw what is only the second walrus to appear in waters off the Orkney coast.
After first sighting the marine mammal sometime on Thursday afternoon he pursued it from the land.
He said: "I saw the back of something coming out of the water. I was pretty baffled. Its back kept on coming out of the water but when its head breached the surface with the tusks it was clear it was a walrus."
The walrus, which is native to the Arctic, then moved off in the water at speed with Mr Hooper in hot pursuit around the coast.
He said: "I rang a couple of people and I chased after it down the coast but it was moving a lot faster than me obviously.
"I watched it as it came around the coast and then I came to a point on the rocks and saw it lying on the beach."
He added: "As I saw it on the beach, it swam farther round to the pier and then it reappeared on Sanday."
Mr Hooper said that despite primarily being a bird watcher it was still a pleasure to witness the rare sight of a walrus because "when you are into birds it means you care about all wildlife."
Pictures of the creature taken on Sanday show it reclining on the rocks, lapping up the sunshine after its marathon swim.
The last time a walrus visited Orkney was "five years and five days ago", according to Mr Hooper.
Coincidentally, that was also on North Ronaldsay and was also discovered by a bird watcher from the same observatory.
Local wildlife watchers said they had never before heard of walruses turning up on any of the islands as it was far too southerly for the mammals.
Typically Walruses are usually found in the Arctic Ocean and subarctic seas but have been known to move as far south as northern Spain.