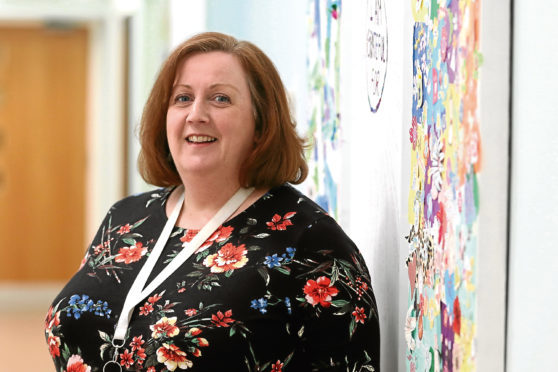 A domestic abuse incident is recorded roughly every 10 minutes in Scotland, and one in five women will experience some form of domestic violence in their lifetime.
These statistics haven't changed much in the last five years, and levels of abuse recorded by the police have remained relatively stable since 2011 at around 60,000 incidents a year.
However, that may be about to change.
In February this year, Scotland passed the Domestic Abuse Bill, aiming to tackle not only physical abuse, but also the controlling and coercive behaviour often experienced by victims.
It is the first bill of its kind to be created in Britain, and the new laws will attempt to seriously tackle psychological abuse as a matter of priority for the very first time.
In the past, controlling behaviour was virtually impossible to prosecute under criminal laws, and the picture of domestic violence was painted as a pattern of physical or sexual abuse alone.
However, for many women who live with domestic abuse, there will be no scars, bruises or broken bones to show.
Emotional tactics such as name calling, threats and intimidation are harder to prove, alongside withholding money, restricting access to the internet and isolating victims from their family and friends.
Yet for perpetrators, the result is the same – being able to assert unrestricted control over a partner or ex-partner's life, with or without using physical violence.
Many victims of domestic abuse don't report it because they are fearful for their own safety or the safety of their children.
Public shame, potential repercussions from the perpetrator and the thought that they are somehow to blame for the situation are also common reasons that victims rationalise their silence.
In March 2016, Aberdeen University student Emily Drouet killed herself following an abusive relationship.
The 18-year-old texted friends in the weeks before her death describing her emotionally and physically violent relationship with fellow student Angus Milligan, and she insisted "It's my fault", "I made him so angry" and "I deserve it."
In another exchange, Emily described being choked by her boyfriend, saying: "It scared me so much. I just can't bear it. I know I should [do something]."
Elaine Fetherston, executive manager of Inverness Women's Aid, has seen this time and time again.
"More often than not it is hidden abuse," said Elaine.
"Both the perpetrator and the partner become very adept at covering up the abuse.
"It can often be a very insidious issue which develops over many months or years.
"By the time women realise what is happening they are entrenched in the relationship and struggle to see any way out.
"I've had a varied career working in social services and in accident and emergency departments; I thought I was unshockable before I came to Women's Aid two years ago.
"But the levels of depravity some people will sink to is truly horrifying.
"I've seen cases ranging from severe torture to acute psychological abuse, and we shouldn't be immune to that.
"The whole point is to make it unacceptable to the whole of society and to show that any behaviour like this will absolutely be challenged.
"The new Domestic Abuse Bill is momentous, and shows that Scotland is, in fact, very progressive in recognising that coercive behaviour is a crime."
Women's Aid was first established in Scotland in 1976 and in recent years has been particularly active in lobbying to change attitudes towards domestic abuse.
The service now has 36 specialist local centres across the country offering both somewhere safe to stay as well as practical and emotional support to sufferers of domestic abuse.
In Aberdeenshire and the Highlands alone, there are nine major facilities reaching as far north as Shetland.
Elaine believes that the subject is slowly becoming less of a taboo topic.
"Of course it is a difficult topic to talk about but it's getting easier," she said.
"Campaigns like the #MeToo movement and public revelations of misconduct against many big names in Hollywood really open up discussion.
"Even things like gender politics and media coverage of different mental-health issues can all contribute to understanding abusive relationships.
"At Women's Aid we try to help women transform themselves.
"A lot of it is about regaining confidence and general re-empowerment, as they have had their self-esteem totally stripped away.
"Once they have a safe place to stay then the work really starts.
"It can take years for women to feel like they have their lives back in control, but after what many of them have gone through, their resilience is often astounding."
According to Fiona Whitehouse, project manager of Aberdeen Cyrenians' violence against women project, recognising this strength of character is something which often takes a back seat when it comes to discussions about domestic abuse.
"It's so important to recognise the inner strength women have," she said.
"We almost always see coercive and controlling behaviour alongside physical abuse, and together it has a devastating impact on a woman's confidence.
"For them to ask for help or even lower their guard enough to allow themselves to be helped is a big deal.
"We work with anyone of really any age and see women in their teens or early 20s right through to retirement age.
"At any age it takes a leap of faith to ask for help, particularly when you've lived with the cycle of abuse for so long and are afraid of repercussions from your perpetrator.
"Generally we see women who are at crisis point and we try to take a three-step approach to help them come out the other side.
"Firstly is their safety, and putting in place safety measures to either make their home safe or perhaps coming up with a plan of action if they need to flee.
"Within this we carry out a Multi-Agency Risk Assessment Conference (MARAC) attended by the police, housing board, a mental-health professional and various other agencies which may play a role in the victim's safety. This is where we discuss the high-risk cases and women who are facing a real risk to life.
"The real benefit of this method is that everyone is around the table at one time so decisions can be made and actioned quickly.
"Once the victim is safe, the second step is to explore what has happened to them and how it can be prevented in future, and thirdly we help them to move on with their lives, whether that takes weeks, months or years."
Occupying one of the chairs at these MARAC meetings is Kelly-Jane Gissing, who works as an independent domestic abuse advocacy co-ordinator in Aberdeen.
Kelly-Jane's role sees her represent the women themselves at these conferences, ensuring that her clients' views are both listened to and taken into consideration.
"The women themselves don't attend the MARAC meeting," said Kelly-Jane.
"I work independently from the police, social work and courts and it's my aim to help clients through this difficult time and to be 'on their side' so to speak.
"I meet with the victim beforehand and discuss what they feel they need to keep them safe.
"Then I report back to the meeting and speak on their behalf.
"I've been doing this job for more than four years now and one thing I've learned is that it doesn't matter your background or your postcode, abuse really can strike anywhere.
"These days it can come from all angles, like texts, constant messages on Facebook or even apps like Snapchat which track your location.
"I've had clients come in and tell me that their partner or ex-partner has set up fake social media accounts to keep up the contact online without the victim's knowledge."
Recent figures reveal that domestic abuse incidents in Aberdeen are higher than the national average. A total of 110 domestic abuse cases were recorded by police per 10,000 population in 2016/17, compared to 109 across Scotland.
While in the Highlands and Inverness stats were lower than average (at 100 incidents per 10,000 population), this is a figure which has more than doubled from 10 years ago.
Kelly-Jane is conscious to remind us, however, that these are just the incidents which have been reported.
"For a woman to ask for or to accept support takes a great deal of courage, and I want to let women know that there are services out there who can help.
"Countless cases go unreported.
"But I've seen lots of clients who have successfully come out the other side and go on to lead really positive lives.
"The difference in them is remarkable, and they tell me that they are so much more relaxed.
"Often, women are under so much stress that they have made themselves ill, and when all that falls away they can finally be themselves again."
The Scottish Women's Aid helpline is 0800 027 1234, and support is available 24 hours a day. More information can be found at www.womensaid.scot
Aberdeen Cyrenians can be found at www.aberdeen-cyrenians. com and on 01224 625732.