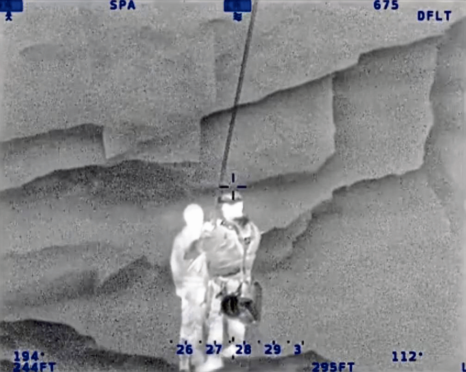 A walker was rescued by coastguard teams using ropes early yesterday after he got stuck 80 feet down a steep rocks in Shetland.
The alarm was raised at 9.45pm on Wednesday after 19-year-old Ellis Thomason, who was out with a friend at Fethaland on the northern tip of mainland Shetland, got into difficulty.
Coastguard rescue teams from Lerwick and Hilswick were called to the scene, as were the Sumburgh-based Coastguard helicopter and Aith Lifeboat.
A Shetland Coastguard spokesman said the rescue teams used topes to lift the man to safety just after 2am.
He was airlifted to Tingwall Airport and transferred to Gilbert Bain Hospital.
Although unhurt, he said afterwards he had been "verging on hpothermia".
He added: "It wasn't a proper cliff, it was more just rocks and we could effectively walk down.
"There was a bit of a steep bit. Then it just started raining and I couldn't get back up it. He [my friend] went and got help.
"It was freezing. We got there at maybe 8.45pm, and I would have been an hour trying to find my way out."
But he said he was "pretty calm the whole time" because he was aware of how the coastguard worked.
Incident commander Dave Sweeney said: "This incident was a prime example of team working at its best.
"The conditions for rope rescue were very challenging indeed, with cliff technician Jamie Newlands safely extracting the casualty from the bottom of the cliff."
HM coastguard helicopter captain Martin Naylor added: "Last night's rescue was one of the most difficult rescues we've seen for a while.
"On scene, and having made one attempt, it was clear that winching our winchman down to the scene was too dangerous – particularly given that the casualty declared himself to be uninjured but cold.
"It was quickly clear that the best and safest course of action would be to allow the CRTs to commence recovery of the casualty.
"The CRTs performed a deeply impressive and safe recovery of the casualty which is testament to the dedicated training they regularly undertake."