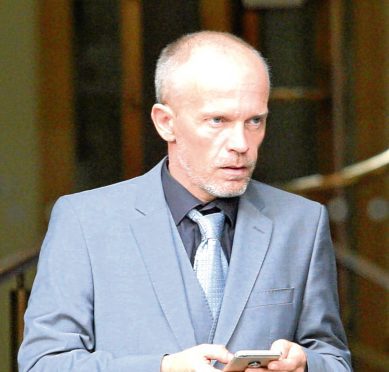 A fishing skipper who filmed his own horrific catalogue of rape and abuse of a vulnerable woman lost an appeal against his nine year jail sentence yesterday.
Marc Ronald, from Skye, shot video and added his own derisive commentary as he carried out the assaults on the woman and stored them on his laptop.
The graphic film was used as crucial evidence against him when a selection of the videos were shown to a jury in a closed courtroom during his trial at the High Court in Edinburgh.
Fishing boat skipper Ronald was found guilty in August of carrying out two rapes on the woman and a further three sexual assaults. He filmed himself carrying out four of the sex crimes.
Yesterday, Ronald's counsel Claire Mitchell argued at the Court of Criminal Appeal in Edinburgh that the sentence imposed on him was excessive and a shorter jail term should be substituted.
But the Lord Justice Clerk, Lady Dorrian, sitting with Lord Menzies and Lord Malcolm, rejected the appeal.
Lady Dorrian said there was a significant amount of video recordings showing Ronald sexually abusing the woman and she could be seen to be "obviously unconscious".
Lady Dorrian said: "In all the circumstances we do not consider the sentence can be described as excessive."
Rapist who filmed his attacks on vulnerable woman jailed for nine years
The judges also rejected a challenge against his conviction on one of the charges which was amended at trial after they were satisfied that it did not alter the character of the offence.
The judge who jailed Ronald after his trial told him: "It is clear from the evidence in the case that you took advantage of the victim for your own sexual gratification."
Lord Pentland said Ronald's behaviour to the woman had been "degrading and humiliating" and added: "You treated her as a mere sexual object."
Ronald, 45, of Harlosh, Dunvegan, on the Isle of Skye, had denied raping and sexually assaulting the woman at an address in Orkney and at a farm cottage near Dingwall, in Ross-shire, between March 4 2011 and February 7 in 2013 while she was intoxicated, asleep and incapable of giving or withholding consent.