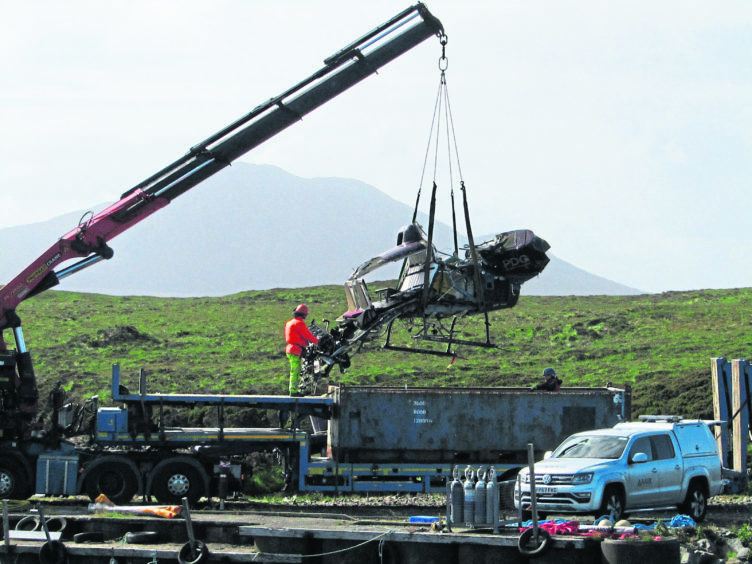 Air accident investigators have salvaged a helicopter which plunged into a Western Isles loch but say it is "too early to come to any conclusions" as the the cause of the tragedy in which the pilot died.
Father-of-two Peter Clunas, 59, from Newburgh in Aberdeenshire, died in the tragedy on Loch Scadavay, a few miles south of Lochmaddy in North Uist, last Wednesday.
Alan Thorne, a senior inspector with the Air Accident Investigation Branch (AAI), said: "We are looking at all the aspects of the accident. Not only the technical aspects of the helicopter but also the nature of the flight, the planning for the flight and the load it was carrying.
"When we get it to our headquarters in Farnborough we can continue to examine it in more detail."
He said the aircraft was very badly damaged after "colliding with the water at fairly high speed".
The wreckage – along with sheared-off parts and its damaged rotor blades – was craned onto a truck at the scene.
It was last night being transported off the island by ferry and will be taken to the AAIB base in Farnborough for a thorought investigation.
Divers had attached huge inflated airbags to the partially sunken aircraft before slowly pulling it from the centre channel of the loch towards the shore.
The PDG-owned helicopter was on the island for a salmon farm charter. Mr Clunas was the sole occupant.
It plunged into Loch Scadavy at about 10.15am last Wednesday.
Islanders said it was carrying a rowing boat underneath when it ditched into the water, just off the Clachan road.
Later, the aircraft flipped over and submerged upside down with just its landing skids visible above the surface.
Three people who saw the crash tried in vain to rescue the pilot.
They raised the alarm and, in a desperate bid to aid Mr Clunas, they rowed out in another boat to the sinking aircraft.
They took the pilot to the shore where he was pronounced dead. An ambulance took him to the Uist and Barra hospital in Balivanich on neighbouring Benbecula.