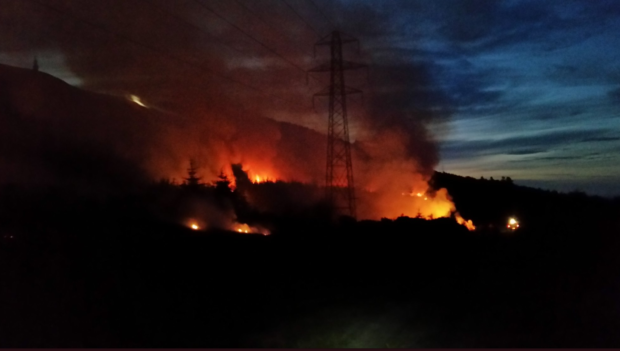 Fire crews have been working through the night in an attempt to extinguish a wildfire in the Highlands.
The blaze was reported to the emergency services at around 12am at Ben Bhraggie, just outside of Golspie.
Seven units, including 30 firefighters are currently at the scene to put out the flames.
Hill fire raging in Ben Bhraggie woods above Golspie pic.twitter.com/7CafMlJqZA

— Angus McCall (@mccallangus) July 7, 2018
A spokeswoman said: "Fire crews have been working overnight to control the fire outside of Golspie.
"We have had numerous calls about the incident as flames can be seen from quite a distance.
Crew paged at 00:14 this morning to a wildfire in forestry above Golspie. A long and challenging shift with the main power lines for the far north of Scotland being engulfed by the smoke and flames. Great work by all involved in keeping everyone safe and well #wearesfrs pic.twitter.com/9uuua0UEHD

— Balintore Fire Station (@Balintore_Fire) July 7, 2018
"No one has been forced to moved from their property."
More to follow.