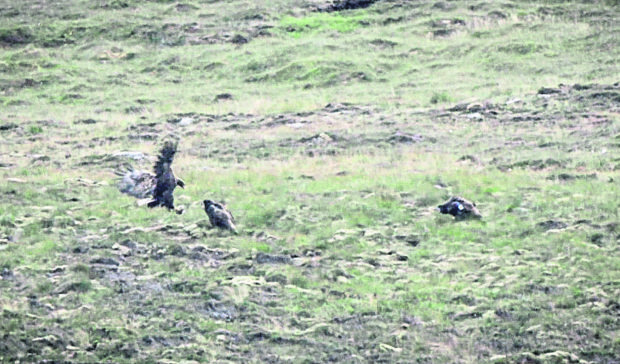 Three-month-old chicks have become the first white-tailed eagles to take flight over in Orkney in almost 150 years.
Their first excursion out of the nest comes exactly 100 years since white-tailed eagles became extinct in the UK – the last known bird was shot in Shetland in 1918.
RSPB Scotland made the announcement that two chicks had hatched on Hoy in May. They have now have successfully fledged and have since been spotted by volunteers.
The discovery was made this week during Eaglewatch – an event that has been running every day to help locals and visitors enjoy birdwatching.
The appearance of the chicks marks a major turnaround after the success of reintroducing white-tailed eagles in the country.
But the bird of prey had remained absent from Orkney until an adult pair appeared in 2013.
Their arrival led to unsuccessful breeding attempts in 2015 and 2016, before the pair abandoned the territory in 2017. But the female returned this year with a new, younger male.
Hopes were high when the adults showed signs of incubating, with confirmation coming that there was at least one chick in the nest.
That made it the first eagle chick to hatch in Orkney for 145 years – and soon it became clear there were two chicks.
One of the volunteers who saw the eagles, Katherine Stark, said: "It was magnificent to see the eagles soaring through the sky, especially knowing how long it has been since the last time.
"We spoke to lots of locals and tourists throughout the day and everyone was thrilled. There has been a nervous excitement in the air since the chicks hatched but now we can all breathe a sigh of relief and celebrate."
Ian McNab, events and communications officer for RSPB Scotland, said their appearance had taken everyone by surprise.
He said: "We were expecting them to stay in the nest for another week or two, as their first flight was from a precariously high cliff. However, both chicks are looking strong as they made their way up and beyond the Hamars."
He added: "It's quite common for birds of prey to stay within the territory for a while after they have fledged, so hopefully we will be able to enjoy watching them for some time yet."
There have been a number of formal reintroductions across Scotland dating back to 1975 with the west coast proving the most successful breeding ground so far.