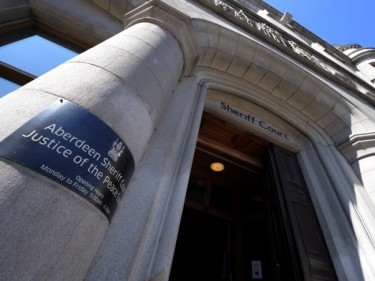 A woman has been jailed for attacking a stranger on the streets of Aberdeen and stealing from her handbag.
Elzbieta Gasior was walking along Ferrier Gardens at around 5.25pm when Cynthia Munro asked her for a cigarette.
She ignored this request and walked on, but heard footsteps behind her.
She subsequently gave Munro a cigarette, but the latter threw this to the ground and said menacingly "I want to take everything."
A struggle lasting around ten minutes ensued and Munro attempted to grab Ms Gasior's handbag and reached inside it and took out her purse.
Residents of nearby properties later emerged and broke up the dispute and Munro was detained by police.
She confessed to assault and robbery during an appearance in Aberdeen Sheriff Court yesterday.
Representing her, defence agent John Hardie said his client had taken a combination of prescribed medication and the drug Xanax, prior to the incident and had been taken to the alcohol dependency unit at Aberdeen Royal Infirmary for two weeks afterwards.
He added that the 30-year-old accepted a jail sentence was inevitable and that all the items were recovered.
Imposing a sentence, Sheriff Jack Brown said: "Perhaps all that can be said in your favour is that you pleaded guilty thus preventing a trial having to take place.
"You have an appalling record for crimes of dishonesty and a previous conviction for assault and robbery in 2015 for which you received a custodial sentence.
"In my view the public require to be protected from you for a significant period of time."
He jailed Munro, of HMP Grampian, for 22 months.