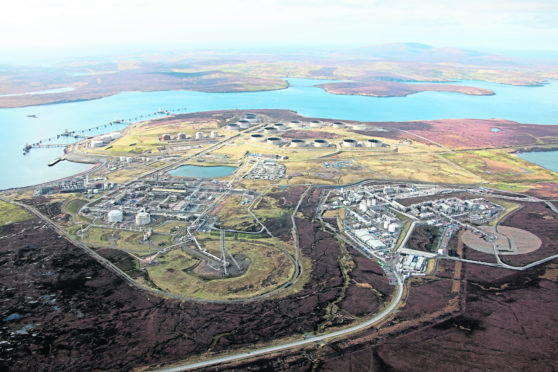 Exactly 40 years ago tomorrow, Shetland changed forever.
On 25 November 1978, the first barrel of oil came ashore at Sullom Voe Terminal from the Dunlin field via the Brent pipeline.
The appearance of black gold was the culmination of years of work that saw thousands of people – including droves from the UK mainland and beyond – employed on site in one of Europe's largest construction projects.
Tucked away between Toft and Sullom, the terminal continues to confound its initial anticipated lifespan of around 25 years and although today it is much quieter, the facility has so far produced 8.3 billion barrels of oil.
Highlighting the sheer magnitude of the project, the construction workforce for the terminal peaked at over 7,000.
Some saw it as a threat to Shetland's way of life, which had revolved around traditional industries like crofting and fishing, but its knock-on effect to the local economy was substantial.
A landmark deal was struck which saw money paid to the community from the oil industry, leading to Shetland Charitable Trust, which is today sitting on reserves of over £300 million.
At its peak in the 1980s, the terminal was processing over 1.5 million barrels of oil a day.
---
---
Today the ageing terminal is a different proposition that what it was back in 1978, with the takeover by EnQuest last year pointing towards cost-cutting and streamlining.
Managing director of North Sea for EnQuest Bob Davenport said it was important to mark the 40th anniversary milestone and to "recognise the positive contribution by the terminal and by all the men and women who have worked there during these past four decades".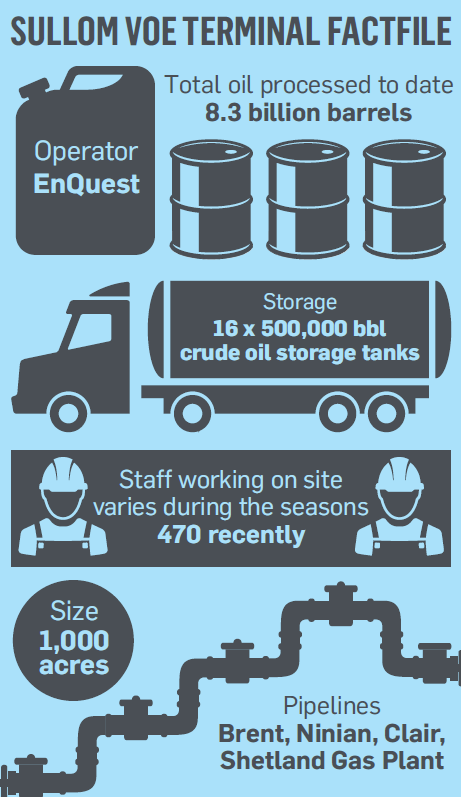 He added that "we expect to be producing oil for another 40 years in the neighbourhood – so our future is bright if we can continue our journey to transform the terminal to remain competitive".
Shetland Islands Council convener Malcolm Bell said the industry coming to the isles has "helped the council provide and sustain services and infrastructure which, would be the envy of local authorities elsewhere".
Marabelle Jack, who carried out admin duties for contractors during the terminal's construction phase, was the first woman working on the site in the 1970s.
"I was the first lady at Sullom Voe, as they used to say," she recalled.
"It was a bit strange to begin with. Working on the site was mucky, muddy, messy – nothing could stay clean in the office. You just did your job, and I really loved it – it was one of the best jobs I ever did."
Geoff Leask joined as a trainee operator in 1980 described the place as "buzzing" at the time.
"All the folk that I know at the time that didn't get direct jobs saw the benefit with all the places to work – bars, hotels, taxis," he said.