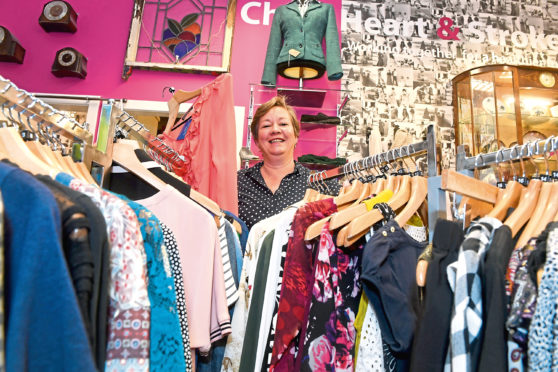 As winter trends hit the high street, many shoppers pause to stare into the window of a trendy boutique in Cults.
Stylish coats make up the display, and even from a distance, you can tell that the material is quality wool and cashmere.
From teal to mustard yellow, each outfit wouldn't look out of place on the catwalk.
Indeed the labels belong to the expensive world of designer fashion, with Karen Millen, Burberry and Kate Spade gracing the rails.
But you won't find yourself parting with a small fortune because this Aladdin's cave is, in fact, a charity shop.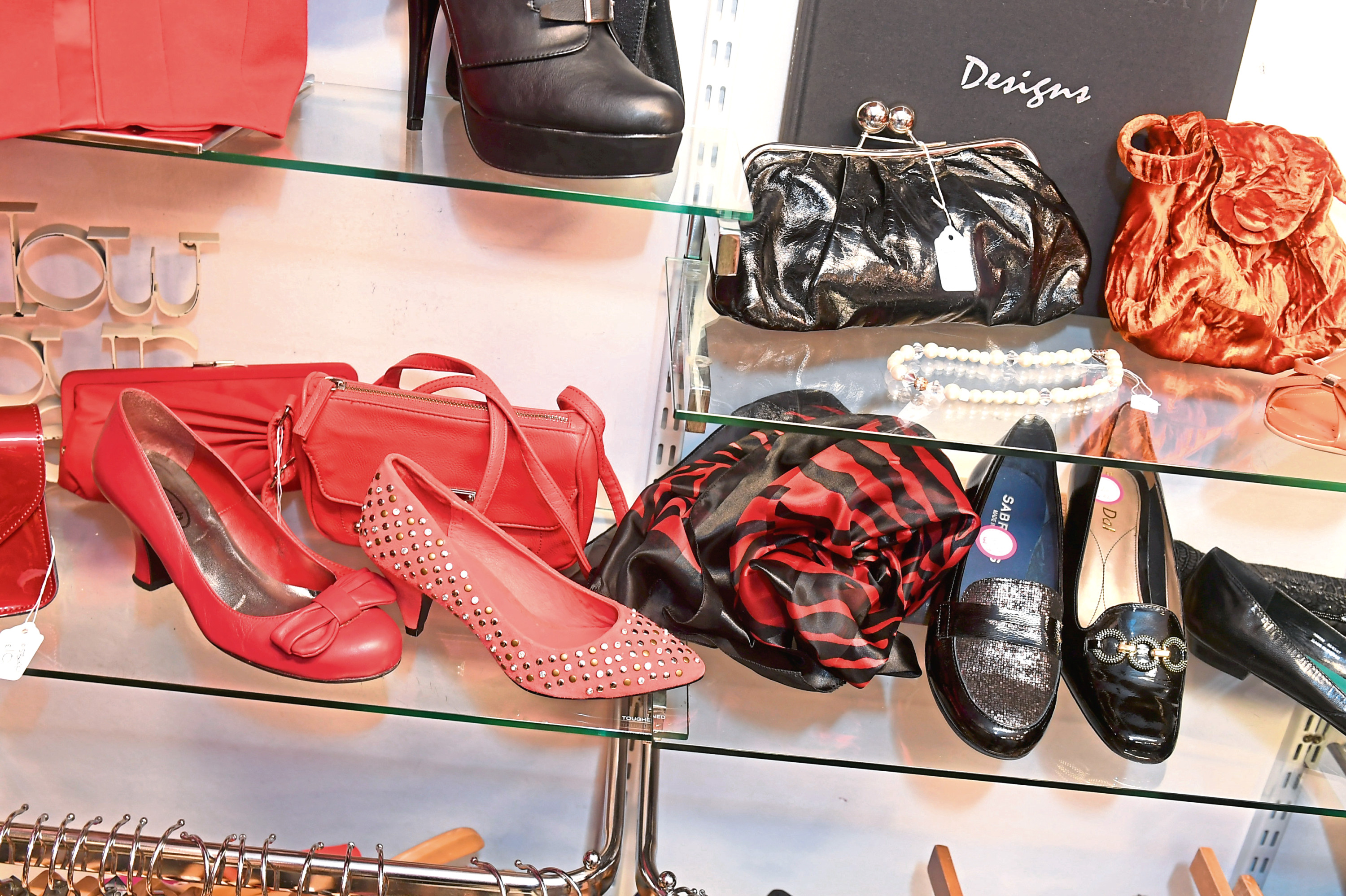 Chest, Heart and Stroke Scotland has been open for seven years, with the bell almost permanently jangling above the door.
Vintage suitcases are artfully fixed to the wall, and beautiful jewellery adorns a dressing table.
You never know quite what you'll find because although the shop is small in size, a team of volunteers keep it well stocked with fabulous items.
It is a world away from the frantic high street, where sample-size clothes are tried on and discarded in hot changing rooms, complete with antiseptic lighting and frenzied music.
Headed by shop manager Yvette Jeffrey, business is thriving and the shop is fast becoming a poorly kept secret for bargain hunters.
Some customers pop in several times a week, and clothing can be bought within minutes of going on display.
Jazz plays softly in the background and the changing room has been kept simple with a mirror and chair.
Yvette believes that many shoppers are waking up to the fact that charity shops are not filled with cracked tea sets and mothball cardigans.
She cuts a petite figure in a navy midi dress and Converse, and she is proud to admit that her entire wardrobe comes from charity shops.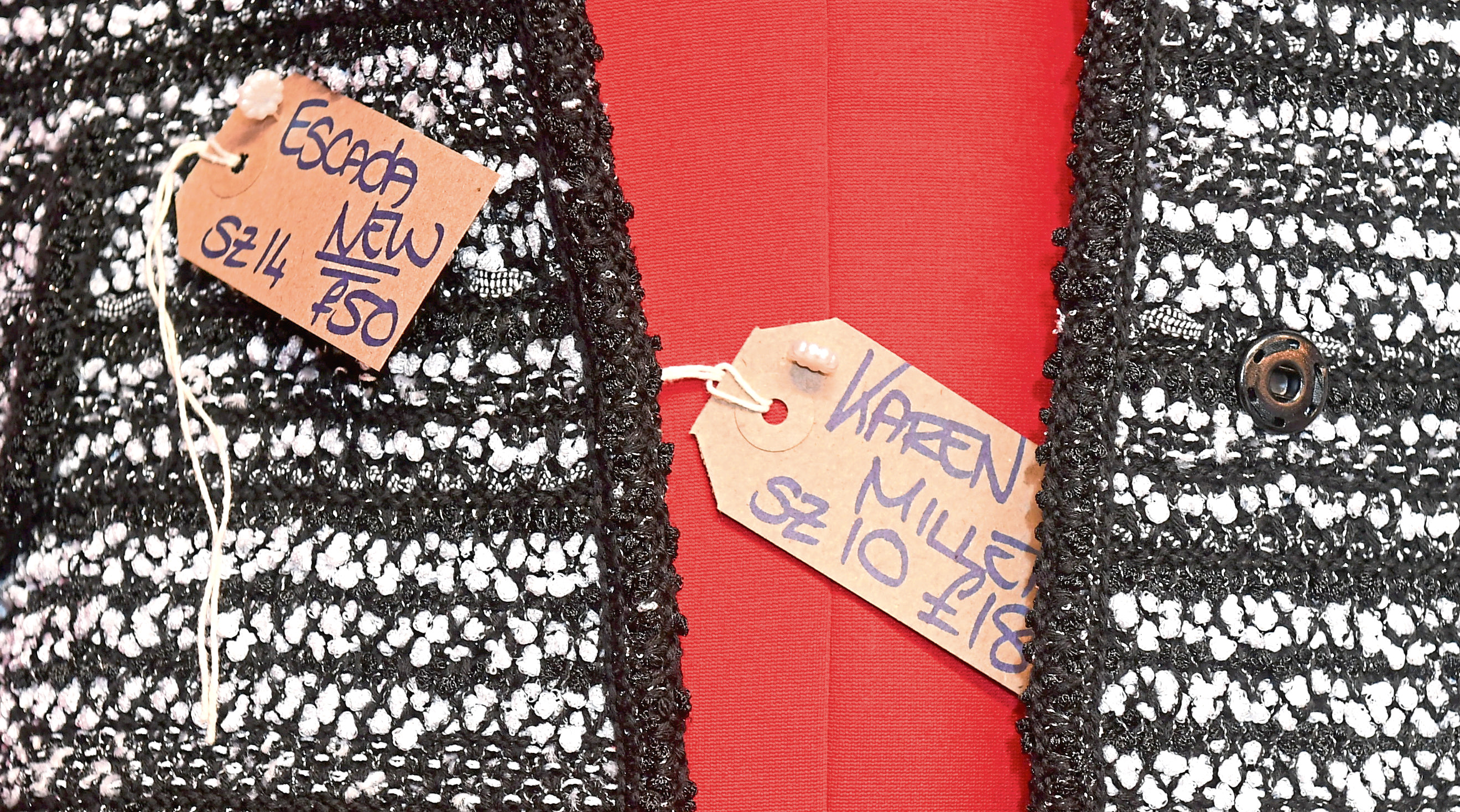 "My mum always got a lot of things from charity shops and her mentality rubbed off on me," said Yvette.
"All the girls at my prom had the same dress from Coast, which was really the only place you could buy a ball gown from in Aberdeen at the time.
"I went and found my ball gown in a charity shop.
"My entire wardrobe is from charity shops and I'm proof that it's possible not to shop on the high street at all.
"When you go into any high-street shop, you are met by rails of clothes that are all the same, but in different sizes.
"If you come to our shop, the chances are you will find something that no-one else has and I think that is really quite wonderful.
"Customers often feel braver when they come in here and pick something up that they would never dare to buy from the high street.
"They just feel that bit more daring."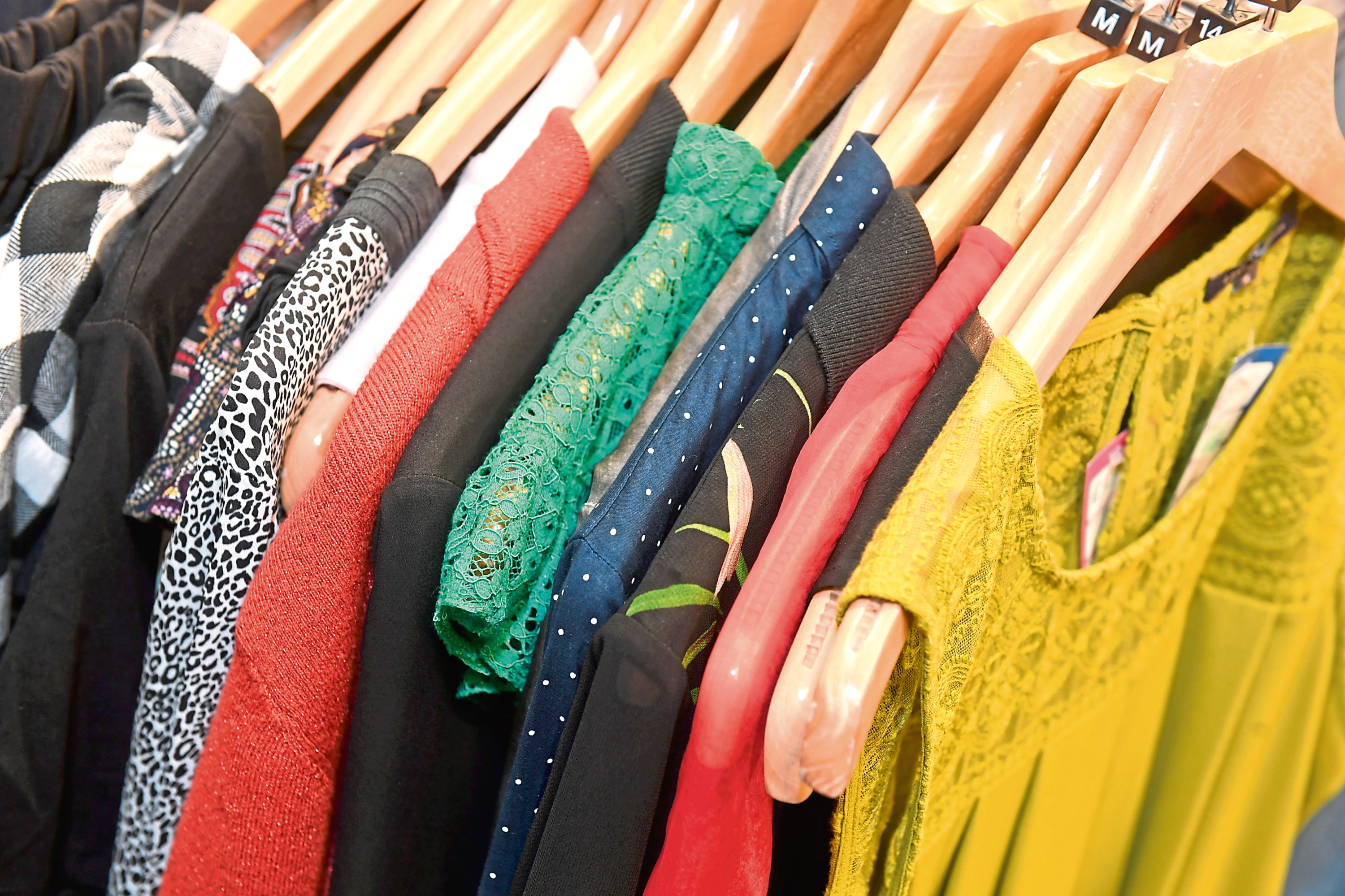 Megan Hyne is a regular visitor to the shop and has created a strong following on Instagram with snaps of her thrifty outfits.
She believes her father passed on his love of second-hand items, and recently attempted a 100-day shopping ban, where she could buy nothing until Christmas.
"My dad bought second-hand things off eBay and he was a great believer in buying good-quality items, but for cheap," said Megan, who lives in Dyce.
"Someone may have used an item once, so it loses value, but that doesn't mean its value should diminish to you.
"When I went on my shopping-ban challenge, I allowed myself to buy underwear and tights.
"As the weeks passed, I was excited at how to improvise with clothes I already owned.
"It got really difficult by the end and I caved after 68 days."
The charity was initially unsure if the Cults shop would thrive in an affluent area or end up closing its doors.
Yvette has been manager for five years, having walked in as a volunteer.
She believes the shop owes its success to the generosity of those who donate and the talented team who sort through 100 bags of donations each week.
"I adore my job because it feels like I get to run my own business without all the worries," she said.
"I get to have fun every single day.
"When the shop first opened, it was uncertain as to whether it would be a real challenge.
"This was a well-off area and there was a very real fear that people wouldn't take to us," said Yvette.
"In recent years especially, the stigma surrounding charity shops has disappeared somewhat, but we have always made a real effort to make the shop look nice.
"One of the first things people say to us is that it doesn't smell like a charity shop.
"People have started to think differently, so it's a whole combination of factors as to why we continue to thrive."
Although the shop never turns donations away, volunteers have to be particular as to which items make it on to the shelves.
The majority of clothes adorning the rail are either high-end, high-street labels and designer or quirky brands that few people have heard of.
Volunteers sort through items in a store room with a steamer on hand for any creases.
"I think it just comes with experience. I always find donation sorting really exciting because you never know what you'll find," said Yvette.
"You can come into this shop and spend £3 or £300 – it varies dramatically. We recently sold a Burberry coat for £250.
"That might sound expensive for an item from a charity shop, but were you to buy that same coat straight off the rack, it would be far more expensive.
"You can pop in for weeks at a time and not find anything that suits you. Or you can come away with an entire new wardrobe."
Donations start off on what Yvette calls the sorting desk, where volunteers scan labels and take note of condition.
If clothing has a button missing, it can still be sent on to one of the charity's thrift stores, so nothing gets wasted.
The shop also sells various bric-a-brac items, and a Spode dinner set recently sold for £500.
"Someone was given it as a wedding gift and it was snapped up straight away," said Yvette.
"Stock moves very fast – we only keep items on the shop floor for a maximum of three weeks before they are sent to another shop.
"Very often, we'll dress a mannequin only for a customer to spy the outfit and buy it within the hour.
"I like to think we are very honest in this shop, though. We don't push sales and if people ask for our opinion when trying stuff on, we won't automatically say it looks great.
"You find a lot in high-street shops that the assistant will really push for the sale even when you're not sure.
"I'm a great believer that you have to absolutely love what you're wearing, and if I think it simply isn't the right outfit for the person, I would rather they leave empty handed on that occasion."
There are 31 volunteers in total, some of whom have worked in the shop since it first opened its doors. They offer a whole host of skills, which has led to stunning window displays and amazing finds.
The shop always tries to be seasonal and on trend, with rails kept neat and tidy.
The only bittersweet moment for Yvette is seeing a customer make off with an item she's had her eye on.
"We have to rein ourselves in because there are just so many amazing clothes," she said.
"I hand my salary straight back to the charity through picking stuff up in the shop.
"I try to tell myself that if an item is there at the end of the week, I can consider it.
"Then a customer comes up to the till with it and I have to say goodbye.
"I find it very heartwarming that people choose our charity specifically for donations.
"We're incredibly privileged to have such wonderful donations, repeat customers and dedicated volunteers.
Megan Hyne enjoys power dressing for her career in oil and is a particular fan of high heels, despite terrified cries from health and safety.
"There is a lot of risk assessment in oil and gas, and my skyscraper high heels really don't come off too well," said Megan.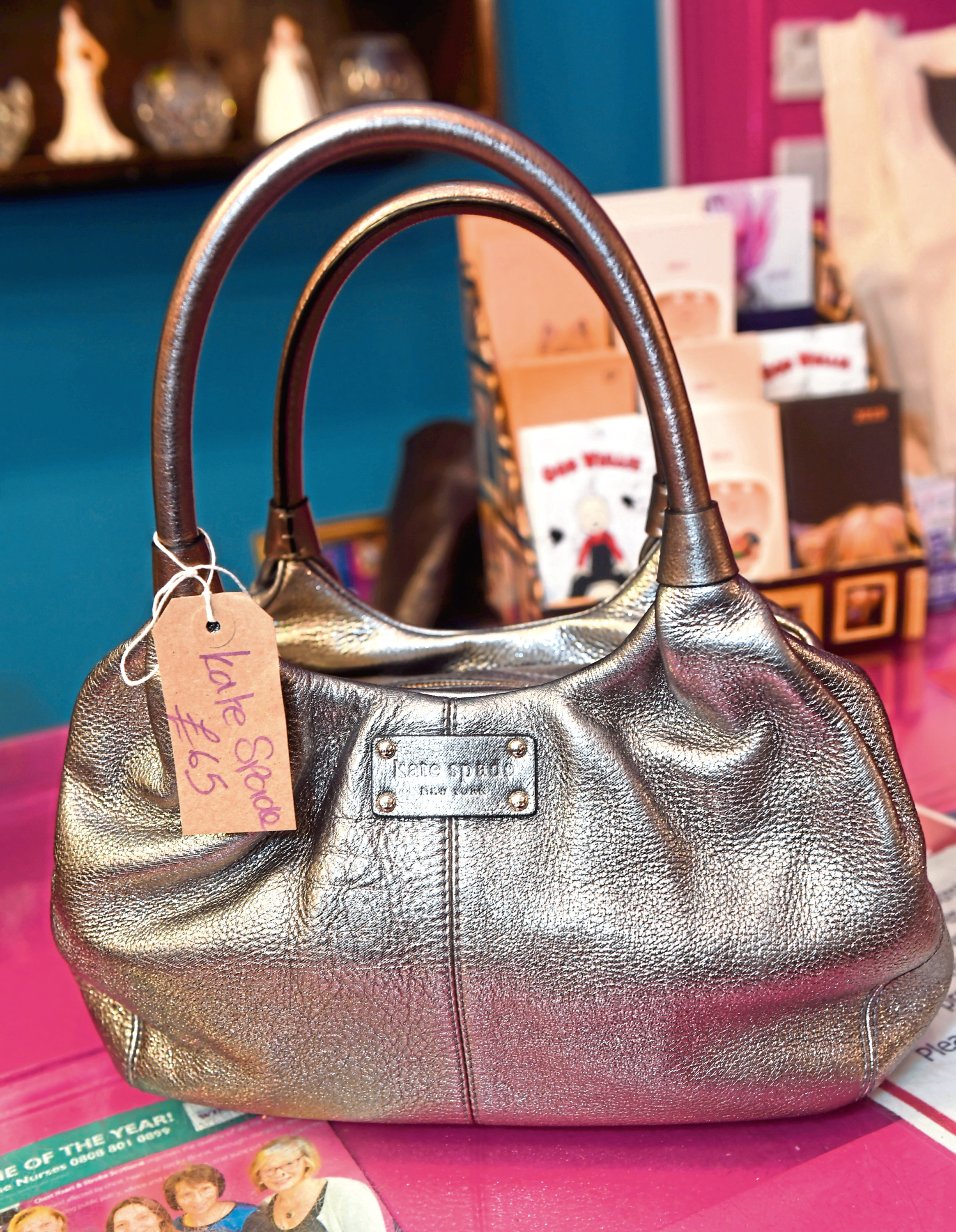 "I am client facing and you tow a fine line between being memorable and risque."
For Megan, clothes are part of her identity and her shopping ban made her think about the environmental impact of clothes.
"I would say 40% of my wardrobe is sourced from charity shops and I also buy a lot of things second hand from eBay," she said.
"There are ways we can be more environmentally friendly and still enjoy fashion. Clothes reflect how I'm feeling on the inside, and charity shops bring you out of your comfort zone.
"You aren't looking for something in a different size on a rail where the clothes are all the same.
"If you want to try ruffles, you can, even if you've never considered ruffles in your life. You're far more likely to spend £5 on a top you're not 100% sure on than £50 on the high street.
"You can't pop in to a charity shop with something specific in mind – you have to be completely open.
"Be ruthless as well – if you're still thinking about an item at the end of the day, you can go back and see if it's still there. If it's gone, the universe has decided for you.
"Journalist and writer Caitlin Moran penned this fantastic quote: 'When a woman says she has nothing to wear, what she really means is there is nothing here for who I'm supposed to be today.'
"For me, that really says it all."