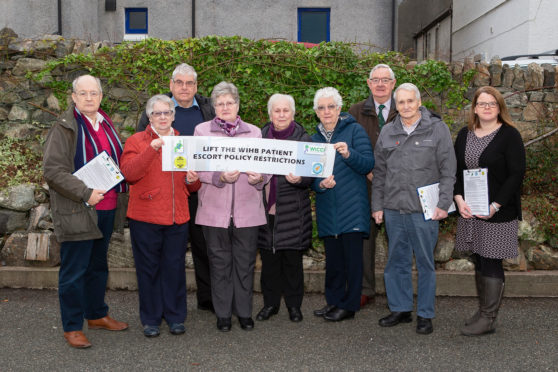 Vulnerable patients from the islands are travelling alone and parents are being forced to pay to accompany sick children to appointments on the mainland, it has emerged.
Campaigners in the Western Isles have hit out at the NHS for showing "a lack of compassion" to islanders over the eligibility of companions to assist patients attending appointments on the mainland, often with a life-changing diagnosis being discussed.
NHS Western Isles changed its Patient Escort Policy earlier this year after spending £31 million on travel in the past decade.
But since then, patients have come forward to reveal how they have had the added stress of meeting travel costs or facing up to travelling alone at already anxious times.
In one case, the mother of a toddler diagnosed with leukaemia received her travel costs – but the father did not. And in another, a pensioner who was previously allowed an escort – her husband – now travels alone.
A petition is today being launched that has received the backing of many care groups across the Western Isles and will be delivered to the desk of Health Secretary Jeane Freeman, as well as to the health board.
Helen Sandison, of the Western Isles Cancer Care Initiative (WICCI), one of the main backers of the petition, said: "Although this is being led by the various cancer support groups across the Western Isles, we want to be clear that this is not a cancer-specific petition but in support of anyone receiving a life-changing diagnosis or treatment."
Campaigners are calling for three major changes to be implemented with those attending a mainland appointment for a potentially life-changing diagnosis to automatically be entitled to an escort. Recurring appointments after a diagnosis are also being cited as times where patients should be entitled an escort.
Campaigners have also asked for specialist nurses involved in patients care to be given the authority to approve recommended escorts rather than being referred through the medical director.
Mrs Sandison added: "We understand that the health board have not applied for any additional funding from the Scottish Government to support increased patient and escort travel in a time when a lot more people are having to travel away for appointments.
"We accept that there are efforts being made to reduce travel for patients, such as using video conferencing for appointments and we welcome these improvements, but until these are reliable and dependable, support needs to be shown to those travelling off the islands for treatment and consultation."
Several meetings have taken place between the campaigners and the NHS Western Isles board to raise the concerns of patients, however, no such compromise has yet been reached.
Following the announcement of a new system earlier this year, the approval over escorts has been the decision of the board's medical director, rather than the patients GP.
Chairman of BMA Scotland's GP Committee, Dr Andrew Buist, said: "The new steps put forward, including the role for specialist nurses, seem reasonable, but it will be important to monitor the impact on their workload and that of the practice in general."
Around 44% of patients from the Outer Hebrides who required travel were last year accompanied by a funded escort.
NHS Western Isles were approached by The Press and Journal yesterday for comment.
---
Marina Matheson, 38, and husband Kenneth Matheson, 43, are from Shader in the West Side of Lewis.
The couple faced additional stress and worry after experiencing issues with the health board's Patient Escort Policy when daughter Katie was diagnosed with leukaemia.
Mrs Matheson said: "My daughter was diagnosed with leukaemia in May of this year when she was just two-and-a-half years old. The 9th of May, I will never forget that day.
"We were up at the paediatrician in Stornoway and got back home around 2pm. By 4pm we were told we had to go to Glasgow.
"We were told there were expenses for myself and Katie but they wouldn't pay for my husband.
"In the end, he paid for his own flight because I needed him there.
"We had been in Glasgow for around a month and we were in touch with the NHS in the Western Isles to see if they could help with a flight for my husband to get home for clothes and some things and bring them back.
"He also needed to get back to collect his medication as he has suffered from Parkinson's for the past two years.
"We were told by the board that they couldn't help and that was the end of the story.
"All this did was bring about extra worry and stress – we were already stressed to the hilt with what was going on.
"I only work part-time and my husband is unable to work with his illness so money is just another added issue.
"We have been back and forth to Glasgow for treatments and taking a push pram, clothes and other items is really difficult on your own.
"The care and support we have been shown has been fantastic. We would just like to see the travel policy changed to be more in tune with the needs of those who are forced to travel.
"I would like them to assess everyone's case a bit better."