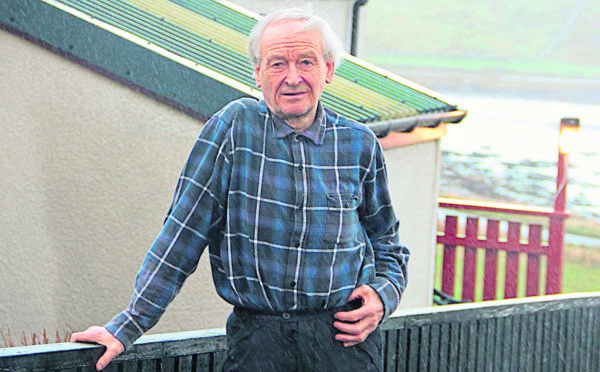 A high-profile Shetland councillor who has revealed he has prostate cancer has called on all men not to ignore early signs of ill health.
Allison Duncan, a 72-year-old member for the Shetland south ward, known locally as the Flea, will undergo surgery in Aberdeen later this month.
He is expected to make a full recovery.
Mr Duncan, a crofter in Dunrossness, is not only a Shetland councillor, but is famously known island-wide for his days as a referee – and before that a footballer.
He has been a councillor since 2007 and he is currently the vice-chairman of Shetland's integration joint board, the body that oversees the integration of health and care services.
He said it was important to speak about prostate cancer openly to help overcome the stigma that surrounds this particular type of cancer.
Prostate cancer is one of the most common forms of cancer in the UK – amounting to 13 per cent of all new cases – but survival rates are good if diagnosed and treated early.
There were 894 prostate cancer deaths in Scotland in 2016, according to data from Cancer Research UK.
Mr Duncan said that he went to see his GP in Levenwick in November after complaining about discomfort and pain in his abdomen for a number of days.
Following a blood test, a referral to clinician Gordon McFarlane at the Gilbert Bain Hospital and an MRI scan in Aberdeen, the diagnosis was then confirmed.
The councillor said: "Various options were discussed and I decided that I wanted an operation to get it removed because I want to get on with life as I have a business to run and as a councillor I want to be here to do my job.
"If being open about this helps others to have the confidence to go forward and have an investigation, and if that saves one life, then speaking about it has been very worthwhile.
"I would encourage men of all age groups to get an appointment with the medical profession if they believe they have symptoms concerning the private parts of their bodies. Go and get it sorted out one way or another, it's very important."
At the moment there is no routine screening for prostate cancer in the UK because the blood test available is not conclusive and a 'raised value' can be due to a number of causes, not just cancer.
Dr McFarlane said: "Anyone who fears they have a prostate problem should speak to a health professional who will talk them through the pros and cons of screening and the consequences of surgery.
"Undergoing screening needs to be an informed choice that is made by a patient who is guided by a clinician."