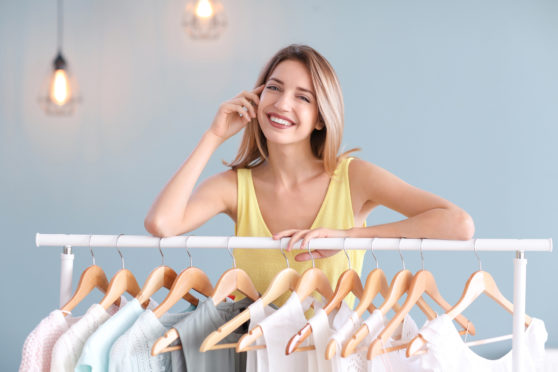 When it comes to clothing, going green is the new black says editor of Sew magazine, Lucy Jobber
Step aside throw-away fashion, brands and consumers alike are calling for an eco revolution! The 2018 Pulse of the Fashion Industry report showed that 75 percent of companies have made efforts to improve their environmental performance, with pioneers such as Stella McCartney leading the way. However, despite the demand for greener goods, still only one percent of fashion is recycled. Here, Lucy Jobber explores how sewing your closet can help you reduce your carbon footprint.
Reduce, reuse, recycle
With nationwide campaigns, such as the British Heart Foundation's The Big Stitch, blazing a trail for the benefits of transforming pre-loved clothing; there has never been a better time to pick up a needle and thread, and embrace the 'make do and mend' movement.
Repairing techniques, such as sashiko, are on the rise with workshops now readily available across the UK, or you can begin by simply adding embroidery to an old shirt, or using fabric scraps to smarten up scuffed pumps for less than the price of a coffee. Returning for the third time, Sew magazine's Dressmaker of the Year competition also provides an opportunity for budding stitchers to revamp neglected garments and enter them into its upcycling category, with the promise of more than £4,000 prizes up for grabs.
Self-proclaimed 'thrifter' and founder of the Refashioners movement, Portia Lawrie took the crown in 2016 with a jacket made entirely from old denim.
"It's as much about the longevity and wearability of a garment which makes it eco-friendly, as well as the materials and processes used to make it," explains Portia. "Don't be in a rush to churn out several pieces at once either; one item sewn well can take about a month which is better than three a week which you won't wear. Equally, if there's a garment in your wardrobe which you don't use, figure out why and fix it by adjusting the fit, mending the damage or refashioning it!"
Sustainable slow fashion
If you're left with textile scraps you're not sure what to do with, there's plenty of options available to give them a new life, too. Rachel Hart, owner of London-based fabric house Ray Stitch, says: "Recycling the end product is great, but many people don't consider what to do with the leftover fabric scraps from cutting and toiles. That's why we send all of our material offcuts to textile recycling company, First Mile – so if you have any scraps you can't donate to a friend, then send them here!"
Other important points to consider when making clothes include labelling and construction methods. Rachel explains: "Creating your own clothes means that they won't have any traceability unless you supply the information. By giving as much detail as possible about the fabrics and components used, you can show the next wearer or recycling factory exactly what went into creating the garment, making it easier for them to repurpose."
So, before you decide to throw out those well-loved jeans, why not take a moment to consider whether it could experience a whole new life in your wardrobe with just a little sewing know-how?
Log-on to sewmag.co.uk to find free patterns and step-by-step tutorials to help you build your eco-friendly wardrobe.