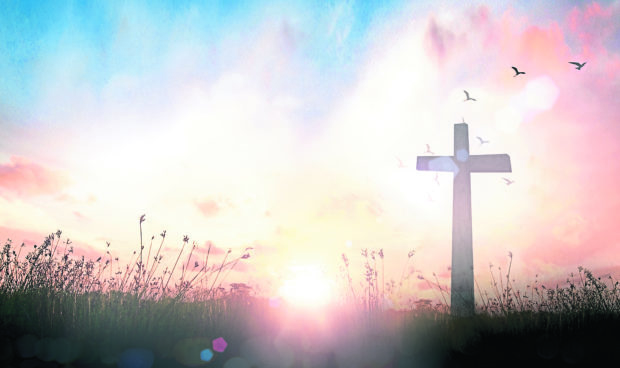 When Vicki Fraser leaves the office for the day and goes home to her two sons, there are moments when she hugs them a little tighter.
As the proprietor of John Fraser & Son in Inverness, all of life's "niggles", as Vicki puts it, are regularly put into perspective.
Having lost her own father suddenly five years ago, she is no stranger to death and chose to make it her livelihood when she became the fourth generation to take over the funeral home.
Preparing the deceased for the funeral and talking to grieving families is all part of the job, and Vicki is currently studying so she can become an embalmer.
But far from finding death depressing, Vicki believes it has made her more appreciative of the here and now.
She is part of a growing movement within the industry to encourage the conversation surrounding death.
The general public were recently invited into John Fraser & Son and given a tour of the mortuary, embalming suite and rest rooms as well as the stonemason's workshop where memorial stones are designed and engraved.
The event was well publicised on the company's Facebook page, another initiative which Vicki believes has got people talking.
"The open day gave us an opportunity to show people what a funeral director does and ask anything they liked to demystify what happens after death," she said.
"Although there has been a great shift in recent years towards being more open to conversations about funerals and death, I still think they have an element of the taboo.
"I suppose that's a bit of the driving force behind our recent move into social media, and why we started holding open-door days in the first place.
"People are perhaps more removed from the practicalities and realities of death than they were centuries ago – though that's not necessarily a good thing or a bad thing."
In Vicki's experience, some families still keep the deceased at home, although it is more common for the body to be held in a viewing room at the funeral home.
Family can help with the washing and dressing of a loved one, or choose to leave the task to Vicki's team.
"Some people keep the body at home – whether that be through family tradition or a strong sense that they want the person to spend some time peacefully at home before the final goodbye," said Vicki.
"I know that, for some, this time can be invaluable in their grieving process and brings great comfort. Other families tell me that they couldn't imagine anything worse."
For Vicki, every family which comes to the funeral home is different, and therefore every death is different.
Although she has dealt with incredibly tragic deaths, such as the death of a baby or child, she is passionate about her role in helping families.
"Of course there are difficult times," she said.
"It is so very sad to see the distress that some families go through, and funerals for children and babies are always extremely difficult.
"But it is a privilege to be welcomed into families at a time when they are so vulnerable, and to guide them through the process.
"It can be extremely uplifting to hear a family's stories about the achievements and experiences of the people in our care.
"I know I am speaking for all my colleagues when I say that dealing with death on a daily basis helps us to get our own niggles and gripes into perspective, and helps us to live the very best lives that we can.
"When it comes to the reality of loss, I'm not sure that we really can change how we perceive death, or if we really have to.
"Everyone is different, and their experience of loss is different.
"Some might see an ending, others a new chapter, others feel a release.
"It's never our job to judge and more often than not people turn to us to normalise the myriad feelings they experience after a loss."
Vicki is in no doubt that in talking about death, we can make the grieving process a little easier.
She encourages people to plan their funerals but appreciates that it isn't for everyone.
"I will be buried, as we have a family lair within Tomnahurich Cemetery, next to my dad's grave," said Vicki.
"It's helpful for us, it's helpful for families and ultimately it can bring peace of mind to everyone if we have discussed our wishes, our fears and our expectations – that goes for both our death and our funeral.
"The conversations are difficult – none of us likes to think about a time when our loved one will die, or about what we will miss of our children and grandchildren when our own time comes.
"But our own time will come, and not talking about it won't prevent it happening.
"I'm happy to meet anyone who would like to know more – our door is always open for a chat and a cup of tea."
Reverend Scott Rennie shares similar sentiments and hopes "a good blether" and plenty of cake will help people get talking at Aberdeen's first death cafe.
He is considering setting up the initiative and believes people need to start planning for death.
"My very first congregation was in Brechin and there were roughly 80 funerals a year," he said.
"I grew up in Aberdeen and had never been in a situation where the deceased would be in the family home in the lead up to the funeral.
"But change comes more slowly to rural parishes and I was often asked if I'd like to come in and 'see Grandad'.
"It used to freak me out when I was younger – I was 26 and would be asked to say a prayer with Grandad and that was perfectly normal at that time.
"I've noticed that people talk about passing away, they never say dying or death and I'm not sure why.
"Perhaps if you say someone has passed over, it takes away that sense of finality.
"I think we are removed from death, we have removed ourselves.
"Death is part of life, though."
Reverend Rennie believes there have been some positive changes in that people are more directly involved with funeral services and he regularly sees participation where he is minister at Queen's Cross Church in Aberdeen's west end.
"People engage far more, be it people who perhaps have a terminal diagnosis or the family of the deceased who want the funeral to obviously reflect their loved one," said Reverend Rennie.
"I feel most anxious about funerals because I am responsible in helping a family mark an ending in the way they would want and in a way which helps them and gives closure.
"A good ending is invaluable.
"It is an enormous privilege to help deliver that as a minister, and also a reminder of how rich and diverse people's lives are.
"Death is the one reality of all our lives – it is a fundamental part of being human.
"One of the kindest things you can do for your loved ones is write down what your funeral should be like.
"Obviously my work makes me think about my own death and it's a difficult reality to escape.
"I find funerals emotionally exhausting and of course death makes me feel sad.
"But you have to find a balance in life, and you can't let the fact that we are all going to die dictate everything.
"My involvement with death is a reminder to me that the most important thing in life is your people.
"When you come to the end of your life, you will never regret the time you have given to the people you love.
"If we achieve anything by talking about death, it should be a reminder that life is short and tenuous and our time here is limited."
An increasing number of people are now opting for humanist funerals, where there is no mention of religion.
Laura Gillespie has been a humanist celebrant for the past three years, and retrained after a career in social work.
She has led funerals in a wide range of locations including village halls and even on the beach.
"There has been an increase and I think that's because a humanist ceremony can give people a more personal farewell, and families derive comfort from that," said Laura, who lives in Drumnadrochit.
"You can create a ceremony which best reflects a person's life, their story and their choices. That is not to say that ceremonies of faith can't be personal but arguably that is more likely to happen when the minister or priest knew the person well.
"That's not as common at a time when more than half of Scottish people aren't religious."
Laura has planned funerals with people who have a terminal illness, but also those who simply want to direct what happens at their own funeral or ease the burden for family.
"Sometimes people come to me and they have absolutely no idea when their time will be up, but they want to be involved in their funeral," she said.
"Or they don't want to leave it to their family to do – there's a whole host of reasons.
"I can recall going to the house when the woman was dying upstairs. She didn't want to be present for the discussions about her funeral, but she didn't want to die until she knew the conversation had taken place."
According to research, Death Is Nothing At All by Henry Scott-Holland is one of the most popular readings at both religious and humanist ceremonies.
As we attempt to normalise and talk about death, we would do well to have the conversation and move forward: "Life means all that it ever meant.
"It is the same as it ever was."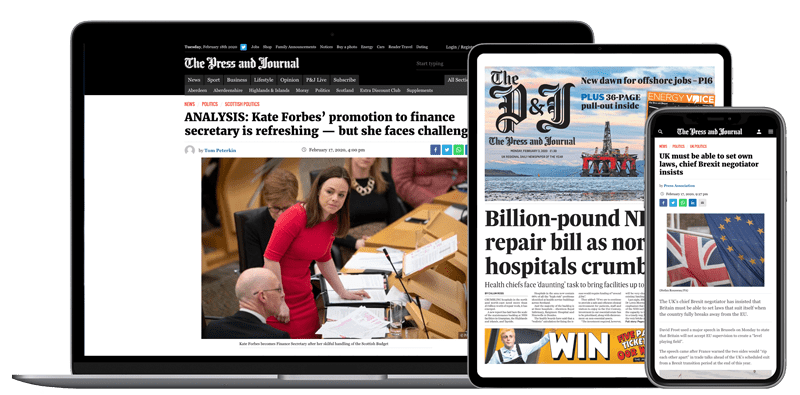 Help support quality local journalism … become a digital subscriber to The Press and Journal
For as little as £5.99 a month you can access all of our content, including Premium articles.
Subscribe