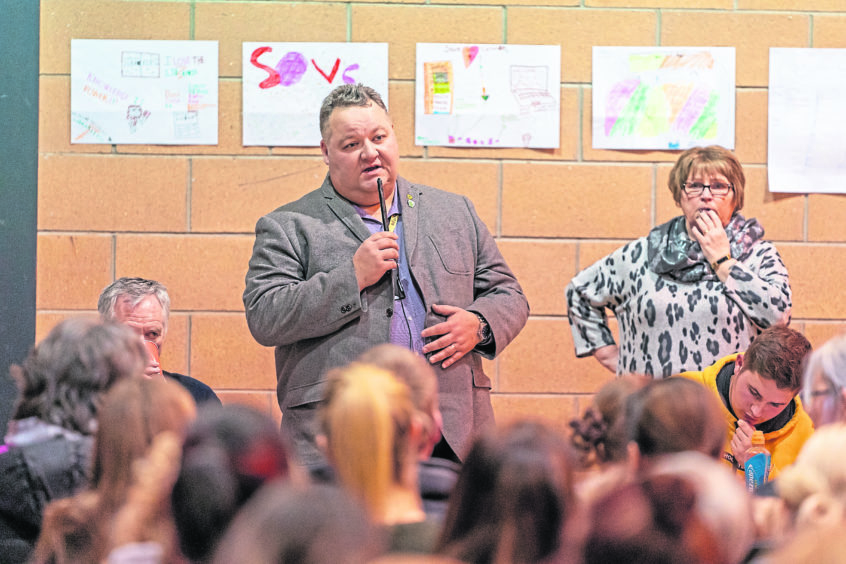 Hundreds of people turned up at a public meeting last night to campaign against proposed budget cuts in Moray.
About 300 members of the coastal Heldon and Laich community gathered at Lossiemouth Community Centre to air their views on how to save vital services.
Moray Council has warned that swimming pools in Keith and Lossiemouth could close and libraries shut in Burghead, Cullen, Dufftown, Fochabers, Lossiemouth and Tomintoul to save cash.
The Active Sports and sports development service is at risk and the remaining school crossing patrollers could lose their jobs.
The newly formed Lossie Coastal Action Group, which consists of representatives from numerous coastal community councils, organised the event last night and invited council leader Graham Leadbitter to attend.
Local residents were given the chance to talk about how the proposed cuts would affect people's lives.
Andy Summers, the head coach of Elgin Swimming Club, uses Lossiemouth swimming pool for training purposes and explained that the club would fold if it shut down.
He said: "We have approximately 60 children who swim at various local or national levels and if Lossie pool shuts down, we will no longer exist.
"These kids dedicate 10 or 11 hours a week to swim and to have the pool removed would be really disappointing for them."
Kevin Anderson, who runs the Riding High Surf School, uses the pool to help teach  children with additional support needs.
He said: "I'm a swim and surf instructor and Lossiemouth pool is inclusive so that children can swim and have fun and also take part in mainstream team sports.
"We will do everything we can to support the groups."
Moray Council leader Graham Leadbitter stressed that the local authority was now facing severe financial challenges.
But he highlighted that the leisure services could be saved if more people joined the Fit Life programme.
The membership scheme gives local residents access to numerous sports, leisure and community facilities throughout the region.
He said: "If 300 new members join, that will create almost £100,000 worth of income and offset the cost of closing the pool."