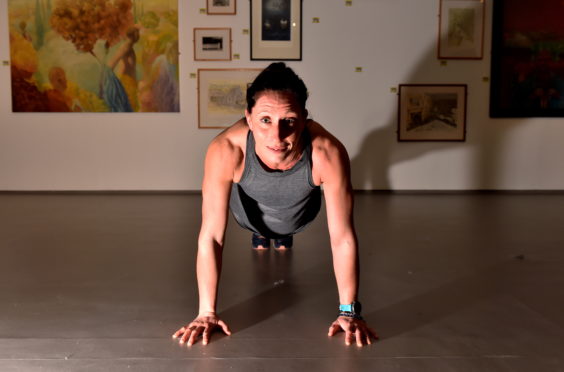 Louise McCullough was pushed to the limits of her endurance and resilience when she travelled to the Andes in Chile last autumn.
But now, the 40-year-old orthopaedic surgeon who works at the Albyn Hospital in Aberdeen has become the first-ever woman to complete the gruelling and occasionally brutal regime on the TV programme "SAS: Who Dares Wins".
Viewers to the Channel 4 programme saw Mrs McCullough make history on Sunday night and reacted with an outpouring of admiration on social media. One Twitter user said: "Well done Louise, you are a Superwoman".
Yet, when she and 24 other participants ventured to South America and entered into the visceral world of SAS soldiery last September, she admits she had no idea whether she would be able to cope with the challenge.
Mrs McCullough, who is no stranger to dealing with injuries and adversity in her day job, told the Press and Journal she had even thought after returning home about what it would be like to be back in the firing line.
She said: "The toughest part was leaving work and my husband [Neil] and my dogs behind for such a long time. Everything was mentally and physically draining and it pushed us all to the very limits.
"But I also have to say that, about a month after returning to work, I was just finishing a particularly long complex tumour procedure and the thought of wanting to be back in Chile crossed my mind.
"It was such a privilege to be involved in the show and I am proud of what I achieved on it. I don't think I found it tougher than the male recruits. We all found it equally difficult.
"But that is one of the things that drives you when you are struggling – the knowledge that everybody else is in the same boat as yourself."
The programme has focused on some of the most important aspects of military life: courage under fire, calmness in extreme situations, and the need to adapt to whatever slings and arrows are flung in your direction.
And it hasn't shirked from tackling big issues. One of the recruits lost his wife to mental illness when she hung herself; another broke down after admitting he had been bullied earlier in his life.
The Directing Staff [DS] who put the participants under the cosh, headed by Special Boat Service veteran Ant Middleton, shouted and screamed at those who botched their duties or let their colleagues down.
Mrs McCullough discovered things about herself which she hadn't previously realised – "I learned that I didn't particularly like heights" – but, despite having to dig deep into her reserves, she refused to be browbeaten by the instructors.
As she said: "I just didn't let their aggression faze me. At the end of the day, the DS wanted everybody to do the best they could and push their limits."
Once the filming began, the privations and obstacles were the same for both sexes.
One recruit was unceremoniously discarded after he described something as "uncomfortable"; while anybody who shirked their duties quickly had their deficiencies exposed.
But, week after week, Louise emerged with another stripe of distinction for almost the whole series. And she explained the range of emotions which she had gone through on her journey.
She said: "The worst thing was being constantly on edge not knowing who was going to come barging through the door shouting at us to be on the parade square in five minutes for a beasting in the middle of the night.
"The winter weather was also difficult to deal with. We had less than 24 hours of acclimatisation and it is very humbling when what is normally a simple exercise becomes a struggle with shortness of breath and a feeling of drowning.
"But the reason I signed up was to challenge myself – to find out if I had the mental and physical resilience to cope with it? And I survived."
Mrs McCullough is a formidable woman, but her thoughts have switched back to tending the wounded and healing the sick, whether at the Albyn, or at Aberdeen Royal Infirmary, or in her role as club doctor at Aberdeen Grammar rugby.
She said yesterday: "I am delighted to be back at work, I have the best job in the world and I wouldn't change it."