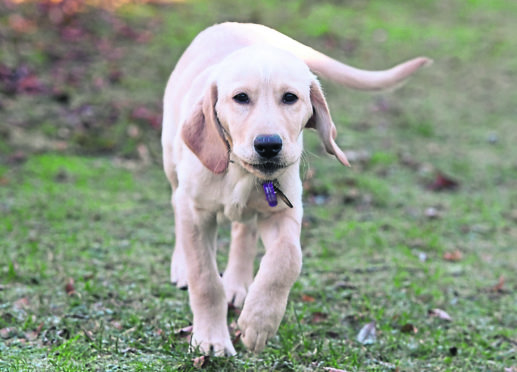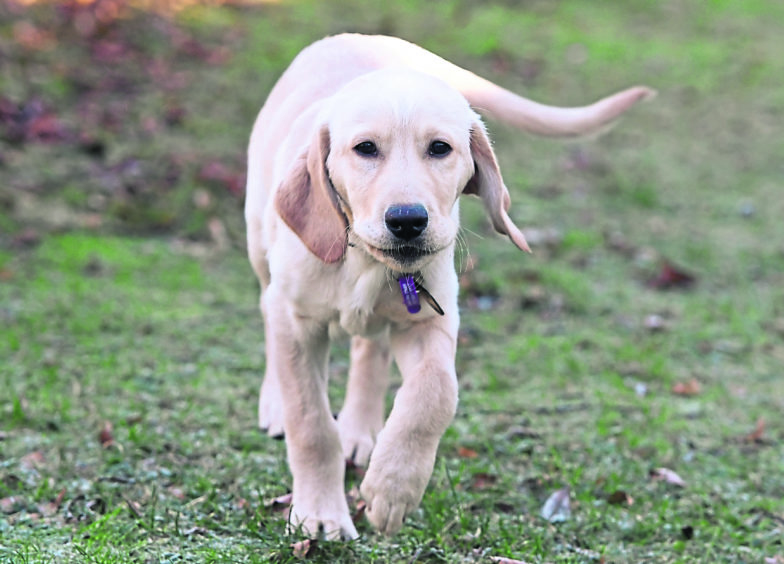 The smell of lentil soup is in the air as people warmly greet each other at North East Sensory Services (NESS) in Aberdeen, before sitting down to enjoy lunch together.
For those who attend the weekly meet-up, it can be a struggle to weave through the obstacle of chairs and tables but everyone is looking out for each other – calling out directions and cracking jokes.
From the partially sighted to those who are completely blind, their way of dealing with the condition is clearly with good humour.
As steaming ladles of soup are dished out, twitching black noses emerge from under the table cloth.
There is the thump of wagging tails and it quickly becomes apparent that sitting quietly at their owners' feet are half a dozen guide dogs.
They are off duty for now and free to enjoy a quick nap or investigate the odd crumb of crusty bread that may fall to the ground.
But these dogs play a vital role in helping the visually impaired get from A to B, and also provide invaluable companionship for people who may have previously felt isolated from society.
There are around 5,000 guide dog owners in the UK and it costs £5 each day to support a working guide dog partnership.
All guide dogs are part of a breeding programme and are put through rigorous training at the Guide Dogs for The Blind training school in Forfar.
But before this process even begins, a guide dog's very first home is with a puppy walker.
Puppy walkers welcome a pup into their family and are responsible for starting a dog's basic training.
From socialising to going to the toilet on command, puppies will spend roughly a year with a volunteer before going on to training school and getting matched with an owner.
Guide Dogs is currently seeking volunteers who live in Aberdeen City and Aberdeen South to become puppy walkers, and the puppy will normally be placed with a volunteer at seven weeks old.
From mischievous bundles of energy to well behaved guide dogs of the future, the process plays a vital role for those who need a guide dog for day-to-day life.
But what difference can a guide dog make for someone who is visually impaired?
For those meeting at NESS, a guide dog is a lifeline.
Kay Hamilton regularly attends the group with her guide dog Yousef, who is a friendly black Labrador.
He is always at her side and has enabled Kay to be more confident when out and about.
She suffers from optic nerve hypoplasia, which means the optic nerve hasn't developed properly.
She also has nystagmus which causes her eyes to move around a lot, making it hard to focus.
"You have a very intense relationship with your guide dog because they are with you 24/7," said Kay.
"I had my last guide dog for eight years and Yousef has been with me for six and a half years.
"He's a fantastic dog and he loves his cuddles.
"He has his moments where he can be a bit boisterous, but I couldn't do life without Yousef.
"He is my eyes and I have to rely on him."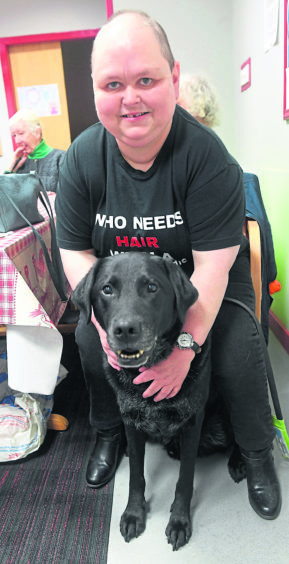 Yousef accompanies Kay everywhere and although he is trained as a guide dog rather than an assistance dog, he can always tell when something is wrong.
"I have a mild form of epilepsy which makes me go into a vacant state," said Kay.
"Yousef always seems to know when it's happening because he won't leave my side.
"He knows that there is something not quite right."
Guide dogs should only be handled by their owner when out and about to allow them to focus on the task in hand.
Yousef wears a special harness which states that he is a guide dog, but this unfortunately doesn't prevent people from coming up to Kay.
"The only problem that I do get is that people always want to stroke Yousef," said Kay.
"He is a really friendly dog and I have to tell people that he is working.
"It can get difficult because I need Yousef to help me cross the road for example, and he can't do that when he is getting petted."
Fellow guide dog user Mary Rasmussen has been using guide dogs for 20 years as she has glaucoma, a condition which damages the optic nerve.
She is also a tireless campaigner for Guide Dogs and was previously nominated for a top award due to her work in helping improve conditions for blind people and those with other visual impairments in Aberdeen.
Her current guide dog, Vince, is certainly a well cultured canine as he regularly attends theatre shows with Mary.
"My experience with guide dogs has always been so positive and Vince is no exception," said Mary.
"He stands at crossings, he helps me with steps, the list goes on.
"Vince is just everything and we love going along to NESS together.
"I think it's particularly useful if sight loss is very new to you.
"We pass on tips to each other like how to get toothpaste on to the brush.
"The trick is to put the toothpaste into your mouth first.
"Knowing things like that is invaluable."
But what are the obstacles that guide dogs can come across?
Linda Slessor was partnered with guide dog Lavinia three years ago and regularly runs into problems on the streets.
Linda suffers from macular degeneration and has gradually lost her sight in the past 10 years.
"Lavinia is everything and she gives a structure to my day," said Linda.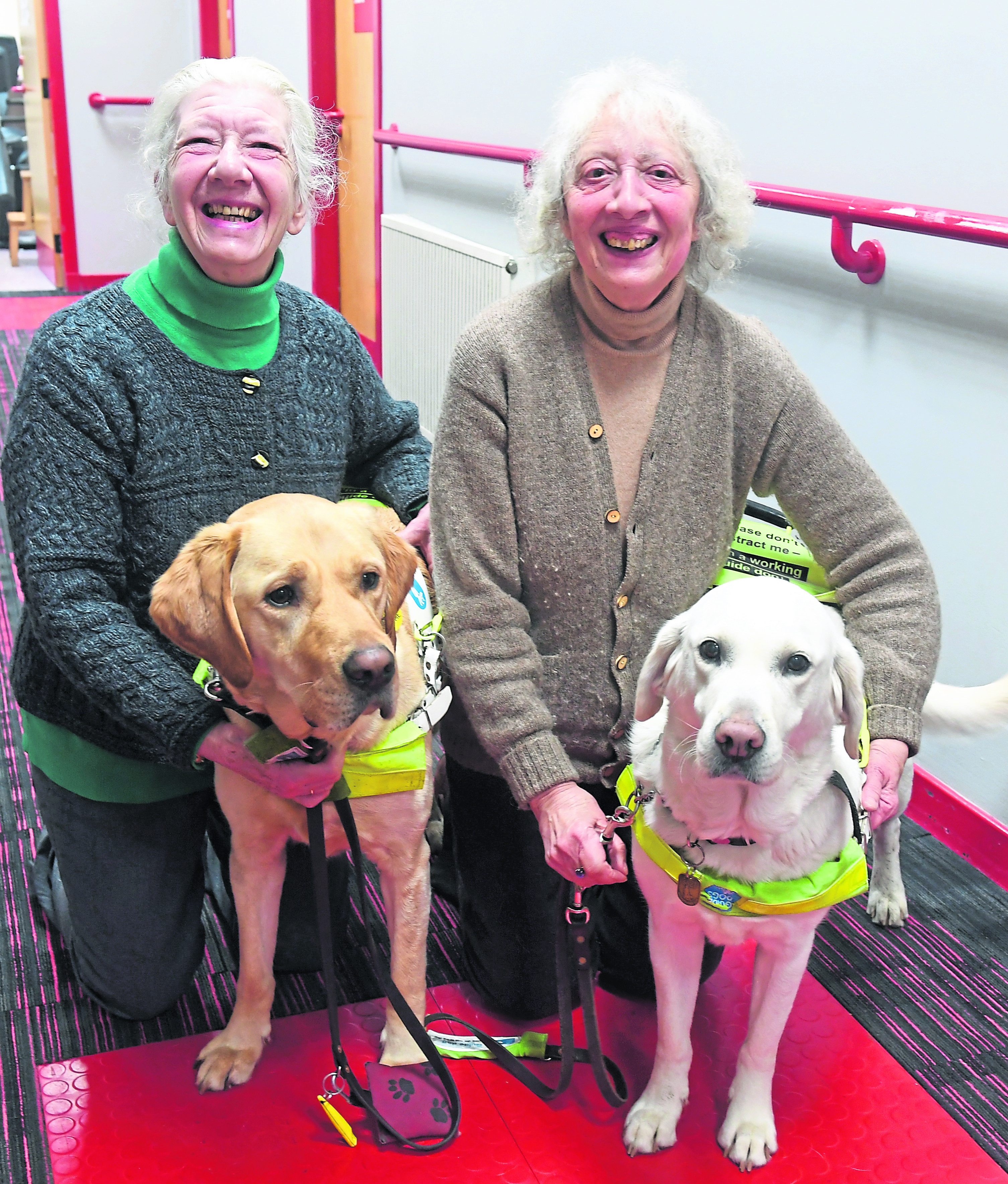 "I love caring for her, she even gets her face washed.
"She's quite a girl.
"She wears bells around the house so I know where she is.
"Things like wheelie bins left on the pavement can be really hard to avoid when we are out and about.
"I have a map of Aberdeen in my head and I have to change my route all the time to avoid obstacles.
"Lavinia will look for the crossing by feeling the pavement with her nose.
"She does remarkably well, she's just wonderful.
"I've noticed that Lavinia always finds Marks & Spencer with no problem at all.
"That might say a lot as to where we spend our time."
Lavinia, Vince and Yousef all started life with a volunteer puppy walker.
Volunteer Nicola Seguin initially took on the role when the family dog passed away.
The mum of two who lives in Kingswells is currently in charge of four-month-old pup Jack.
With a solitary black splodge on his hip, Jack's mum was a black lab whilst his dad was a golden retriever.
Jack will leave the Seguin family after roughly a year, and Nicola is already well versed in saying goodbye.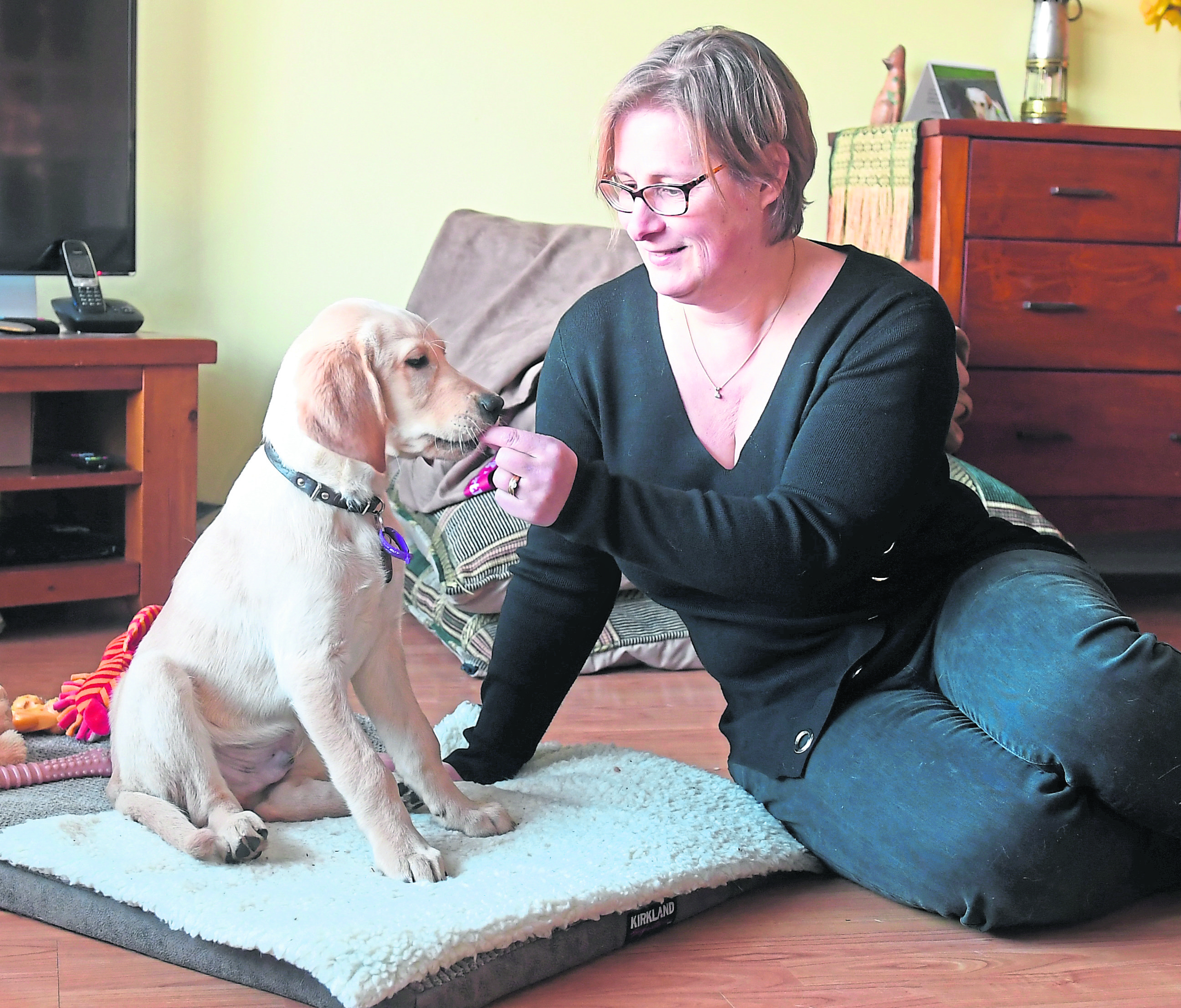 "Our previous guide dog puppy Eryn has recently left us to go to training school," said Nicola.
"I can't lie, saying goodbye to her was awful.
"My children, Callum and Amelie, are gutted that she left.
"But we remind ourselves that Eryn is now on her journey and she is going on to do something so brilliant.
"We get to go and see her towards the end of her training and we're excited to see how well she has done.
"The feedback so far has been fantastic."
Nicola is kept busy with Jack who still has his puppy exuberance.
He will become a well known sight around Kingswells and will go everywhere with Nicola, from the supermarket to restaurants.
"I do Jack's basic training such as teaching him to walk on the left hand side because the majority of people are right handed," she said.
"He is learning good manners and what to do when we approach a road.
"When it is clear to cross I say 'come Jack'.
"Jack will be responsible for helping a person cross the road safely and that is a very big deal.
"A guide dog needs to think for itself.
"It can't be a yes dog and they also have to manoeuvre round things like parked cars on pavements."
Some guide dogs have to be withdrawn from the training programme, although 75 per cent go on to graduate.
A dog may not have the right temperament to work as a guide dog or there may be a health problem.
They often go on to make excellent pets and retired guide dogs often stay with their original owner or are re-homed at a cost to a new family.
"If Eryn didn't make the grade we'd have her back like a shot," said Nicola.
"The kids especially thought of her as their dog.
"I really do hope she succeeds though because she'll go on to change someone's life."
To become a puppy walker volunteer, contact Emma Murton on 0345 143 0203 or visit www.guidedogs.org.uk/volunteering