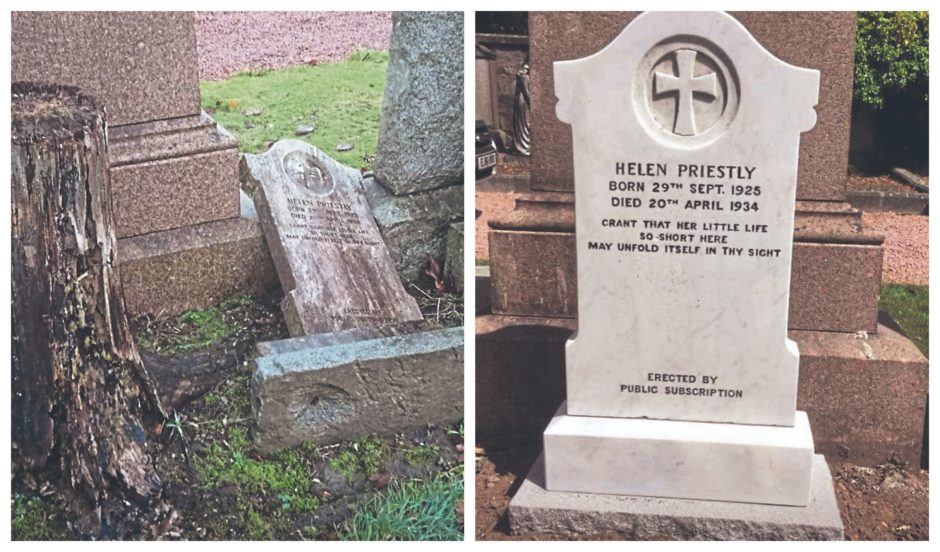 It was one of the most chilling murders in Aberdeen's history; the killing of eight-year-old Helen Priestly by neighbour Jeannie Donald in 1934.
Decades after the tragedy, however, the little girl's gravestone at the city's Allenvale Cemetery had fallen into disrepair and was in danger of disintegrating as it lay on the ground.
Now it has now been restored following a campaign by north-east crime historian, Bruce Collie, who told the Press and Journal he had been shocked at discovering the state of the memorial to Helen, who was strangled by Mrs Donald at her home in Urquhart Road on April 20.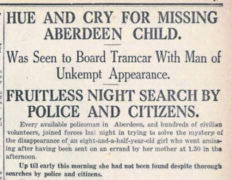 Mr Collie, 57, who has carried out extensive research into the city's criminal past, initially contacted workers at the cemetery, but when nothing was done he raised the matter with Aberdeen Bereavement Services, highlighting the disrepair into which the grave had fallen.
Mr Collie said: "It was shocking when I first came across Helen's grave in 2016, because it was damaged, it was clearly deteriorating and it was lying flat on the ground.
"When I eventually got in touch with Ian Burnett at the bereavement services, he made sure the stone was cleaned and reset and brought it back to a condition that pays proper respect to little Helen."

He added: "I have been interested in studying crime since I was a young man and I read the Notable British Trials book, which included the details of Jeannie Donald and Helen Priestly.
"It struck a chord with me and I was determined to try to sort it out when I saw the shattered gravestone.
"I am very pleased that it has been brought back to its original condition and, hopefully, it will remain that way in the future.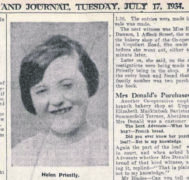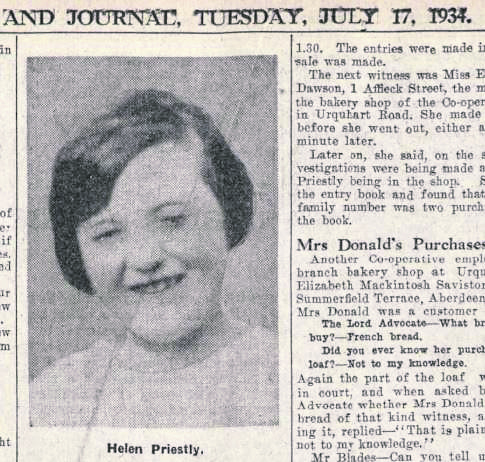 "Since it has been restored, several people have placed flowers on the grave and that makes me glad people are finally remembering this poor girl again."
Mrs Donald went on trial in July, 1934, and was sentenced to death –subsequently commuted to life imprisonment.
In fact, she was released in 1944 and lived for another 32 years thereafter until her death in 1976.
---
Loaf of bread helped convict woman of Helen's killing
Helen Priestly vanished on April 20, 1934, after leaving her family's first-floor Aberdeen tenement in Urquhart Road.
She had been sent out to fetch a loaf of bread from the local Co-op bakery at around 1.30pm.
Her body was found at 5am the next day, concealed in a sack, in a lavatory of the tenement where she lived, by Alex Porter, a friend of Helen's father.
The cause of death was determined to be asphyxiation and, initially, there appeared to be signs of rape.
The sack containing her body was dry, despite the fact there had been heavy rain a couple of hours earlier.
Further forensic tests concluded the child had been injured to make it appear as though she had been sexually assaulted and suspicion quickly fell upon the Donalds.
The families had fallen out after Mrs Donald had struck the youngster for making a cheeky remark.
When their home was examined, stains were found and the Donalds were arrested, although the stains later turned out to be unconnected.
Mr Donald was soon released, but his wife was charged with Helen's murder.
Human hairs were discovered in the sack and these proved to belong to the accused.
She was tried in Edinburgh on July 16, 1934 and the most damning evidence came from
Mrs Donald's daughter who testified that the Co-op loaf, found in the Donald house, was not theirs.
Mrs Donald did not testify, was found guilty and, initially at least, sentenced to death.