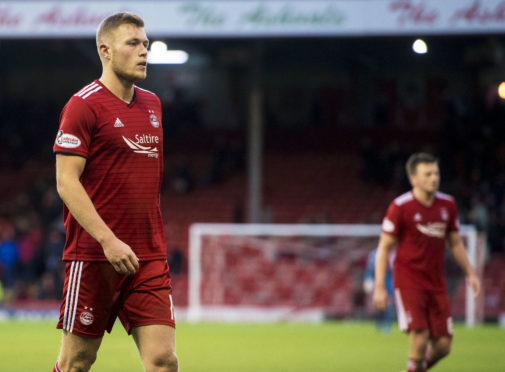 With his rapid ascension to cult hero status at Pittodrie, it would be easier for Sam Cosgrove to get his head lost in the clouds.
However, even after plundering 17 goals and chasing down Alfredo Morelos in the goalscoring stakes, Cosgrove refuses to get caught up in his own hype.
Brought up the hard way, learning from rejection at Everton and Wigan by taking in Carlisle United and non-league football, Cosgrove has done the hard yards on his way to appreciation at Aberdeen.
Even from the raw, "cheap as chips" signing as manager Derek McInnes termed him, signing just over 12 months ago, the improvement is remarkable.
He said: "I would say I'm different player but I am still fairly young so I am always learning and there's still a lot to improve. I'm working hard to do that every day but I am thankful to the manager for the faith that he has put in me.
"He's give me numerous chances and while the performances were there over the last few month the goals tally didn't reflect those. Now I am just happy to be repaying his belief in me with the goals to go along with those good performances.
"Everyone says that it's fine margins in football and it's about those little extra percentages that you put in that make the difference. The one thing for me is finding that extra sharpness in and around the box as I've already scored some that you would term as poachers goals recently.
"It's just a case of being in the right position at the right time that's helped give me that instinctive edge. Taking the penalties lately helps as well as we've got numerous guys who could take them but as a finisher I feel confident of stepping up to take them."
During his time at Wigan, Cosgrove completed his A Levels and even now, he is on an accountancy course alongside his football career. But he extends such positive habits into being a student of the game too.
He said: "Growing up as a kid, up until I really started watching football, I liked Michael Owen for his goalscoring prowess. Being a Man City fan, I liked Edin Dzeko for his goalscoring but he was also a big guy. He's a very talented footballer and you can see that at Roma – he can do everything for a big man.
"It's not just him I'm looking at. I'm watching football every time it's on. I'm watching movement habits in the box, goal-poaching techniques. I'm looking at the taller strikers for their movement, how they peel off to win as many headers as possible.
"Diego Costa is a rough and tumble player and another one that goes under the radar is Salomon Rondon, who's a very talented player. Some of the stuff (Olivier) Giroud does technically is brilliant, for a guy his size.
"Scott McKenna always batters me in training but a prime example is Morelos who got sent off up here the other week. He does play in the edge but he is a strong boy and his hold up play is really good."
There were reportedly one or two clubs testing the water with his availability in January, given the hot streak he found himself on in front of goal. However, with a new contract recently in the bag, Cosgrove is in no mood to take off yet.
He added: "Interest is always nice to hear but I was always fully focussed as I recently signed a new deal and I'm happy at Aberdeen. It's a massive club and it will be really good for me to stay here."