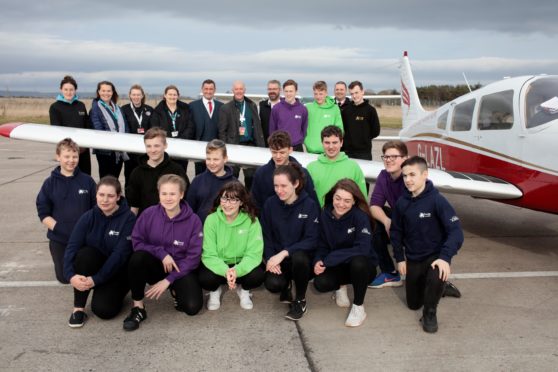 A group of teens were flying high as part of the High Life charity's  Highland Youth Leadership Programme.
The lucky youngsters were given a tour of the skies around Inverness before exploring airport facilities, including the passenger terminal, fire station, ground operations and Air Traffic Control tower.
Highland Aviation in partnership with Inverness Airport and the Eric 'Winkle' Brown Memorial Fund gave the young leaders a day to remember.
Elizabeth McDonald, High Life Highland's leadership development officer said: "This was a unique opportunity to give some of our young leaders a chance to get behind the scenes at their local airport and experience the potentially life-changing benefits of flying in a light aircraft.
"Some of our young leaders have never been across the door of an airport so to be given the chance to understand how an aircraft is piloted and enjoy the spectacle of the exceptional local scenery from the air was mind blowing for them.
"We hope the whole airport experience will open doors to employment and encourage some of these youngsters to consider future careers in the aviation industry.
"We are very grateful to Inverness Airport, Highland Aviation and the Eric "Winkle Brown Memorial Fund for making these dreams of flying come true."
Captain Eric 'Winkle' Brown, was brought up in the Scottish Borders, studied German at Edinburgh University and trained to fly at RAF Turnhouse, now Edinburgh Airport , became a world-renowned test pilot and holder of many aviation records.
Former pilots of Edinburgh University Air Squadron raise money for the Eric 'Winkle' Brown Memorial Fund, which paid for the High Life youngster's air experience flights.
Ms McDonald continued: "Offering this opportunity to our young leaders is a huge reward for their commitment to volunteering in the Highlands and one that will stay with them forever."
Will Roomes, managing director of Highland Aviation said: "It was a great opportunity to introduce some of today's youngsters to flying in light aircraft as it can be such an important step to demonstrate the exciting opportunities available in aviation, not only as pilots, but in many associated careers such as air traffic controllers, engineers, logistics staff, terminal operations, baggage handling and the fire service
staff."