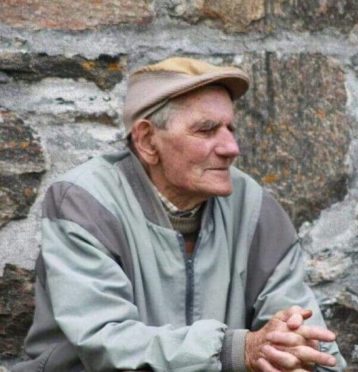 The last surviving resident of an outer Hebridean island which was evacuated in the 1940s has passed away at the age of 91.
It is not known whether Angus Macdonald, who was laid to rest in Fort William yesterday, was born in Heisger in the Monarch Islands or Eilean Heisgeir on June 18, 1927.
But, born into an island family, one of Mr Macdonald's earliest memories was sitting on his Granny's knee as a three-year-old listening to the singing coming out of the island's Mission Hall, something, his family said, stayed with him all his life.
While in Heisger as a boy, the young Mr Macdonald was deemed able enough to be taken off school to be second man on his father's boat – The Morning Star.
---
>> Keep up to date with the latest news with The P&J newsletter
---
He did his schooling in Heisger, but his last year was spent in Bayhead school living in Soundary with his uncle, Donald Alan Macintosh and his Auntie Morag.
The schoolmaster wanted him to stay one more year because he felt Angus was academically able to do so, but his father wanted him to move over to Moy Farm with the family.
He was not long in Moy when, at 15, he went to Annat milking 15 cows twice daily and in between times working at silage.
From there he started at Locheil Estates, working in Glenloy as a single shepherd. He left there and went to Grellshero to work as a tractor man, he was sent to plough at Inverlochy farm.
While there Angus's head had been turned by a tall blonde woman called Betty.
After a few years working in Kippen, Angus took a position with the Forestry Commission – but his main concern was whether the beautiful tall blonde he met a few years previous was still single.
When he found out that she was, he spent his Saturday nights going around all the dance halls looking for her.
He eventually found her and to Angus's delight the attraction was mutual. Angus and Betty married in 1951 and moved in with the before mentioned dairy maid, Mrs Maclean.
In 1952 they moved in to Kilmallie Road in Caol, going on to have six children.
Angus was always in high demand for ceilidhs throughout Scotland and was even invited abroad, but declined the invite due to family responsibilities.
During his family life, Angus drove a lorry for various companies, before starting a wholesale fruit and veg business with his brothers.
When he finished this he returned to his first love of shepherding with Locheil Estates. He remained there, until he retired home to North Uist in 1989.
Whilst in North Uist, Angus was in great demand to share his memories and knowledge of life on Heisger, with many people visiting.
Betty's health unfortunately deteriorated whilst in Uist and Angus cared for her for many years until she passed in 2010.
Angus often said he was not afraid of death as he would be reunited with those who have passed before him and, more importantly, "going home to the Lord".