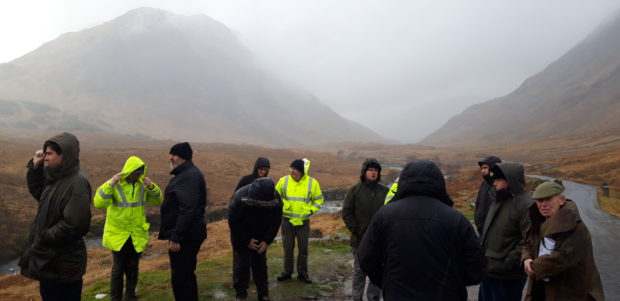 A planning application for seven hydro schemes in Glen Etive, which was granted by Highland Council last week, is now to be reviewed by the full council.
In an unusual move, a motion signed by a quorate of councillors will see the application discussed at a full meeting of the authority, following a bid by ward councillor Andrew Baxter to have the matter reviewed.
The developer said he had been granted planning permission by the local authority and was progressing matters on that basis.
In a message to his followers on social media, Mr Baxter said: "Just received confirmation from The Highland Council that enough fellow councillors have signed my motion asking for the hydro schemes within the Glen Etive Wild Land Area, given permission at planning committee this week, to be reviewed by the full council.
"[There's a] site visit to be organised and a subsequent debate.
"The suggestion is that this will not be possible for the next meeting on March 7, but will come to Highland Council after that."
---
>> Keep up to date with the latest news with The P&J newsletter
---
It is understood that Councillor Baxter takes exception with three of the schemes in wild land area. The proposed schemes on the south-east side of the Glen Etive Road at Allt Ceitlein, Allt Chaorainn and Allt Mheuran are within protected areas.
Mr Baxter notes in his record of non-financial interests his membership of wild land charity The John Muir Trust.
On social media, resident Betty Lawrie said: "As far as I know, no residents object to the seven hydro schemes.
"The only ones to object are the people who use the Glen as a playground and sometimes leave all their mess for us residents to clear up."
Steve Marfleet added: "Plenty of kayakers regularly use the the Glen and never leave mess behind, they also spend a lot of money in local businesses too. If these hydro projects go ahead, it would be a huge loss to Scottish tourism."
Developer William Dickins of Dickins Hydro Resources was unaware of the motion, but said: "As far as we are concerned, we have been granted planning permission and it is good news for the community in the Glen, for renewable energy in Scotland and good news for us as a company."
"The planning officer worked hard to do things in accordance with planning law."