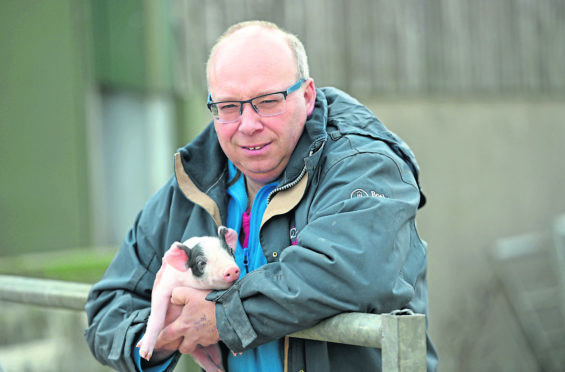 There's a sense of stillness in the air at Sittyton Farm, a moment when all seems calm and the dipped white heads of snowdrops sway in the breeze.
The sunlight dapples on the hay in the old stone barn where Shorthorn cows are gathered, and they are yet to be put out to pasture after another gruelling winter.
The herd moves not ungracefully, but rather encumbered by their heavy cargo with calving due to start in the coming weeks.
Tenanted farmer John Fyall is praying for a better outcome than last year when he lost several calves, and he is hopeful that new life will soon emerge into the fields in time for spring.
The welcoming of a new season and the fresh growth which it brings symbolises John's favourite time of a year, a brief moment to take stock and move forward.
Life at Sittyton may seem idyllic, although it is a juggling act of unpredictable stock prices and rising costs.
Farms like Sittyton would once have been staffed by a minimum of five workers, but John and his partner Alex Clark now run the show.
John has been farming 300 acres of land in Newmachar for nine years and, although he would love to farm full-time, he admits he simply cannot afford too.
He makes ends meet via his rural valuation and consultancy business and was also the land agent for the AWPR.
But as he offers a back scratch to his three-year-old bull Jethro, it is clear that this is where his passion lies – with the animals.
"I sometimes have a moment before I turn the light off in the lambing shed last thing at night and I just sit and listen," said John.
"You reflect on the new life when everything has fallen quiet or you smell the hay after harvest.
"Most people would love this job, but they don't realise what life is like for farmers."
As urbanisation takes over once-empty pockets of land across the region and indeed the country, there is an increasing divide between rural and city life. The grass isn't always greener for those seen to be living the rural dream, and shocking figures released by the Office for National Statistics show that – on average – one agricultural worker commits suicide every week in the UK.
Those within the agriculture sector "regularly experience stress, anxiety and depression", according to Professor Kay Cooper at Robert Gordon University (RGU).
She is currently leading a team of researchers who are working with Scotland's farming community in a bid to improve mental health and wellbeing, with the support of farmers' union NFU Scotland.
"Farming is all-consuming and it's practically impossible to get away from the farm and speak about yourself," said John.
"It was ingrained in the community that you just don't speak about that sort of thing – partly because everybody is so busy.
"You also don't complain about yourself.
"You can say that mental health is the same as getting treatment for a cut on your hand; you wouldn't leave the wound to bleed.
"But the majority of farmers wouldn't go to the doctor if something was wrong physically, so they certainly aren't going to speak to their GP about mental health.
"You just get on with things."
John was only 24 when he was called upon in the foot and mouth disease crisis of 2001, and the epidemic saw millions of cows and sheep in the UK slaughtered in a bid to halt the disease.
"I was offered counselling at the time and I wish I had accepted the offer," said John.
"To this day I cannot bear the smell of burning horns, it was horrific and it was something I have difficulty speaking about.
"I think there was a period of public sympathy for farmers, but it only lasted about four months.
"It sometimes feels like society doesn't appreciate farmers and, thanks to social media, I can look on Twitter and every single morning farmers will be getting a slating for one thing or another.
"We're painted as a bunch of Tories who all voted to leave the EU, or we're under attack from veganism.
"People have no idea that we work ourselves to the bone, and mental health is suffering because of the responsibility, expectation and isolation."
Many farmers can go weeks at a time without speaking to fellow agricultural workers, and John believes the community isn't what it once was.
"Social media isn't all bad, and while you might not be talking to another farmer across the dyke, you can find a community online," he said.
His current stock includes 30 beef shorthorn cows, 1,000 fattening lambs and 600 Cheviot ewe lambs.
He believes the financial pressures have never been greater, and January to March are the toughest months of the year.
"The bills are coming in thick and fast and you've got animals that are hungry," said John.
"You can't see any growth and our fathers and grandfathers were raised to be these macho men, so you don't speak about what's going on inside your head.
"A lot of people are just hanging on and it has never been more difficult for new blood to come into farming.
"If I could farm full-time I would, but the reality is that I cannot afford it."
Is it up to the next generation to change the conversation in the farming industry for the better?
And what happens if you're not only young but farming on one of the most remote islands in the UK?
George Low has generations of farming in his blood on the east mainland in Orkney, and always knew he wanted to follow in his father's footsteps.
Now 25, he works on a neighbour's farm and is also a member of Young Farmers.
"Farming is all I've ever really known; I left school at 16 and I never considered staying on," he said. "Every day is different and you're never stuck in the office.
"Farming in Orkney is tough because of the weather, though.
"In the last five years the rain has been horrendous, and of course there's the wind.
"I'm up at 6am and will be home for dinner around five, but I'm on standby.
"My girlfriend would tell you that I rarely take time off."
George has never experienced mental health problems himself, but believes the conversation has improved following a campaign run by Young Farmers.
Are Ewe Okay? targeted young people living in rural communities and raised awareness of poor mental health triggers and causes.
"I'm not surprised that farmers can experience mental health problems because it's getting more and more difficult to make a living," said George.
"Beef is getting cheaper and feed is more expensive.
"The campaign encouraged us to speak about mental health a lot more.
"My brother is a local auctioneer, so obviously he's out on farms.
"He often says that he's fast becoming a counsellor for folk.
"Farming has never been so difficult, but there are also the good days.
"My favourite time of year is the end of May when there are new calves and the cows go out to fresh grass after been kept inside.
"It's a chance for me to sit back and look and what we've achieved."
Fellow young farmer Joanna Foubister also comes from a farming family in Orkney, but now works as a trainee agricultural consultant in Stonehaven. She hopes to return to the island and run the farm one day, but believes the industry has some big changes to make.
"Farming is a male-dominated industry and with that comes this rough and ready masculine stereotype," she said.
"There's this belief that farmers are tough, and it is particularly true of the older generation.
"There's this brisk attitude that you should man-up and that can be very difficult for women to come up against in the industry.
"The belief that you need to be physically strong extends to mentally strong, so farmers don't feel like they can talk about mental health due to the stigma attached."
Joanna took up the role of campaign manager for the Are Ewe Okay? campaign with the Scottish Association of Young Farmers. The initiative was awarded the farming hero award at The British Farming Awards last year.
"When we launched the campaign we knew that one in four people in Scotland would suffer with some kind of mental health problem," said Joanna.
"Now that figure is more like one in three, and a lot of the triggers for mental health in the farming industry are out of our control.
"Many farmers are working on their own and feeling the pressures as well as loneliness.
"Even if a farmer has decided that he or she needs to speak to someone about mental health, just leaving the farm is a big enough task in itself.
"They shoulder all the responsibility, so finding the time to talk to a doctor is pretty difficult. I do think there's hope though; people are beginning to talk and that's really positive."
Aberdeenshire pig farmer Kevin Gilbert has become an unofficial spokesman for mental health, after speaking out about his own struggles.
The father of four was named NFU Scotland's unsung hero for the north-east last year, and farms roughly 1,000 acres at Womblehill in Kintore.
But despite his success, his children have made it clear that they won't be taking over the family farm or the inheritance of 5,000 pigs.
Kevin has been farming for 30 years, although it is only recently that has revealed his battle with depression and bipolar disorder.
"Mental health has always been a taboo but I think the next generation are a lot more informed and educated about it," said Kevin.
"There are plenty of farmers, myself included, who have thought about jacking it all in when it gets really tough.
"Right now I've got workers waiting to be paid and that's how unpredictable money can be in farming.
"If I was to stop tomorrow, people would be horrified though – it simply isn't done."
As Kevin checks in on litters of piglets and jokes with his seven workers, he comes across as nothing other than upbeat and jovial – a farmer in his element.
But he admits that it is often a front, particularly during stressful times.
"It's a facade really, my kids joke that they don't want to go into farming because I'm sad and miserable.
"There are days when they're right though, and I know plenty of farmers whose kids won't be taking over.
"I've never pressurised my own children, maybe because I know how hard farming can be.
"I took over when my own father passed away from cancer and it was a very steep learning curve for me.
"It was around that time that I first starting taking anti-depressants.
"You tend to work alone, so it can be very insular and you don't have anyone to chat too.
"The amount of paperwork is unreal, but we've seen harder times than this.
"The difference is that now people are finally beginning to talk about the impact on their mental health.
"That can only be a good thing."