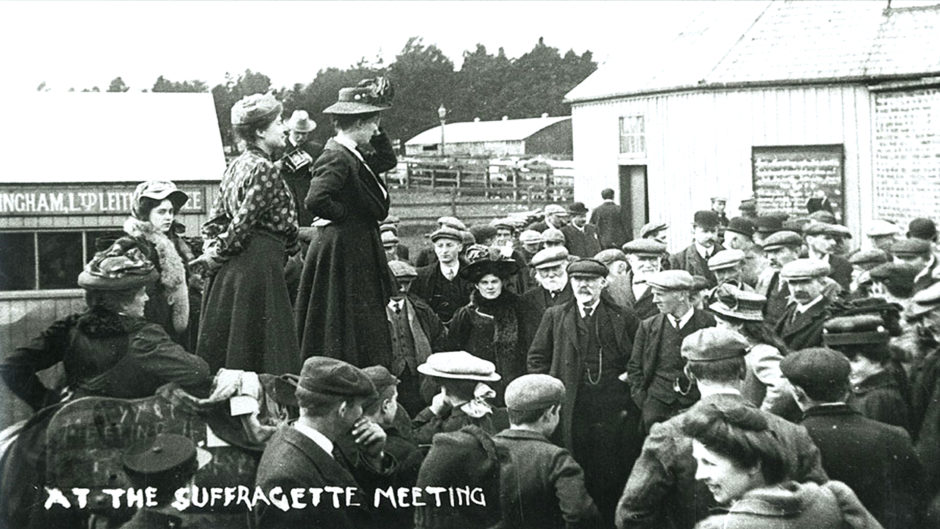 Women had to wait a long time and engage in a protracted battle to win the vote in Britain.
And now, it has emerged that a plaque to commemorate an Aberdeen suffragette has still to be erected four months after the city council endorsed the scheme.
The authority's operational delivery committee approved the plaque for Caroline Phillips, who lived from 1874 to 1956, for one of the houses she lived in at 41½ Union Street, back in November.
But a spokesman for the council told the Press and Journal yesterday – which just happened to be International Women's Day – that they had no information on when it would be unveiled.
Ms Phillips worked for the Aberdeen Daily Journal from 1900 as a journalist, and was the honorary secretary of the Women's Social and Political Union from 1907 to 1909.
During that time, she corresponded with key figures in the Suffrage movement such as the Pankhursts.
The proposal for the commemoration originally came from Aberdeen Women's Alliance.
Caroline Agnes Isabella Phillips was born on December 13, 1870 at the Free Church School house in Kintore, Aberdeenshire and was the elder of two children of James and Jane Phillips.
Both parents taught in the same school where her father was the headmaster and her mother was a part-time sewing teacher.
Her mother's maiden name was Watt and the family believed that they were distant cousins of James Watt, inventor of the steam engine.
In 1907, Ms Phillips organised a train to take suffragettes from Aberdeen to Edinburgh to participate in a suffrage demonstration.
This was preceded by a meeting in the Granite City attended by many of the most renowned suffragettes, including Christabel Pankhurst, Mrs Despard, Mrs Pethick Lawrence, Mrs Billington Greig and Helen Fraser.
They were accompanied on the platform by Ms Phillips, who was an articulate and quick-witted debater.
Although she was not opposed to violent protest if it was required, her own actions were peaceful. She would walk round golf courses at dawn, replacing each flag with a "Votes for Women" standard.
Many suffragettes hid during the night of the 1911 census, stating that they would not participate until they had been granted the vote.
In 1912, Caroline inherited the Station Hotel, Banchory, from an aunt and she gave up journalism and left Aberdeen in order to run the hotel.
When she retired, she moved back to her home village of Kintore.
****
Renowned historian Dan Snow visited Aberdeen last week as part of his nationwide tour and explained why his job isn't always a bundle of laughs.
The TV presenter regaled the audience with dramatic tales of exploring the mid-west of America, retracing the steps of historic kings and sleeping next to a rifle during a visit to the Canadian Rockies.
When speaking of his experience in Korea, he said: "There was one segment we filmed on a bridge, and I was told there was a 99% chance a sniper was trained on the back of my head.
"I usually fumble my lines and require multiple takes, but because of that warning, I got the segment done in one take.
"There is nothing that makes you work better, and faster, than having a gun pointed at you, believe me."
Thanking the Granite City audience for their subsequent chuckles, Mr Snow admitted that the anecdote had not gone down so well on the Belfast leg of his trip.
****
A planning meeting at Highland Council took on a slightly surreal air last week when confusion reigned over the terms "public housing" and "pubs".
The committee were discussing a new housing development when Cllr Biz Campbell remarked: "It says [there are] eight houses for public housing. I've never heard of public housing except as a pub…
"…and we don't really need eight pubs at Auchtertyre. And six would be for elderly persons."
This led to some head scratching, but the matter was resolved by planning officer Dafydd Jones.
He responded: "We'll note that and make sure that reference to public houses isn't referred to again unless it is for a pub."
****
Residents of the George Street area of Aberdeen have ensured they are not getting mugged off by local police officers.
At a recent community council meeting, one attendee enquired whether bobbies on the beat were allowed to accept cups of tea.
The reason, she explained, was due to the fact that a police officer on a "long shift" had refused her offer of a hot beverage.
Inspector Steve Robertson of Police Scotland put the matter to bed, when he replied: "The policeman could have accepted the offer if he had wanted to."
****
We told you last week about a medal, awarded to former Aberdeen Lord Provost Alex Collie, when he was given the Freedom of the City in 1995, which was going under the hammer at an auction in Sauchen in Aberdeenshire.
Mr Collie, a proud Fittie councillor for nearly 50 years, is one of the few people to have gained the honour in the last 30 years, alongside the likes of Sir Alex Ferguson, Mikhail Gorbachev, Nelson Mandela and Denis Law.
So it's obvious that somebody picked up a bit of a bargain last weekend.
The medal sold for just £40.