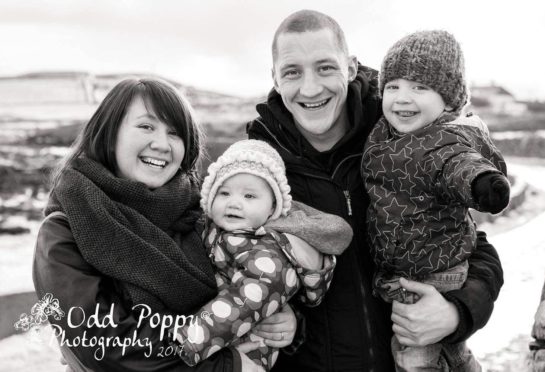 A woman from Shetland whose husband died suddenly from an undiagnosed heart problem aged just 29 has launched a campaign to look into holding heart screening events for young people in the isles.
Siobhan Pirie's life was turned upside down in December 2017 when her husband John Pirie – known as PJ – unexpectedly passed away after suffering a cardiac arrest.
It happened nine days before their son Steven celebrated his third birthday, and daughter Merran had just turned nine months old.
The couple had also just bought a new family house in Gulberwick.
Siobhan has now started looking into bringing a free heart screening event for everyone in Shetland aged between 14 and 35 in the coming years in memory of her husband.
She has been in touch with Cardiac Risk in the Young (Cry), a charity which raises awareness of young sudden cardiac death and holds screening events across the country, and the initial signs are promising.
There is currently a waiting list for screenings from the organisation though meaning any event would take place in 2021 at the earliest.
Siobhan has now started a Facebook page to hold a poll to see if there would be enough interest in holding a screening event.
If the plans get the green light, a fundraising campaign would then start to pay the costs of holding a two or three day event.
The screenings would take the form of a non-invasive ECG (electrocardiogram) test that would take five to ten minutes.
They may pick up conditions that may not have any noticeable symptoms, although Cry says there are some conditions like anomalous coronary arteries and premature coronary artery disease which would be missed by the screening programme.
"Obviously nobody could ever imagine having to deal with such a situation and it has been very hard," Siobhan said after the loss of her husband.
"However, I do not want people to feel sorry for us. I would rather have everyone's support to do something positive in PJ's name and hopefully prevent this from happening to anyone else."
At the moment the mother of two is waiting to hear back from Dr Steven Cox, the CEO of Cry, to confirm details of when the screening event could potentially take place.
She added that "in the long run we hope we would be able to allow this to happen at least every two to three years".
Similar events are already held in Orkney and on Sunday a Walk for Freya raised over £3,000 for screenings in the isles.
So far over 1,000 votes have been cast on the Shetland Heart Screening Facebook poll – with 99% of respondents interested in having a screening.