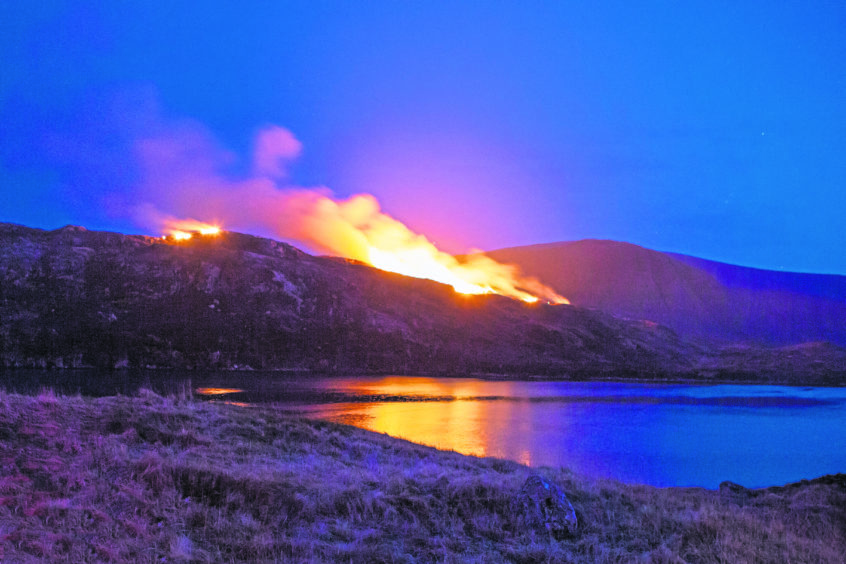 A large moorland fire cut power to more than 13,500 customers in the Outer Hebrides last night.
Mobile phone services were also affected on Lewis and Harris as a result of the blaze on Tuesday night.
The first power cut began just after 8pm and lasted around an hour.
A further blackout hit Stornoway and the surrounding area about 9.45 pm and lasted several minutes.
The original fault arose from the impact of a fire near one of the main transmission lines in Harris. Power finally returned to all areas around 11pm.
Network operator SSEN apologised to all affected customers for the inconvenience after flames from the spreading moorland fire a few miles south of Tarbert knocked out the main national grid power lines at Diracleit, running from South Harris to Lewis.
A SSEN spokeswoman said the fire service requested live electricity supply running through the high voltage overhead cable be switched off for safety reasons.
She said: "We'd like to apologise to our customers on Lewis and Harris for any inconvenience caused by the interruption to supplies."
The islands' electricity supply runs through a subsea cable from Skye, making landfall in the Bay of Harris.
The electricity is then carried through a 132kV overhead line circuit to Lewis.
Meanwhile other moorland fires hit Lewis.
Drivers were asked by police at 5.20pm on Tuesday to avoid the Pentland Road. The road was blocked by fire engines due to a grass fire on the moorland on the Carloway side.
Another blaze affected Great Bernera.
Craig Lauder, the Scottish Fire and Rescue Service's Western Isles station manager, said on Twitter:"Great effort from Stornoway, Scalpay, Great Bernera and Shawbost crews to control and extinguish a large wildfire on Isle of Lewis tonight at same time as crews tackled a series of fires on the Isle of Harris, big challenge for our Western Isles resources."