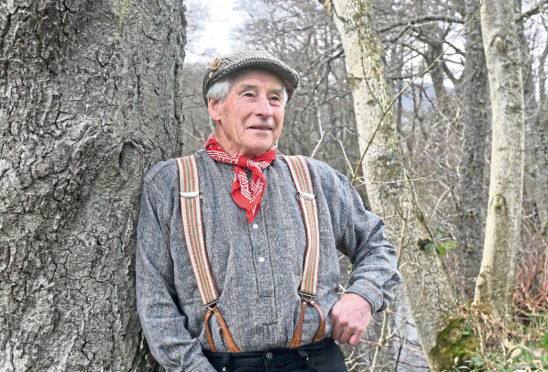 If you happen to be walking through the beautiful woods of Finzean estate in Aberdeenshire, you might be lucky enough to hear a rich Doric voice rising in song.
The rolling lyrics tell the often humorous stories of north-east farm labourers as they lived and loved from the land, but whether you understand the tale will depend on where you hail from.
For Hector Riddell, singing the bothy ballads comes as naturally as breathing; and as he strides around the countryside he sings simply of what he knows.
VIDEO: Bothy ballad performer named as champion of champions for fifth time
He believes the music is in his blood after he was raised on a croft, and he has never left the world of farming.
But despite singing dozens of ballads throughout childhood, Hector only returned to his roots 11 years ago, after his wife encouraged him to take part in the bothy ballads competition.
The popular event celebrates traditional Doric farming songs with competitions taking place across the region before the grand finale, which was held in Elgin earlier this year.
Hector is now considered a bothy ballads stalwart, by becoming only the second person to claim the "champion of champions" title for the sixth time.
He won back the coveted porridge bowl and spurtle trophy with his rendition of The Dying Ploughboy.
At 82 years old, Hector has no plans to stop performing, and hopes to hang on to his title at the 38th event next year.
He believes that the younger generation needs to be taught bothy ballads in school, to prevent the tales from dying out altogether.
"Although there is an interest in bothy ballads, it can be difficult to get the enthusiasm from youngsters," said Hector.
"It comes very naturally to me, and the way I see it, the ballads are our mother tongue.
"Once lost, it can never be regained.
"I grew up with the ballads, I was one of eight and there wasn't much else to do.
"The ballads was a way of entertaining ourselves; we didn't have electricity or anything like that.
"We made our own entertainment, my mother would be on the piano and my father played the fiddle.
"Our neighbours came round once a month for an evening of music.
"Nothing much else happened in those days so I think the ballads came partly out of boredom.
Hector cements his place in Bothy Ballad folklore as he takes title for the sixth time
"I just naturally learnt the ballads and I think it was easy because we were singing about our day to day lives."
Hector won his first title in 2009, but originally wasn't keen on the competitive element.
"I never thought I would take part in a competition, but I'm so glad I did," he said.
"I have to admit that these days, I do a lot of practice though.
"I walk around Finzean Estate for a couple of miles and the words just come out.
"There's a tough criteria at the competition itself, and when I'm out walking, it's my way of rehearsing."
Hector is marked on how he tells the story within the ballad, his timing, memory and body language.
"You've got to get your timing right and remember the words on the day, that can be quite nerve wracking," he said.
"The judges call it light and shade, and body language plays a very important role.
"I put in actions and even if people can't understand everything I'm saying, they get a good grasp of it because my body is telling the story as well."
One of Hector's favourite ballads to sing is McGinty's Meal and Ale, which tells the story of a pig "gaed on the spree".
Traditional bothy ballads were mostly composed between 1830-1890, with the name reflecting the outbuildings where farm workers lived.
They were rarely written down and some were composed to pipe and fiddle tunes.
"You get different ballads depending on which district you're in, and when I think back to school, we were told off for using Doric," said Hector.
"It's so important that the ballads survive, even though these days I'm not sure it's considered very cool by the younger generation.
"I think the key is to get children's interest at an early age.
"Singing with other folk has given me so much comradeship and I've met some tremendous people who I wouldn't have come across otherwise.
"I've met with people from all over the UK and the competitions always give such a friendly atmosphere.
"To me, the ballads come naturally, but we need to do everything we can to keep them alive."