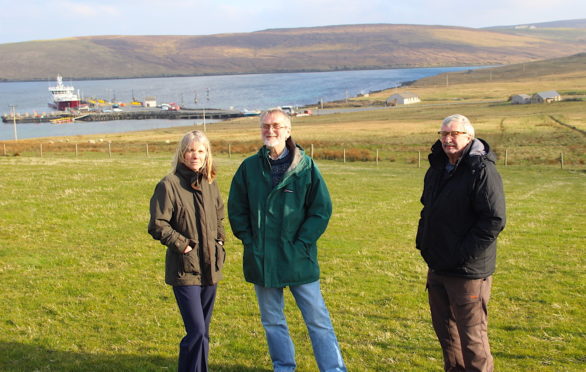 Residents in a Shetland settlement are up in arms after it emerged that an international salmon farming service company is planning to build a large net cleaning plant on crofting land next to the Toft ferry terminal.
At least eight of the ten households making up the Toft community, near Mossbank, have lodged their objections with the planning authority.
They feel particularly aggrieved that the developer Swan Net Gundry Aqua (SNG Aqua), which has it headquarters in Ireland, had not been in touch with local people despite spending months on pre-planning investigations.
Residents also fear that the plans could be the start of a wider industrialisation of the area after the £2.9 million redevelopment of the nearby Toft pier got the go-ahead earlier this week.
"Neither the local councillor nor the company involved had the common decency to inform us of what they were seeking to inflict on us," said John Laurenson while expressing his concern and that of the other nine residents would "just be bulldozed over".
"One thing would lead to the next development," said resident Liliane Tiffaneau, adding that industrial building should be kept to designated sites like industrial estates.
"The smell from the dirty nets at the proposed net washing plant, alongside the dust and the noise, would be a perpetual nuisance for the residents who live closest to the proposed site," she said.
Speaking on behalf of the developer, Dale Hunter of Hunter Planning said there was no requirement for the company to consult with the local community prior to submitting a planning application because the site for the proposed plant was smaller than two hectares.
He said the company was happy to answer any questions that the neighbours may have. "We have not been approached directly by anyone yet," he said.
In his supporting statement for the planning application which was lodged on 22 February, Hunter said that with "the redevelopment of the Toft Pier and being located in the geographic centre of aquaculture developments, the site is ideally located".
Local councillor Alistair Cooper: "What happens in these cases is that the developer liaises through the planning department with the objections from the statutory consultees and the local residents. There is a process this is going through, and I don't have a role in that process at the moment.
"That changes at the point if, the objections lead to a refusal of planning permission. In such a situation the developer is entitled to appeal, and the objectors can then have an advocate to speak on their behalf, and that advocate could be me, and I have done that in the past."
The council's roads service, which is one of the statutory consultees, is recommending refusal of the plans as they stand because the access to the proposed site is feared to intervene with queuing traffic and more generally the ferry terminal operation.