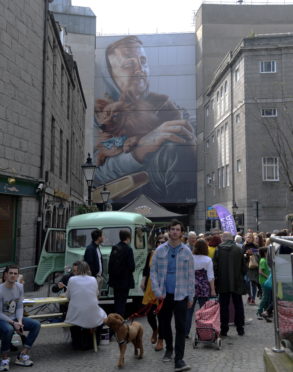 Record crowds thronged the streets of Aberdeen during the Easter weekend to visit the Nuart festival.
Buoyed by the glorious holiday weather, an estimated 30,000 people witnessed the new range of artwork that now adorns the city.
This year's festival included a series of murals from artists including Smug plus regular walking tours that attracted unprecedented numbers.
The opening weekend also featured a whirl of activity on The Green where stalls sold food, drink and various art pieces while live music created a vibrant atmosphere.
Aberdeen Inspired spearhead the project along with Aberdeen City Council and the organisation's chief executive, Adrian Watson, was impressed by the response.
He said: "Nuart Aberdeen is a festival unlike any other in the UK and the universal support and affection it holds in the hearts of locals and visitors alike is incredible.
"This year, it has brought Aberdeen to the attention of the world and we are delighted with the positivity it has brought to our city.
"At the Green alone on Saturday, we welcomed 10,000 people, with an average of 30,000 throughout the course of the weekend.
"Witnessing huge numbers take part in the walking tours, hunting out world-class pieces of street art themselves and of course, the thousands who enjoyed Inspired Nights on the Green was truly amazing."
Martyn Reed, director and curator of Nuart, said: "It's impossible to express the amount of incredible stories and events we've been part of over the last two weeks."
Councillor Marie Boulton said the festival had "once again been an overwhelming success" and added the city council was "very proud" of its impact.