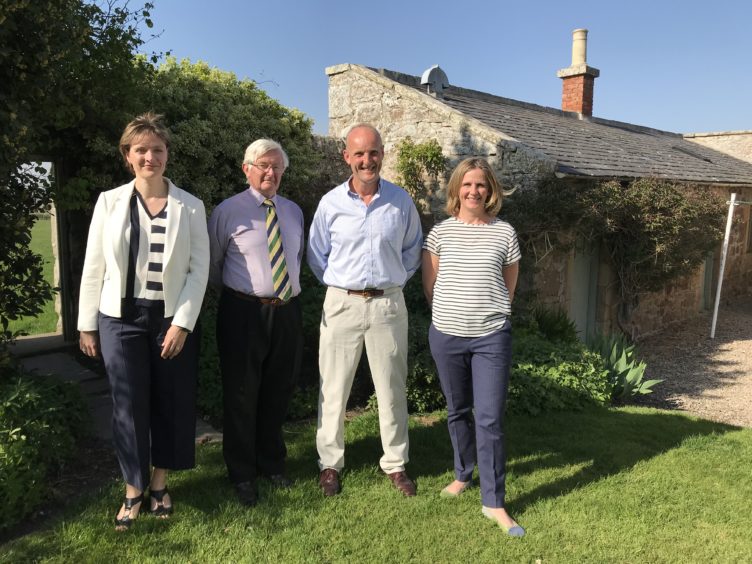 Three new deputy lieutenants – a horticulturist, school principal and former RAF station commander – have been appointed in Moray.
Lisa Kerr, Air Commodore Alistair Monkman and Rebecca Russell have been given the roles to support current Lord Lieutenant Grenville Johnston in carrying out his duties as the Queen's representative.
They join the other eight deputy lieutenants in the region who will represent the area at various local events.
Ms Kerr is the Principal of Gordonstoun, a world leading school and one of Moray's leading employers, bringing families from all over the world to Scotland.
She has also had a long career in commercial media, and latterly business consultancy, and is part of the Moray Strategic Business Forum.
A music graduate, she served as vice chairwoman of Scottish Opera, and is director of The Lantern Singers, a chamber choir based in Moray.
Ms Kerr was thrilled to be appointed as a deputy lieutenant and was looking forward to the future.
She said: ""I am delighted and honoured to be appointed to the role of Deputy Lieutenant of Moray and very much look forward to working with my fellow deputies in support of Grenville Johnston.
"I have lived and worked in Moray for almost 15 years and have grown to love this very special part of Scotland so it will be a huge privilege to be able to serve the local community."
Air Commodore Alistair Monkman CBE served as Station Commander of RAF Lossiemouth and 617 Squadron Commander and worked for 27 years in the Royal Air Force and flew many hours of combat operations.
He was awarded the DFC for gallantry by the United States Air Force and has a great interest in country activities and is a trustee of the British Deer Society.
He is also a long-distance walker and has taken part in Pilgrimages in support of Pluscarden Abbey.
Mrs Rebecca Russell is a trained horticulturist and has been a farming and co-owner of Pitgaveny for many years.
While there, she helped establish a biennial Farm Open Day at Pitgaveny which has welcomed several thousand visitors and raised funds for charity.
She has keenly supported school visits to encourage a greater understanding of agriculture and the countryside and is on the board of The Moray Society which owns and manages Elgin Museum.